Sarbanes-Oxley (SOX) Whistleblower Law: Robust Protection for Corporate Whistleblowers
Section 806 of the Sarbanes-Oxley Act provides robust protection for corporate whistleblowers.  As retaliation can derail a career, some SOX whistleblowers have obtained substantial recoveries, including recent  jury verdicts of $11M and $5M in SOX whistleblower retaliation cases.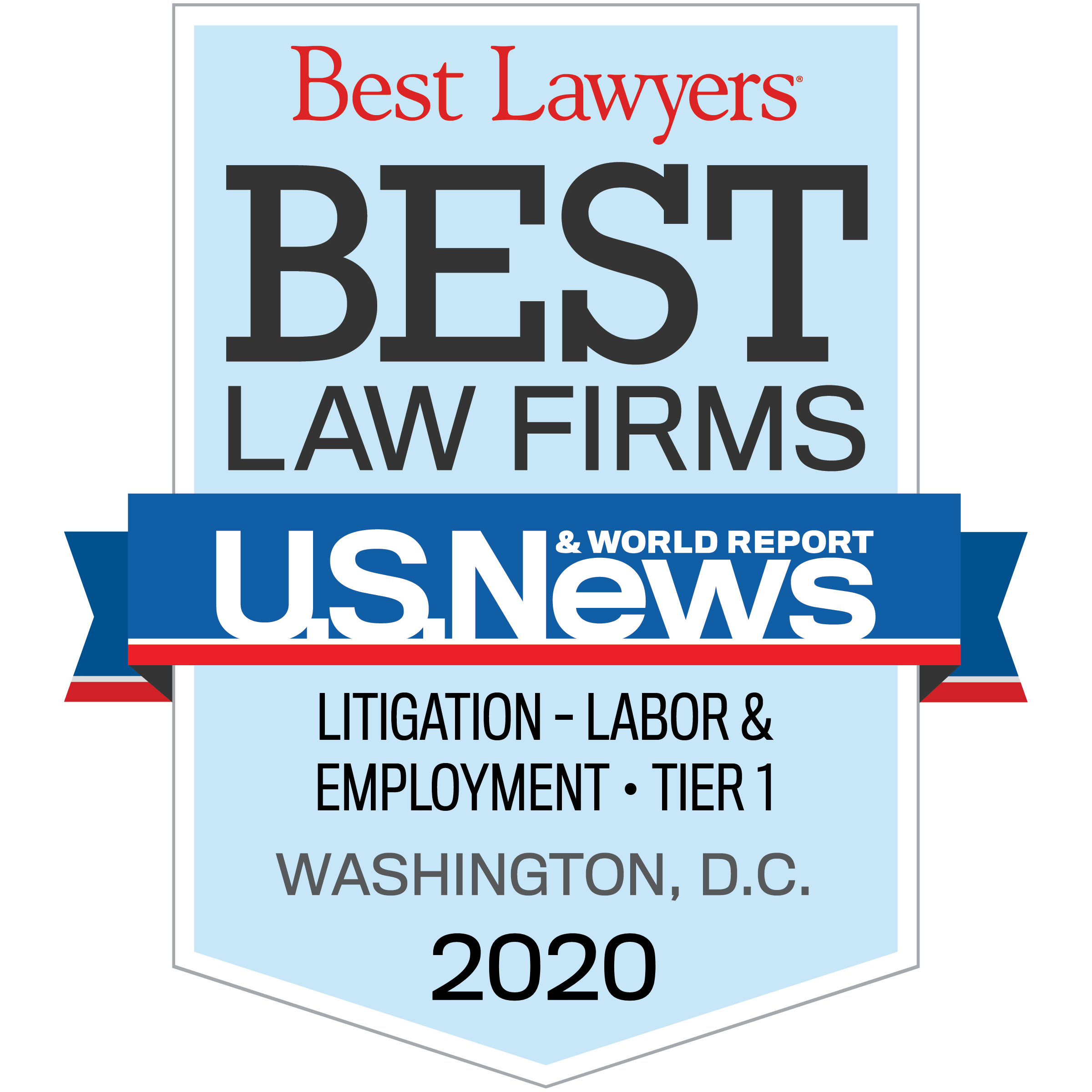 The leading Sarbanes-Oxley whistleblower lawyers at Zuckerman Law have extensive experience representing corporate whistleblowers and have recovered more than fifteen million dollars for SOX whistleblowers.  U.S. News and Best Lawyers® have named Zuckerman Law a Tier 1 firm in Litigation – Labor and Employment in the Washington DC metropolitan area in the 2020 edition of "Best Law Firms."
Call us today for a free confidential consultation about your corporate whistleblower case.  We can be reached at 202-262-8959 or by clicking here.
The SOX whistleblower lawyers at Zuckerman Law have represented CEOs, CFOs, in-house counsel, partners at audit firms and other senior professionals in high-stakes whistleblower matters.  Click here to read reviews and testimonials from former clients, including corporate officers and executives.
Drawing on substantial experience representing corporate whistleblowers in SOX whistleblower cases, our SOX whistleblower lawyers have published a free guide to SOX titled Sarbanes-Oxley Whistleblower Protection: Robust Protection for Corporate Whistleblowers: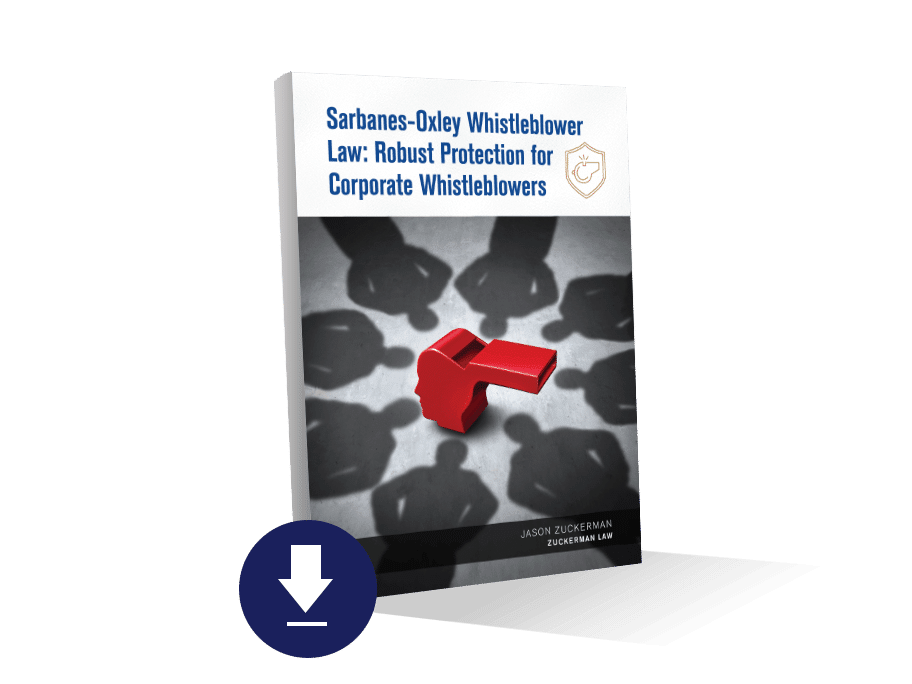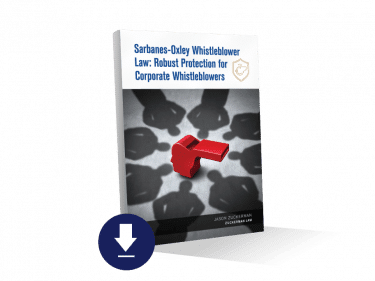 For information about the SEC's Whistleblower Reward Program, download our free ebook SEC Whistleblower Program: Tips from SEC Whistleblower Attorneys to Maximize an SEC Whistleblower Award.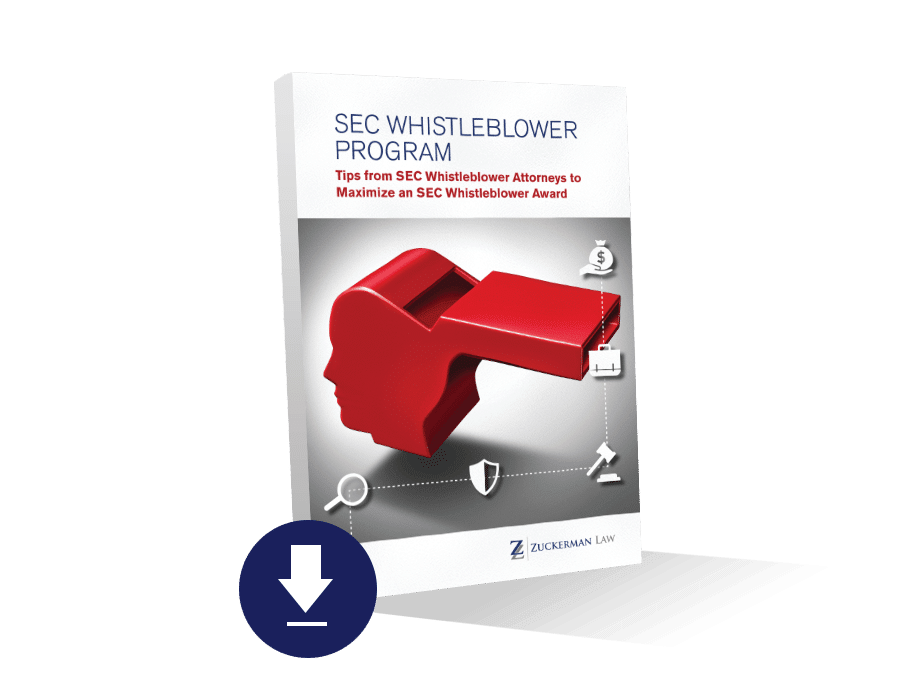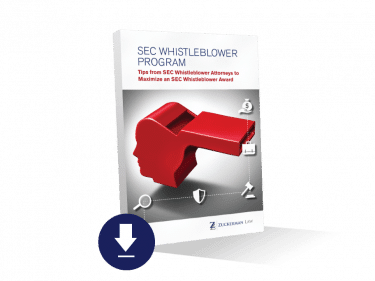 Relief Available to Prevailing Sarbanes-Oxley Whistleblowers
A prevailing SOX whistleblower can recover:
lost wages and benefits;
reinstatement or front pay; and
special damages, which includes emotional distress, impairment of reputation, personal humiliation, and other non-economic harm resulting from retaliation.
There is no cap on special damages under SOX, and some state whistleblower protection laws enable whistleblowers to recover punitive damages.  Recently corporate whistleblowers have obtained substantial recoveries in SOX whistleblower cases:
SOX Whistleblower Retaliation Damages and Remedies
Protected Whistleblowing Under Sarbanes-Oxley Anti-Retaliation Provisions
The Sarbanes-Oxley whistleblower law protects corporate whistleblowers for providing information about securities fraud, shareholder fraud, bank fraud, a violation of any SEC rule or regulation, mail fraud, or wire fraud.  The Department of Labor has construed SOX whistleblowing broadly, holding that:
Prohibited Retaliation Against Corporate Whistleblowers
The whistleblower protection provision of the Sarbanes-Oxley Act prohibits a broad range of retaliatory adverse employment actions, including discharging, demoting, suspending, threatening, harassing, or in any other manner discriminating against a whistleblower.  Recently a federal court of appeals held that merely outing or disclosing the identity of a whistleblower is actionable retaliation under SOX.
Proving a Violation of Sarbanes-Oxley (SOX) Whistleblower Provision
To prevail under SOX's whistleblower provision, an employee must prove by a preponderance of the evidence that
she engaged in protected activity;
the employer knew that she engaged in the protected activity;
she suffered an unfavorable personnel action; and
the protected activity was a contributing factor in the unfavorable action.
A contributing factor is any factor which, alone or in connection with other factors, tends to affect in any way the outcome of the decision. Causation can be inferred from timing alone where an adverse employment action follows on the heels of protected activity.  The decision-maker's knowledge of the protected activity and close temporal proximity will suffice to prove causation in some cases.
Once the employee proves the elements of a Sarbanes-Oxley whistleblower retaliation claim by a preponderance of the evidence, the employer can avoid liability only if it proves by clear and convincing evidence that it would have taken the same unfavorable personnel action in the absence of the complainant's protected behavior or conduct.
Filing a Sarbanes-Oxley Whistleblower Complaint
A Sarbanes-Oxley whistleblower retaliation complaint must be filed initially with OSHA.  The complainant has the option to remove a SOX whistleblower claim to federal court once the complaint has been pending at the Department of Labor for 180 days.
Frequently Asked Questions About the Sarbanes-Oxley Corporate Whistleblower Protection Law from Experienced SOX Whistleblower Lawyers
Protected Whistleblowing Under the Sarbanes-Oxley Act
Prohibited Whistleblower Retaliation Under Sarbanes-Oxley
Proving Sarbanes-Oxley Whistleblower Retaliation
Relief or Damages for SOX Whistleblowers
Litigating Sarbanes-Oxley Whistleblower Cases
Additional FAQs About the Sarbanes-Oxley Whistleblower Protection Law  
Sarbanes-Oxley (SOX) Whistleblower Attorneys: Tier 1 Firm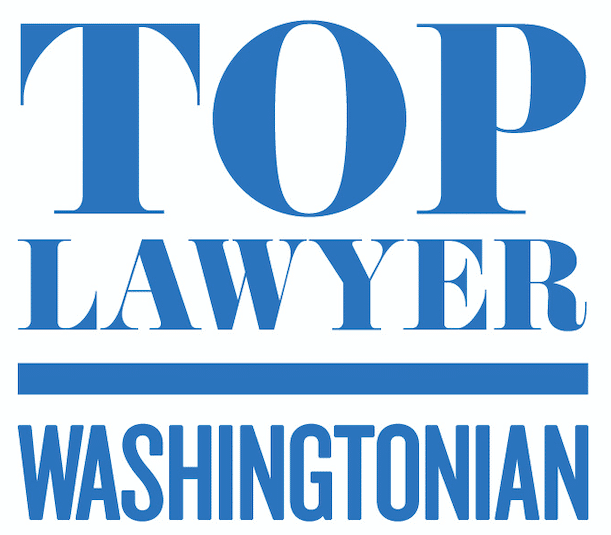 We have assembled a team of leading SOX whistleblower lawyers to provide top-notch representation to Sarbanes-Oxley (SOX) whistleblowers.  Recently Washingtonian magazine named two of our attorneys top whistleblower lawyers. U.S. News and Best Lawyers® have named Zuckerman Law a Tier 1 Law Firm in the Washington D.C. metropolitan area.
The SOX whistleblower lawyers at Zuckerman Law have substantial experience litigating Sarbanes Oxley whistleblower retaliation claims and have achieved substantial recoveries for officers, executives, accountants, auditors, and other senior professionals.  To schedule a free preliminary consultation, click here or call us at 202-262-8959.
Matt Stock is a Certified Public Accountant, Certified Fraud Examiner and former KPMG external auditor.  As an auditor, Mr. Stock developed an expertise in financial statement analysis, internal controls testing and fraud recognition, and he uses his auditing experience to help whistleblowers investigate and disclose complex financial frauds to the government and obtain damages for retaliation.  He is lead author of SEC Whistleblower Program: Tips from SEC Whistleblower Attorneys to Maximize an SEC Whistleblower Award.
Both Bachman and Zuckerman served in senior positions at the Office of Special Counsel, where they oversaw investigations of whistleblower retaliation claims and whistleblower disclosures, and enforced the Whistleblower Protection Act.
Bachman and Zuckerman served on the Department of Labor's Whistleblower Protection Advisory Committee, which makes recommendations to the Secretary of Labor to improve OSHA's administration of federal whistleblower protections.
Jason Zuckerman was recognized by Washingtonian magazine as a "Top Whistleblower Lawyer" in 2017, 2015, 2009, and 2007, selected by his peers to be included in The Best Lawyers in America® in the category of employment law (2011-2017), and selected by his peers to be listed in SuperLawyers(2012 and 2015-2017) in the category of labor and employment law.  Zuckerman is rated 10 out of 10 by Avvo, based largely on client reviews, and rated AV Preeminent® by Martindale-Hubbell based on peer reviews.
Eric Bachman has substantial experience litigating precedent-setting employment cases.  His wins include a $100 million settlement in a disparate impact Title VII class action and a $16 million class action settlement against a major grocery chain.  Having served as Special Litigation Counsel in the Civil Rights Division of the Department of Justice and as lead or co-counsel in numerous jury trials, Bachman is ready to go the distance to obtain the relief that you deserve.
The firm has published extensively on whistleblower rights and protections, and regularly speaks nationwide at seminars and continuing legal education conferences.  We blog about new developments in whistleblower law at the Whistleblower Protection Blog.
SOX Whistleblower Lawyer Client Reviews
We pride ourselves not only on the results we achieve, but also on ensuring that we provide the highest level of customer service and that our clients are kept informed of all developments in their case and play an active role in every key strategic decision in their case.    Every case is unique and every client has unique objectives that will govern how we litigate a case.
The following five client reviews are from senior corporate officials, including a CFO at a public company, that were provided through Avvo.
How to File a Sarbanes-Oxley Whistleblower Case
SOX whistleblower cases are initially filed with OSHA.  Complaints can be filed by mail, facsimile, or through an online complaint form.  A whistleblower can also call or visit in person their local OSHA Regional or Area Office to file a complaint.  To prove timely filing, it is important to retain documentation evidencing the filing of the complaint.
Sarbanes-Oxley Act Whistleblower Retaliation Provision
Resources About SOX Whistleblower Protection Law
The Sarbanes-Oxley whistleblower lawyers at leading whistleblower law firm Zuckerman Law has written extensively about whistleblower protections and is quoted frequently in the media on this topic. A sample of those blog posts and articles appears below:

Video Transcript
It seemed to come out of the blue. When David received a surprise visit from his boss, his stomach sank. He knew this couldn't be good, and he was right. After some small talk to allow the office staff to punch out for the end of the week, David was let go. No notice, no real explanation, except something about downsizing and David being a poor fit for the company. Yet no one else was being laid off, and David had a consistent record of strong performance.
David wasn't even given time to clear out his office or say goodbye to colleagues. He was told that they'd clean out his desk and leave his personal effects at the front desk for him to pick up at a later time. He managed to grab the picture he kept on his desk on his way out the door. It was the picture that always kept him going during difficult times, and there had been plenty of those as of late. It was that picture of his children that had always led him to remain honest and true to his values at work.
Lately, David was under pressure at work to manipulate earnings to meet targets that would enable management to get large bonuses. David knew that reporting false earnings to the SCC and shareholders violates SCC rules and harms shareholders. Therefore, he refused to acquiesce in his employer's earnings management scheme.
As a result, management became very hostile to him. He'd been denied a promotion that was rightfully his and he'd suffered alienation and isolation from his senior management and peers who were eager to get large bonuses from this earnings management scheme. He never thought it would come to him losing his job, but he stood his ground and now needed someone to help protect him and his rights.
Despite his loyal service to the company, he found himself out of work and worried about how he would support his family. That's when he turned to the Zuckerman Law Firm, a Washington D.C. firm that represents whistleblowers nationwide and has substantial experience litigating Sarbanes-Oxley whistleblower claims. David called them immediately and setup a consultation.
The firm explained to David his legal rights and options and crafted a strategy for David to utilize whistleblower laws to obtain a wide range of remedies, including lost wages, emotional distress damages, and damages for harm to reputation. David also learned from the firm that some whistleblowers laws may provide substantial rewards to whistleblowers. Thanks to the Zuckerman Law Firm, David is well on his way to seeking relief for the retaliation that he suffered.
If you or someone you know has been a victim of whistleblower retaliation, don't delay. Many whistleblower retaliation laws have short statutes of limitations. Contact Zuckerman Law to learn about your rights. Call 202-262-8959 or visit zuckermanlaw.com.