Top-Rated Whistleblower Law Firm Representing Whistleblowers Nationwide
Leading whistleblower law firm Zuckerman Law is privileged to represent whistleblowers in whistleblower reward and whistleblower protection laws.  Though our clients work in a wide variety of industries and locations, they typically have one thing in common — they choose not to look the other when they see wrongdoing and instead come forward to address their concerns, often speaking out at work or in some instances, disclosing wrongdoing directly to the government.
Whistleblower reward and whistleblower protection laws are complex and while they can offer substantial rewards, there are many pitfalls that must be considered when devising ineffective strategy in a whistleblower case.
We have assembled a unique team of whistleblower lawyers that enable us to achieve exceptional results for our clients.  Our team includes a licensed CPA and CFE who worked at a big four audit firm and has experience investigating complex fraud schemes.  In addition, two of our attorneys served in senior position at the U.S. Office of Special Counsel, where they enforced the Whistleblower Protection Act.
Hire an experienced team to recover the maximum damages in your whistleblower case.
To schedule a free preliminary consultation, click here or call us at 202-262-8959.
Leading Sarbanes-Oxley Corporate Whistleblower Protection Lawyers
The whistleblower lawyers at Zuckerman Law have substantial experience litigating Sarbanes Oxley whistleblower retaliation claims and have achieved substantial recoveries for officers, executives, accountants, auditors, and other senior professionals.  To learn more about corporate whistleblower protections, see our Sarbanes-Oxley Whistleblower Protection FAQ.  Click here to read client testimonials about the firm's work in SOX whistleblower matters and other employment-related litigation.
The whistleblower protection provision of the Sarbanes-Oxley Act provides robust protection to cybersecurity whistleblowers, and indeed some SOX whistleblowers have achieved substantial recoveries.  On the fifteenth anniversary of SOX, leading whistleblower law firm Zuckerman Law released a free guide to the SOX whistleblower protection law: Sarbanes-Oxley Whistleblower Protection: Robust Protection for Corporate Whistleblowers.
The guide summarizes SOX whistleblower protections and offers concrete tips for corporate whistleblowers based on lessons learned during years of litigating SOX whistleblower cases.
The goal of the guide is to arm corporate whistleblowers with the knowledge to effectively combat whistleblower retaliation, avoid the pitfalls that can weaken a SOX whistleblower case, and formulate an effective strategy to obtain the maximum recovery.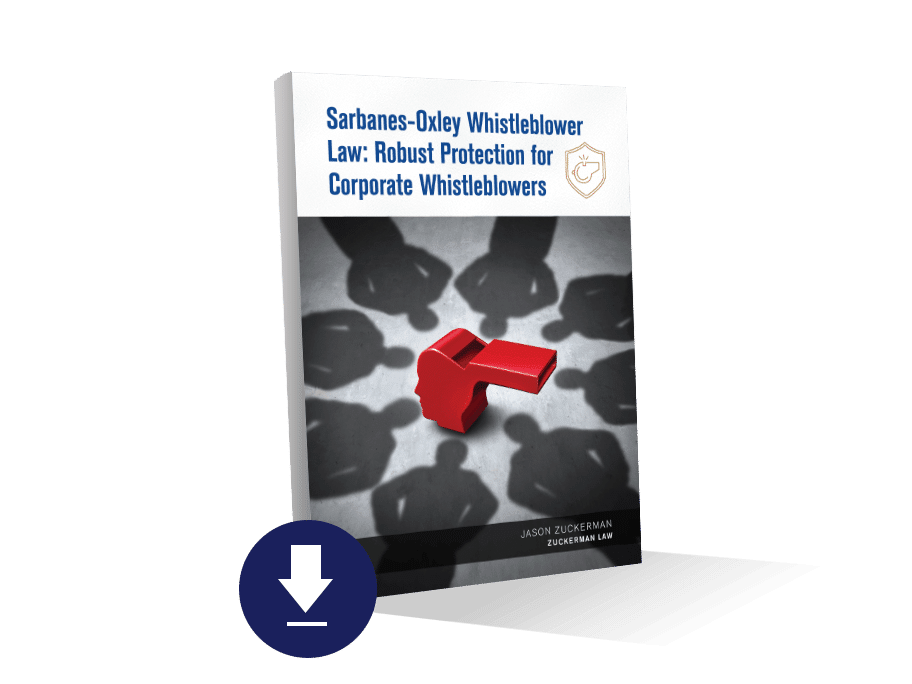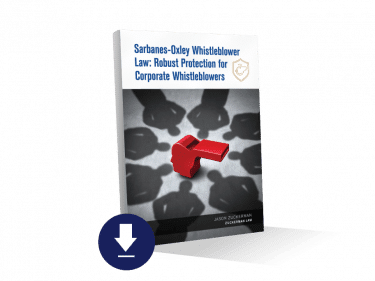 Award-Winning Whistleblower Attorneys
U.S. News and Best Lawyers® have named Zuckerman Law a Tier 1 firm in Litigation – Labor and Employment in the Washington DC metropolitan area in the 2017 edition "Best Law Firms."  In addition, Firm Principal Jason Zuckerman has been:
Government Contractor Whistleblower Attorneys
The False Claims Act and Sections 827 and 828 of the Defense Authorization Act (NDAA) contain strong whistleblower protection provisions for employees of government contractors and grantees, and protect a broad range of whistleblower disclosures.
The whistleblower lawyers at Zuckerman Law have substantial experience representing whistleblowers at government contractors and grantees in whistleblower retaliation claims.  And two of the attorneys on our team served in senior positions at the U.S. Office of Special Counsel overseeing investigations of whistleblower retaliation claims and whistleblower disclosures. To schedule a free preliminary consultation, click here or call us at 202-262-8959.
For information about the NDAA whistleblower protection law, see our post Congress Strengthens Whistleblower Protections for Federal Employees and our Practical Law Practice Note: Whistleblower Protections Under the National Defense Authorization Act.
Click here to learn about the qui tam or whistleblower rewards provision of the False Claims Act and here to learn about the anti-retaliation provision of the False Claims Act.
SEC Whistleblower Attorneys
An experienced SEC whistleblower attorney can maximize the likelihood of recovering an SEC whistleblower award. Under the SEC Whistleblower Program, the SEC is authorized to pay awards for original information about any violation of the federal securities laws, including:
See our column in Forbes:  One Billion Reasons Why The SEC Whistleblower-Reward Program Is Effective.
To learn more about incentives for whistleblower to disclose fraud to the SEC, download our free guide SEC Whistleblower Program: Tips from SEC Whistleblower Attorneys to Maximize an SEC Whistleblower Award.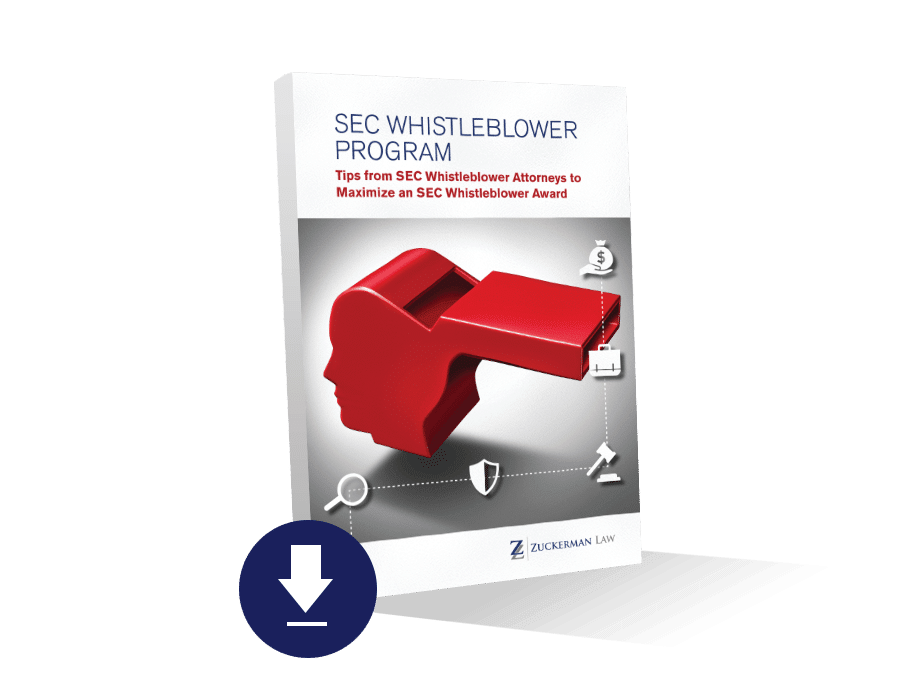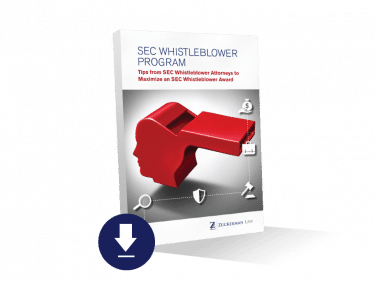 In our guide to the SEC whistleblower program, the whistleblower lawyers at Zuckerman Law share their experience gained from representing whistleblowers before the SEC.
Leading Cybersecurity Whistleblower Protection Lawyers
Whistleblower attorney Dallas Hammer is a leading cybersecurity whistleblower attorney and has written extensively about protections for cybersecurity whistleblowers, including the following publications:
Recently, Corporate Crime Reporter interviewed Mr. Hammer about cybersecurity whistleblowing.  A summary of the interview is available online at Dallas Hammer on the Rise of Cybersecurity Whistleblowing.  And CSO quoted Mr. Hammer in an article titled Cybersecurity whistleblowers: Get ready for more.
Trial-Tested and Ready to Fight to Obtain Maximum Damages
The lawyer you choose can make a major difference in the damages that you recover.  We relish the opportunity to give our clients their day in court and are ready to go the distance to obtain maximum damages.  Eric Bachman, for Deputy Special Counsel, has substantial trial experience as a former public defender and senior official at the U.S. Department of Justice Civil Rights Division.  His wins include a $100 million settlement in a disparate impact Title VII class action and a $16 million class action settlement against a major grocery chain.  Having served as lead or co-counsel in numerous jury trials, Bachman is trial-tested and ready to fight for you to obtain the relief that you deserve.
Feedback from Whistleblower Clients
WHEN REVIEWING INFORMATION ABOUT TESTIMONIALS OR STATEMENTS REGARDING A LAWYER'S QUALITY, CONSIDER THAT 1) THE FACTS AND CIRCUMSTANCES OF YOUR CASE MAY DIFFER FROM THE MATTERS IN WHICH RESULTS AND TESTIMONIALS HAVE BEEN PROVIDED; 2) ALL RESULTS OF CASES HANDLED BY JASON ZUCKERMAN ARE NOT PROVIDED AND NOT ALL CLIENTS HAVE GIVEN TESTIMONIALS; AND 3) THE TESTIMONIALS PROVIDED ARE NOT NECESSARILY REPRESENTATIVE OF RESULTS OBTAINED BY JASON ZUCKERMAN OR OF THE EXPERIENCE OF ALL CLIENTS OR OTHERS WITH JASON ZUCKERMAN. EVERY CASE IS DIFFERENT, AND EACH CLIENT'S CASE MUST BE EVALUATED AND HANDLED ON ITS OWN MERITS.
Tips for Whistleblowers to Qualify for a SEC Whistleblower Award
SEC Whistleblower Awards Lawyers
SOX Whistleblower Protection Lawyers