National Law Journal Reports Growing Wave of Whistleblower Lawsuits
An article in the National Law Journal titled Law Firms React to Growing Wave of Whistleblower Lawsuits discusses the substantial growth in SEC whistleblower rewards and whistleblower retaliation claims and mentions Zuckerman Law's leading SEC whistleblower practice.
The article reports that several firms have expanded their whistleblower practices and that there has been an uptick in whistleblower reward and retaliation claims.  More than 52,000 whistleblowers have filed submissions with the SEC Whistleblower Program and whistleblower tips have enabled the SEC to bring successful enforcement actions resulting in more than $4.5 billion in financial remedies.  Since 2012, the SEC has issued nearly $1.3 billion in awards to whistleblowers. The largest SEC whistleblower awards to date are $114 million and $50 million.  Our clients' SEC whistleblower tips have helped the SEC halt more than $1 billion in fraudulent investment schemes.
The article states that Washington DC whistleblower firm Zuckerman Law has experienced an increase in cybersecurity whistleblower claims and quotes Zuckerman's prediction that there will likely be an increase in Sarbanes-Oxley whistleblower claims brought by in-house lawyers.  Recently, the former General Counsel of Bio-Rad recovered more than $11 million at trial in a Sarbanes-Oxley retaliation case in which he alleged that Bio-Rad terminated his employment due to his disclosures about potential violations of the Foreign Corrupt Practices Act.  In that case, Judge Spero issued a significant ruling permitting in-house attorneys to use confidential communications, with appropriate protections and where reasonably necessary, to establish whistleblower retaliation under the Sarbanes-Oxley Act.
Zuckerman Law expects that the SEC Whistleblower Program will continue to be a powerful tool for the SEC to discover fraud and protect investors.
Since 2012, the SEC has issued more than $1.3 billion in SEC whistleblower awards, including multi-million dollar awards to our clients.   We have secured awards for clients disclosing a wide range of federal securities violations, including:
SEC Whistleblower Reward Program Success
As discussed in our articles and blog posts, the SEC whistleblower program has become a very effective enforcement tool for the SEC.  But very few whistleblowers have received awards, which underscores the importance of having experienced counsel represent a whistleblower effectively at the SEC.
Leading SEC and SOX Whistleblower Attorneys
The experienced SEC whistleblower lawyers at Zuckerman Law represent whistleblowers worldwide before the SEC under the Dodd-Frank SEC Whistleblower Program.  The firm has a licensed Certified Public Accountant and Certified Fraud Examiner on staff to enhance its ability to investigate and disclose complex financial fraud to the SEC, and two of the firm's attorneys served on the Department of Labor's Whistleblower Protection Advisory Committee and in senior leadership positions at a federal agency that protects whistleblowers. Click here to read reviews and testimonials from former clients.
Firm Principal Jason Zuckerman has been named by Washingtonian Magazine as a "Top Whistleblower Lawyer" and the firm has been ranked by U.S. News as a Tier 1 Firm in Labor & Employment Litigation.  Click here to read more about whistleblower firm Zuckerman Law.
Leading whistleblower law firm Zuckerman Law has substantial experience investigating securities fraud schemes and preparing effective submissions to the SEC concerning a wide range of federal securities violations, including:
The National Law Journal: Law Firms React to Growing Wave of Whistleblower Lawsuits
Read the full story here.
Last month, Labaton Sucharow's whistleblower practice added three high-profile enforcement lawyers from the U.S. Department of Justice and the U.S. Securities and Exchange Commission. Five years ago, that probably would not have happened.
In the past, lawyers like these usually joined big corporate law firms and defended white-collar criminals for big bucks. That these three hires chose to join a plaintiffs firm that goes after corporate misconduct speaks volumes about what is happening in the world of whistleblower law today. It is exploding, and numerous whistleblower firms are expanding to meet the need.
For example, one of the largest such firms, Phillips & Cohen, added eight new associates, three of counsel and two lateral partners during the past six years, according to firm partner Erika Kelton, in Washington, D.C. And they expanded their offices from three to six, with additions in New York, Miami and London.
At Labaton, which expanded its securities practice to pursue SEC whistleblower cases in 2011, the three hires "represent a substantial investment," said attorney Jordan Thomas, head of the firm's whistleblowing practice. "It shows our belief in the program and its long term future. We are doubling down."
Law firms that defend corporations have also made adjustments, with a number of them, such as Littler Mendelson or Proskauer Rose, carving out whistleblower and retaliation practices.Their expansion seems justified. Consider:
• In 1959, America had one whistleblower law. Today, it has 59 laws, both state and federal, covering various agencies. The SEC, IRS, Commodity Futures Trading Commission and the Occupational Safety and Health Administration all have their own whistleblower programs.
• The SEC has received almost as many whistleblower claims in the past two years (8,000) as it did in its first five years of the program (10,500). Since the program began in 2011, the agency has levied nearly $1 billion in penalties and awarded some $154 million to 44 whistleblowers, according to Jane Norberg, chief of the SEC's Office of the Whistleblower.
• Whistleblowing is expanding its international reach, and law firms, such as Phillips & Cohen, are opening overseas offices to take advantage of the trend. In 1959, no other country had a whistleblower law; today 33 nations have them and another 60 countries are enacting laws that cover a specific sector, such as health care or finance, according to Tom Devine, legal director of the Government Accountability Project.
"The United Nations, the World Bank and every regional development bank recognize whistleblower rights," Devine said. "They are the cornerstones of international anticorruption treaties. It has reached point where it's the rare exception in the world when workers don't have a right to challenge power and corruption."
Whistleblowing got its start in the United States in 1863 during the Civil War with passage of the False Claims Act (FCA) to catch cheating defense contractors. Amended several times since then the act imposes liability on people or companies that defraud the government.  A so-called "qui tam" provision (from a Latin phrase that means he who stands in place of the King) allows a citizen to sue on behalf of the government and receive a percentage of the recovery.
Phillips & Cohen's Kelton remembers first becoming involved with a whistleblower suit when she worked on a case brought in 1988 against a company that overcharged the government for flight simulators for eight years. The case settled for $55.5 million, with the whistleblower splitting a $7.5 million award in 1992. Kelton was one year out of law school, and whistleblower cases were sparse then. But she said she was hooked.
She later became interested in financial fraud whistleblowers in the mid-90s, "and once the Dodd-Frank Wall Street Reform and Consumer Protection Act passed (in 2010) we jumped in with both feet, adding attorneys and a couple partners."
Many misconduct cases in health care, pharmaceutical and defense contractor cases are still brought under the False Claims Act, she said. But since Dodd-Frank was enacted she said the growth has been "explosive" in fraud cases generally brought under the SEC and CFTC programs.
Kelton noted the growing number of international clients at her firm. "The nature of securities and commodities laws gives the SEC and CFTC global reach," she explained. In fact, she said, in 2014 the largest SEC whistleblower award thus far, $32 million, went to one of her clients, an anonymous international whistleblower.
Another leading whistleblower attorney, Jason Zuckerman, a principal at Zuckerman Law in Washington, D.C., said besides healthcare and financial fraud claims, his firm is seeing an increase in cybersecurity whistleblowers. These workers expose corporate breaches that were not disclosed to the public and data security vulnerabilities at their companies, citing various state and federal laws.
Zuckerman said another hot area right now is fraud in the EB-5 investment visa program. Under the program, foreign residents can earn an EB-5 U.S. immigrant visa by making a major investment in the U.S.  But the SEC has found a billion dollars' worth of fraud in the program, including misuse of investor funds and misrepresentations in marketing.
Zuckerman also predicts "we will see some increase in in-house counsel bringing claims" against their companies for retaliation after a recent whistleblower victory.
In a California case earlier this year, a fired general counsel, Sanford Wadler, won $14.5 million, including attorney fees, after claiming he was fired for reporting potential foreign bribery issues to the board of directors of Bio-Rad Laboratories Inc. Federal and state laws include broad protections for whistleblowers with the right to file a retaliation claim.
Earl (Chip) Jones III, Dallas office managing partner for defense firm Littler Mendelson, said he is definitely seeing more retaliation cases. And in an unusual twist, he said he's noticed an increasing number of whistleblower cases brought against companies by their new compliance officers:
The company brings in an expert, bares its soul and confesses its sins, then asks the compliance officer to fix everything. "They bring in someone who wants to build a world class program, but they only have the resources for a mini-program," Jones said.
The situation becomes so toxic, Jones said, that the compliance officer quits or files a whistleblower suit. "I'm seeing the same scenario play out over the past couple years," he said.
Whistleblowers' Rights Against Retaliation 
Meanwhile, whistleblowers' rights against retaliation also have grown exponentially in recent years, according to Devine of the Government Accountability Project. "And they are increasingly winning against the scorched earth attacks being launched against them," he said.
Among other rights, workers can bring whistleblower retaliation claims under OSHA in a variety of industries, including banks. That scenario occurred at a bank accused of opening unauthorized bank accounts.
Devine warns, however, that it is easy for fired whistleblowers to become overwhelmed in the fight. "They have to build a financial war chest, he said, and recruit a legal team. And be prepared for a two to three-year struggle, he advised.
One thing that has helped, Devine said, is a cultural shift in how whistleblowers are viewed. In past decades, society often viewed them as disloyal traitors to the company. "But today they are seen more as heroes," he said.
Author:
Sue Reisinger
Guide to SEC Whistleblower Program and SEC Whistleblower Bounties
For more information about the SEC Whistleblower Program, download our free ebook SEC Whistleblower Program: Tips from SEC Whistleblower Attorneys to Maximize an SEC Whistleblower Award and see the following resources:
Guide to SOX Whistleblower Law
Zuckerman Law has represented CEOs, CFOs, in-house counsel, partners at audit firms and other senior professionals in high-stakes whistleblower matters.  Click here to read reviews and testimonials from former clients.  Drawing on our substantial experience representing corporate whistleblowers, we have published a free guide to SOX titled Sarbanes-Oxley Whistleblower Protection: Robust Protection for Corporate Whistleblowers: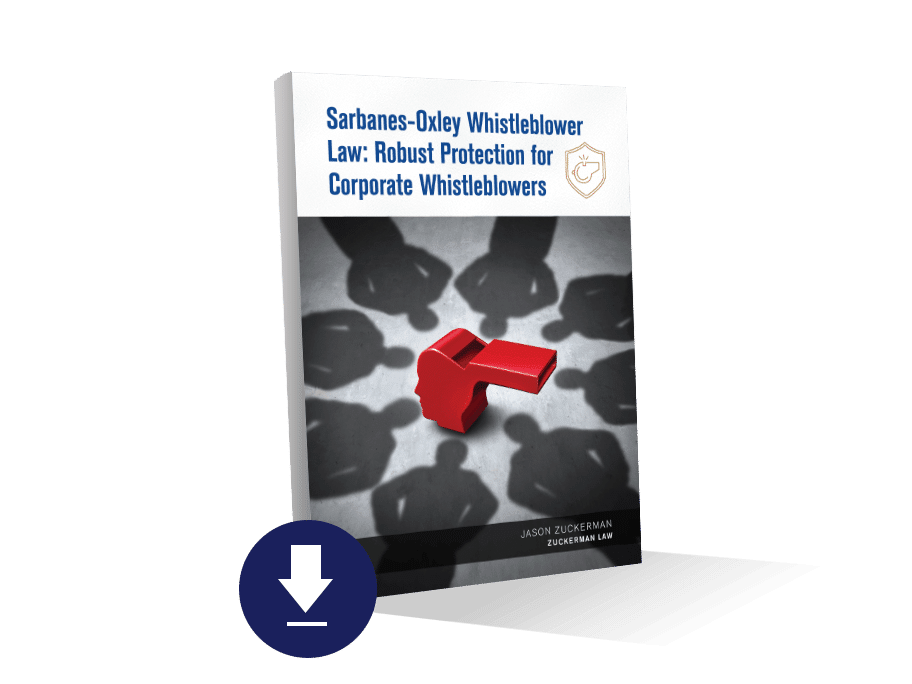 Leading SEC Whistleblower Law Firm
Process to Get an SEC Whistleblower Award
Qualifying for an SEC Whistleblower Bounty
SEC Whistleblower Protections Against Retaliation
SEC Whistleblower Lawyers' Tips and Resources for SEC Whistleblowers
Lawyers Representing Sarbanes-Oxley Whistleblowers
The whistleblower lawyers at Zuckerman Law also have substantial experience litigating Sarbanes Oxley whistleblower retaliation claims and have achieved substantial recoveries for officers, executives, accountants, auditors, and other senior professionals. Below are a sample of some article and blog posts about the scope of SOX whistleblower protection.
whistleblower_lawyers_012017_infographic