National Law Journal Reports Growing Wave of Whistleblower Lawsuits
An article in the National Law Journal titled Law Firms React to Growing Wave of Whistleblower Lawsuits discusses the substantial growth in SEC whistleblower rewards and whistleblower retaliation claims and mentions Zuckerman Law's leading SEC whistleblower practice.
The article reports that several firms have expanded their whistleblower practices and that there has been an uptick in whistleblower reward and retaliation claims.  More than 52,000 whistleblowers have filed submissions with the SEC Whistleblower Program and whistleblower tips have enabled the SEC to bring successful enforcement actions resulting in more than $4.5 billion in financial remedies.  Since 2012, the SEC has issued nearly $1.3 billion in awards to whistleblowers. The largest SEC whistleblower awards to date are $114 million and $50 million.  Our clients' SEC whistleblower tips have helped the SEC halt more than $1 billion in fraudulent investment schemes.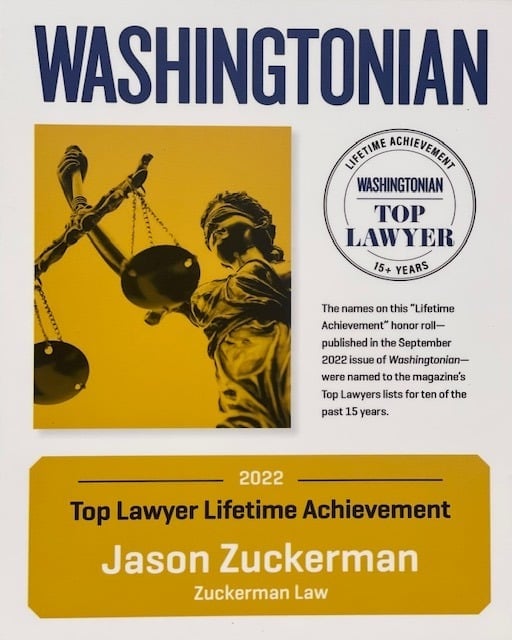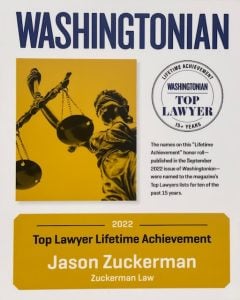 The article states that Washington DC whistleblower firm Zuckerman Law has experienced an increase in cybersecurity whistleblower claims and quotes Zuckerman's prediction that there will likely be an increase in Sarbanes-Oxley whistleblower claims brought by in-house lawyers.  Recently, the former General Counsel of Bio-Rad recovered more than $11 million at trial in a Sarbanes-Oxley retaliation case in which he alleged that Bio-Rad terminated his employment due to his disclosures about potential violations of the Foreign Corrupt Practices Act.  In that case, Judge Spero issued a significant ruling permitting in-house attorneys to use confidential communications, with appropriate protections and where reasonably necessary, to establish whistleblower retaliation under the Sarbanes-Oxley Act.
Zuckerman Law expects that the SEC Whistleblower Program will continue to be a powerful tool for the SEC to discover fraud and protect investors. For more information about the SEC Whistleblower Program, download the eBook: Tips from SEC Whistleblower Attorneys to Maximize an SEC Whistleblower Award.
SEC Whistleblower Reward Program Success
As discussed in our articles and blog posts, the SEC whistleblower program has become a very effective enforcement tool for the SEC.  But very few whistleblowers have received awards, which underscores the importance of having experienced counsel represent a whistleblower effectively at the SEC.
Leading SEC and SOX Whistleblower Attorneys
The experienced SEC whistleblower lawyers at Zuckerman Law represent whistleblowers worldwide before the SEC under the Dodd-Frank SEC Whistleblower Program.  The firm has a licensed Certified Public Accountant and Certified Fraud Examiner on staff to enhance its ability to investigate and disclose complex financial fraud to the SEC, and two of the firm's attorneys served on the Department of Labor's Whistleblower Protection Advisory Committee and in senior leadership positions at a federal agency that protects whistleblowers. Click here to read reviews and testimonials from former clients.
Firm Principal Jason Zuckerman has been named by Washingtonian Magazine as a "Top Whistleblower Lawyer" and the firm has been ranked by U.S. News as a Tier 1 Firm in Labor & Employment Litigation.  Click here to read more about whistleblower firm Zuckerman Law.
Leading whistleblower law firm Zuckerman Law has substantial experience investigating securities fraud schemes and preparing effective submissions to the SEC concerning a wide range of federal securities violations, including:
Guide to SEC Whistleblower Program and SEC Whistleblower Bounties
For more information about the SEC Whistleblower Program, download our free ebook SEC Whistleblower Program: Tips from SEC Whistleblower Attorneys to Maximize an SEC Whistleblower Award and see the following resources: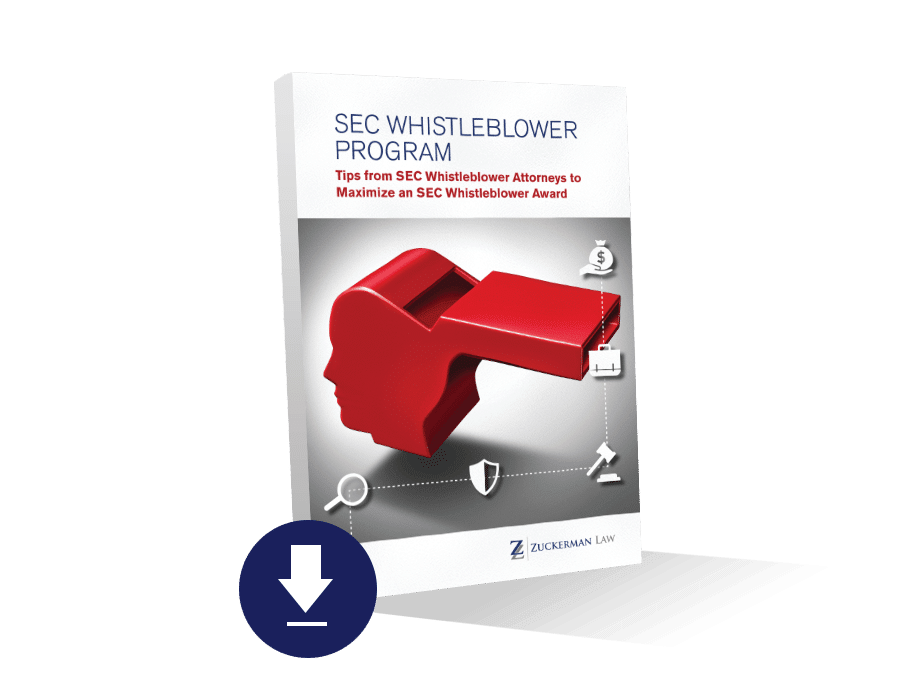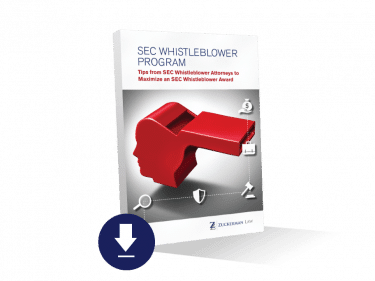 Guide to SOX Whistleblower Law
Zuckerman Law has represented CEOs, CFOs, in-house counsel, partners at audit firms and other senior professionals in high-stakes whistleblower matters.  Click here to read reviews and testimonials from former clients.  Drawing on our substantial experience representing corporate whistleblowers, we have published a free guide to SOX titled Sarbanes-Oxley Whistleblower Protection: Robust Protection for Corporate Whistleblowers: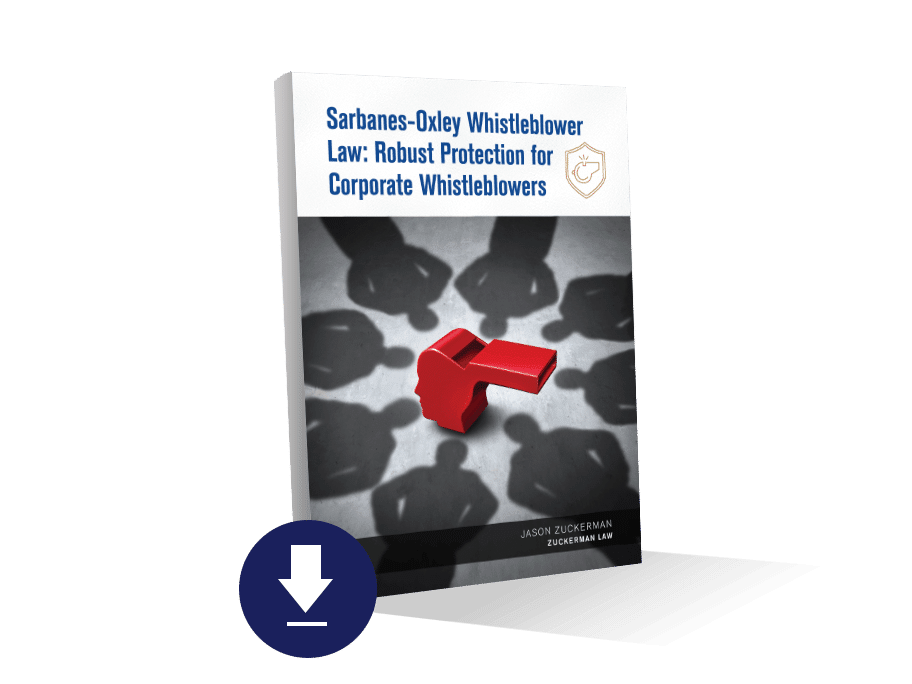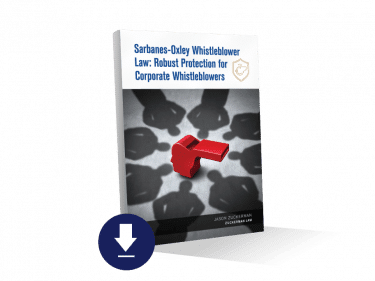 Leading SEC Whistleblower Law Firm
Process to Get an SEC Whistleblower Award
Qualifying for an SEC Whistleblower Bounty
SEC Whistleblower Protections Against Retaliation
SEC Whistleblower Lawyers' Tips and Resources for SEC Whistleblowers
Lawyers Representing Sarbanes-Oxley Whistleblowers
The whistleblower lawyers at Zuckerman Law also have substantial experience litigating Sarbanes Oxley whistleblower retaliation claims and have achieved substantial recoveries for officers, executives, accountants, auditors, and other senior professionals. Below are a sample of some article and blog posts about the scope of SOX whistleblower protection.
whistleblower_lawyers_012017_infographic