Cybersecurity Whistleblower Lawyer's Guide to Cybersecurity Whistleblower Rewards and Protections
Our experienced cybersecurity whistleblower lawyers have represented Chief Information Security Officers, CIOs, and other cybersecurity professionals in cybersecurity whistleblower rewards and protections matters.
We are well versed in the cybersecurity issues that may qualify for an SEC whistleblower reward or for protection under the whistleblower protection provision of the Sarbanes-Oxley Act or under laws that protects employees of government contractors disclosing cybersecurity deficiencies.
Recently the Wall Street Journal quoted Dallas Hammer, the head of our cybersecurity whistleblower practice, in an article titled Cybersecurity Whistleblowers Are Growing Corporate Challenge.
To find out more about the rights of cybersecurity whistleblowers, call us at 202-262-8959 for a free, confidential consultation and download our Practitioner's Guide to Cybersecurity Whistleblowing.
Contact us today to find out the strategies that we have successfully employed to secure SEC whistleblower awards for our whistleblower clients.
Cybersecurity Whistleblower Protection Against Retaliation
Leading Cybersecurity Whistleblower Attorneys
Whistleblower attorney Dallas Hammer is a leading cybersecurity whistleblower attorney and has helped whistleblowers disclose significant wrongdoing concerning cybersecurity, information security, and data privacy.  He has also written extensively about protections for cybersecurity whistleblowers, including the following publications:
Recently Hammer was interviewed by Corporate Crime Reporter regarding the rise of cybersecurity whistleblowing.
Hammer explained that raising concerns about cybersecurity issues qualifies for protection under the Sarbanes-Oxley whistleblower law: He cited as an example the Prioleau whistleblower case: "That case is about an employee who raised cybersecurity concerns about two policies that contradicted each other. He raised those through his chain of command. He was ignored and experienced retaliation. The question was whether blowing the whistle on these cybersecurity issues qualified for protection under the Sarbanes Oxley Act, which was originally passed with more of a focus on corporate and audit fraud. The Administrative Review Board of the Department of Labor found that such a disclosure was in fact protected."
In the article, Hammer also discusses his substantial experience representing whistleblowers that have disclosed cybersecurity vulnerabilities and weaknesses in information technology internal controls.  He noted that cybersecurity whistleblowers that he represented have disclosed important compliance issues in many industries: "What we have seen in other contexts — for example, fraud on the government in general — is that when people start to listen to whistleblowers, it does help fix the problem. It brings a new set of eyes — eyes that are in a position to know things that outside regulators do not know, that the public at large does not know. It helps fix the problem."
The whistleblower lawyers at Zuckerman Law have substantial experience litigating Sarbanes Oxley whistleblower retaliation claims and have achieved substantial recoveries for CISOs, CIOs, and other senior professionals.  To learn more about corporate whistleblower protections, see our Sarbanes-Oxley Whistleblower Protection FAQ.  Click here to read client testimonials about the firm's work in SOX whistleblower matters and other employment-related litigation.
To schedule a free preliminary consultation, click here or call us at 202-262-8959.
False Claims Act Cybersecurity Whistleblower Protections and Rewards
Sarbanes-Oxley Whistleblower Protection for Cybersecurity Whistleblowing
The whistleblower protection provision of the Sarbanes-Oxley Act provides robust protection to cybersecurity whistleblowers, and indeed some SOX whistleblowers have achieved substantial recoveries.   Leading whistleblower law firm Zuckerman Law has issued a guide to the SOX whistleblower protection law: Sarbanes-Oxley Whistleblower Protection: Robust Protection for Corporate Whistleblowers.  The guide summarizes SOX whistleblower protections and offers concrete tips for corporate whistleblowers based on lessons learned during years of litigating SOX whistleblower cases.
The goal of the guide is to arm corporate whistleblowers with the knowledge to effectively combat whistleblower retaliation, avoid the pitfalls that can weaken a SOX whistleblower case, and formulate an effective strategy to obtain the maximum recovery.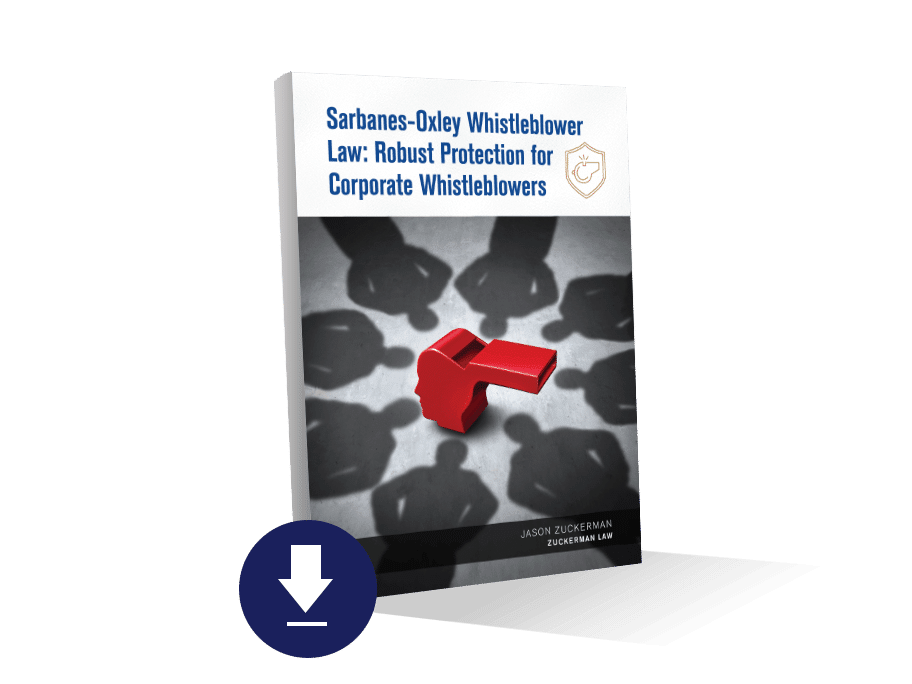 Cybersecurity False Claims Act Whistleblower Rewards and Protections
False Claims Act Whistleblower Protection Law

SOX and Dodd-Frank Protections for Cybersecurity Whistleblowers
How to Qualify for an SEC Cybersecurity Whistleblower Award
SEC Whistleblower Process
Cybersecurity Whistleblower Protection Resources 
ABOUT ZUCKERMAN LAW
Summary
We are a Washington, DC-based law firm that represents whistleblowers in whistleblower rewards and whistleblower retaliation matters and litigates discrimination claims on behalf of employees in the District of Columbia, Maryland, and Virginia. The firm is dedicated to zealously advocating on behalf of our clients to achieve justice and accountability.
Professionalism

Honesty

Perseverance