Law Firm Representing Corporate Whistleblowers
Corporate codes of ethics or codes of conduct typically contain robust whistleblower protection policies, but too often the policies provide no protection to the whistleblower.  Acting in good faith, the whistleblower reports fraud or other corporate wrongdoing and expects to be protected from retaliation.  But many whistleblowers suffer retaliation for disclosing fraud or other corporate misconduct and find that the company is focused more on investigating the whistleblower than on investigating the whistleblower's disclosures or concerns.
While federal whistleblower protection laws provide strong protection to corporate whsitleblowers, some corporate employees are not covered or protected under those whistleblower statutes. Those whistleblowers may be protected under the whistleblower protection policies in corporate codes of ethics.  In particular, whistleblowers that have suffered retaliation can potentially sue for breach of contract.  For more information about this remedy for retaliation, see Professor Moberly's article Protecting Whistleblowers by Contract.
An employer's breach of an anti-retaliation policy in a Code of Ethics can potentially give rise to a breach of contract claim, although the law varies by state.
In early 2015, a federal district court held that an employer's anti-retaliation policy created legally enforceable rights. See Leyden v. Am. Accreditation Healthcare Comm'n, 83 F. Supp. 3d 241, 247–48 (D.D.C. 2015). In Leyden, the trial court held that the plaintiff had a valid claim based on the employer's alleged violation of its internal anti-retaliation policy. The court relied on law construing whether employee handbooks created implied contractual rights.
In Leyden, the plaintiff was the Chief Accreditation Officer at the American Accreditation Healthcare Commission, a nonprofit offering accreditation and certification programs to healthcare entities. The defendant had an anti-retaliation policy, which stated: "No URAC employee who in good faith reports any Improper Activities in accordance with this policy shall suffer, and shall be protected from threats of harassment, retaliation, discharge, or other types of discrimination." The plaintiff voiced concerns that new management was mistreating female executives and that two board members were engaged in conduct that she thought jeopardized the organization's independence. The defendant then terminated the plaintiff's employment.
The defendant moved to dismiss the complaint, arguing in relevant part that the anti-retaliation policy did not create contractual rights. Even if it did, the defendant contended, it had disclaimed any such rights in its employee handbook.
However, the court held that the anti-retaliation policy created an implied contract. Id. The court began by reviewing Strass v. Kaiser Foundation Health Plan, a case holding that an employee handbook created an implied contract. Id. at 247 (citing Strass v. Kaiser Found. Health Plan, 744 A.2d 1000 (D.C. 2000)). The court discussed how a manual could create rights, and how an employer could effectively disclaim those rights. Id. The court also rejected the defendant's argument about the disclaimer, noting that a disclaimer that was "rationally at odds" with the other language in the document may not cut off an implied contract. Id.
In finding an implied contract, the court focused on the employer's invitation to report "Improper Activities" internally and on the language of the anti-retaliation policy. Id. The court also concluded that the employer's disclaimer, which was found in a different document, was rationally at odds with the anti-retaliation policy. Id. The reasoning in Leyden may be persuasive in other jurisdictions and provide an important remedy to whistleblowers that are not covered under federal or state whistleblower protection statutes.
To learn if you may have a claim for whistleblower retaliation or breach of a code of ethics, contact Zuckerman Law at 202-262-8959 or email us at jzuckerman@zuckermanlaw.com.
SOX Whistleblower Lawyer's Guide to SOX Whistleblower Protection Law
Download our SOX whistleblower lawyers' free guide to the Sarbanes-Oxley whistleblower protection law: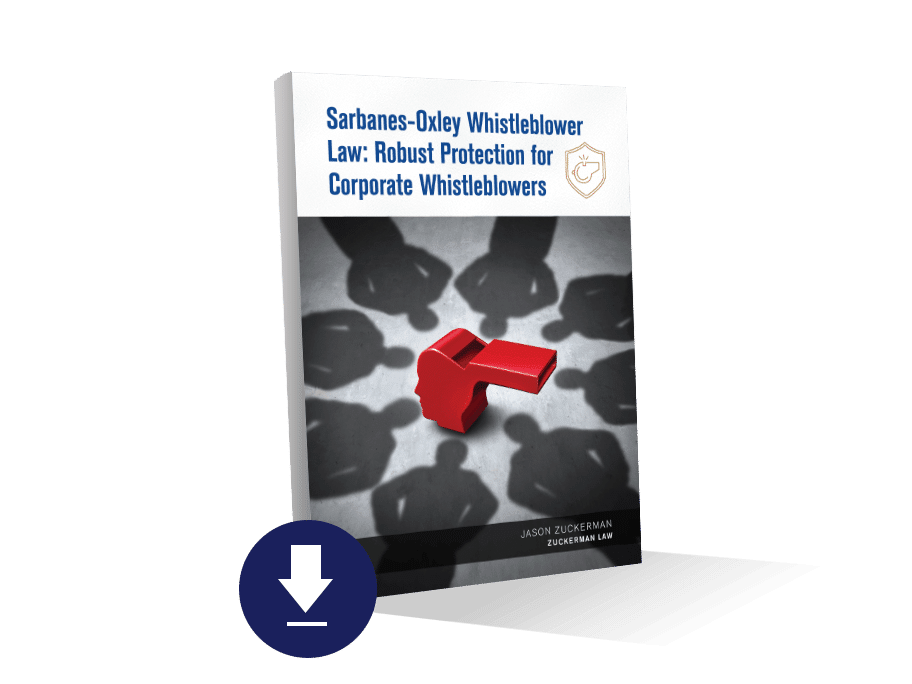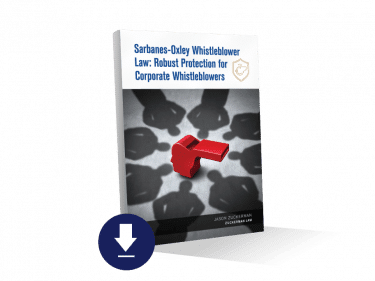 Federal Contractor Whistleblower Protection
The whistleblower protections of the False Claims Act and the NDAA protect strong protections for employees of federal contractors and grantees.
See our answers to frequently asked questions about False Claims Act whistleblower protection law.
See our answers to frequently asked questions about False Claims Act qui tam whistleblower awards.
For more information about whistleblower protections for employees of government contractors and grantees, including Department of Defense contractors, see our Practical Law Practice Note titled Whistleblower Protections Under the National Defense Authorization Act. This Practice Note surveys the legal protections for employees of federal contractors, subcontractors, and grantees that receive federal funds who report waste, fraud, or abuse involving federal funds, a violation of law, rule, or regulation related to a federal contract, or a substantial and specific danger to public health or safety.
In addition, the outline explains the procedures that govern the filing, investigation and adjudication of National Defense Authorization Act (NDAA) whistleblower retaliation claims.
Topics covered include:
Protected whistleblowing under the NDAA.
The scope of coverage of the NDAA's whistleblower protection provisions.
The reasonable belief standard governing NDAA protected whistleblowing.
Proving "contributing factor" causation
The same-decision affirmative defense
Remedies or damages available to prevailing NDAA whistleblowers.
Top-Rated Corporate Whistleblower Protection Lawyers

We have assembled a team of leading corporate whistleblower lawyers to provide top-notch representation to whistleblowers.  Recently Washingtonian magazine named Jason Zuckerman and Eric Bachman top whistleblower lawyers.  Both Bachman and Zuckerman served in senior positions at the Office of Special Counsel, where they oversaw investigations of whistleblower retaliation claims and whistleblower disclosures, and enforced the Whistleblower Protection Act.  Let us put our unique experience and credentials to work for you:
U.S. News and Best Lawyers® have named Zuckerman Law a Tier 1 firm in Litigation – Labor and Employment in the Washington DC metropolitan area
Bachman and Zuckerman served on the Department of Labor's Whistleblower Protection Advisory Committee, which makes recommendations to the Secretary of Labor to improve OSHA's administration of federal whistleblower protections.
Matt Stock is a Certified Public Accountant, Certified Fraud Examiner and former KPMG external auditor.  As an auditor, Mr. Stock developed an expertise in financial statement analysis, internal controls testing and fraud recognition, and he uses his auditing experience to help whistleblowers investigate and disclose complex financial frauds to the government and obtain damages for retaliation.  He is lead author of SEC Whistleblower Program: Tips from SEC Whistleblower Attorneys to Maximize an SEC Whistleblower Award.
Eric Bachman has substantial experience litigating precedent-setting employment cases.  His wins include a $100 million settlement in a disparate impact Title VII class action and a $16 million class action settlement against a major grocery chain.  Having served as Special Litigation Counsel in the Civil Rights Division of the Department of Justice and as lead or co-counsel in numerous jury trials, Bachman is ready to go the distance to obtain the relief that you deserve.
Jason Zuckerman was recognized by Washingtonian magazine as a "Top Whistleblower Lawyer" in 2017, 2015, 2009, and 2007 selected by his peers to be included in The Best Lawyers in America® in the category of employment law (2011-2017), and selected by his peers to be listed in SuperLawyers (2012 and 2015-2017) in the category of labor and employment law.  is rated 10 out of 10 by Avvo, based largely on client reviews, and rated AV Preeminent® by Martindale-Hubbell based on peer reviews.
The firm has published extensively on whistleblower rights and protections, and regularly speaks nationwide at seminars and continuing legal education conferences.  We blog about new developments in whistleblower law at the Whistleblower Protection Blog.

Recommended Posts
MEET OUR TEAM OF PROFESSIONALS Jason Zuckerman Principal Eric Bachman Lawyer Dallas Hammer Of Counsel…

[rev_slider drive_slider] [fullwidth] Zuckerman Law is a Washington, DC-based law firm that represents whistleblowers…

An article titled Supreme Court will review whistleblower complaint reports that the Supreme Court…

NDAA Protected Whistleblowing The scope of protected whistleblowing under the NDAA whistleblower protection provisions…

A Bloomberg-BNA article entitled New Whistle-Blower Investigation Guidance From OSHA quotes leading whistleblower lawyer Jason Zuckerman about…