Whistleblower Attorneys Representing Executives and Professionals
The leading whistleblower lawyers at Zuckerman Law have extensive experience representing corporate whistleblowers, including CEOs, CFOs, CISOs, CCOs, CMOs, CAOs, and other senior professionals. We have secured SEC whistleblower rewards for executives through our effective representation of whistleblowers at the SEC.
U.S. News and Best Lawyers® have named Zuckerman Law a Tier 1 firm in Litigation – Labor and Employment in the Washington DC metropolitan area in the 2022 edition "Best Law Firms." In 2019, the National Law Review awarded Jason Zuckerman its "Go-To Thought Leadership Award" for his analysis of developments in whistleblower law.  And Washingtonian magazine has named two of our attorneys top whistleblower lawyers. Click here to read testimonials from CEOs, CFOs, and other senior professionals that we have represented.
Through litigation or negotiation, our attorneys have obtained substantial recoveries for C-suite whistleblowers.  Prior representations include:
Recently the Association of Certified Fraud Examiners published a profile of SEC whistleblower lawyer Matt Stock's success working with whistleblowers to fight fraud:
Whistleblower Protections for Corporate Officers and Executives
Based on our extensive experience representing corporate executives and senior professionals, we understand what is at stake when you suffer retaliation — your career, reputation, and livelihood are potentially on the line.  Fortunately, there are robust legal protections for corporate whistleblowers, including:
Damages in whistleblower retaliation cases can be substantial, including lost pay, reputational harm, lost future earnings, and emotional distress damages.  Some state whistleblower protection statutes and common law actions authorize punitive damages.
Click here to see examples of damages awards in whistleblower retaliation cases.
For more information about SOX whistleblower protection, download our guide Sarbanes-Oxley Whistleblower Protection: Robust Protection for Corporate Whistleblowers: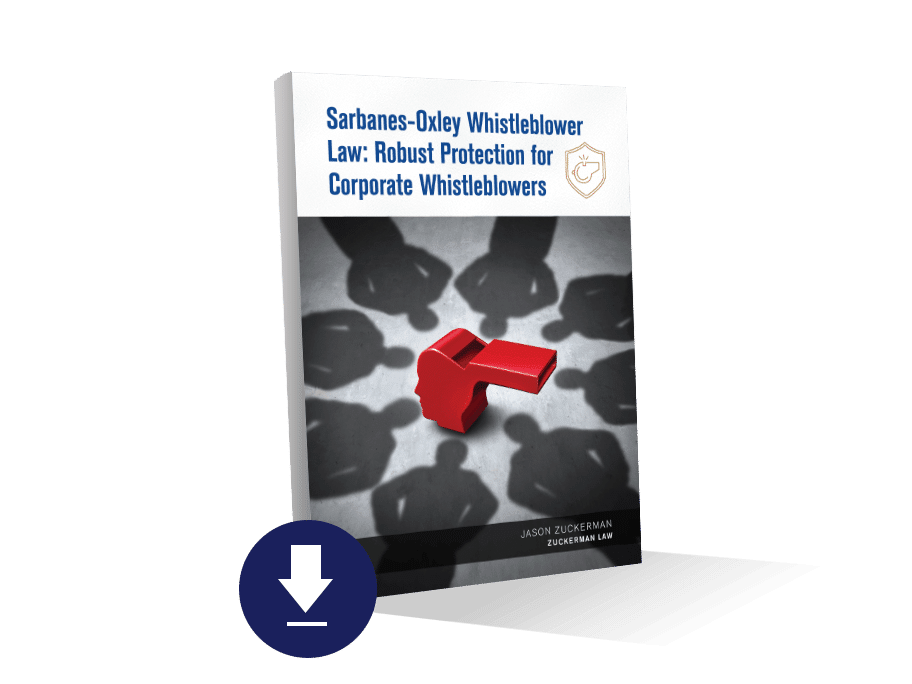 Damages Executives Can Recover in Whistleblower Retaliation Cases
The retaliatory termination of a corporate executive for whistleblowing can derail an executive's career and significantly harm the executive's reputation and job prospects, thereby resulting in a significant loss of future income.  It is critical to identify all damages and to develop an effective strategy to maximize damages, including the following:
lost stock options;
front pay/future earnings;
lost benefits;
lost bonuses;
emotional distress damages
reputational harm; and
punitive damages.
Our team of leading whistleblower lawyers represents corporate officers, executives, and senior professionals in high-stakes whistleblower retaliation cases, including in Sarbanes-Oxley whistleblower retaliation claims.
Whistleblower Rewards or Incentives for C-Suite Executives
Corporate executives can be eligible for whistleblower awards under the False Claims Act or under the SEC whistleblower program, CFTC whistleblower program, or IRS whistleblower program.
Corporate officers and executives can be eligible for SEC whistleblower awards, but they must comply with the rules implementing Section 21F-4 of the Securities Exchange Act.  In particular, they can submit original information and become eligible for an award if:
they reasonably believe the disclosure is necessary to prevent conduct likely to cause "substantial injury" to the financial interest or property of the entity or investors;
they reasonably believe the entity is engaging in "conduct that will impede an investigation of the misconduct"; or
at least 120 days have passed either since they properly disclosed the information internally, or since they obtained the information under circumstances indicating that the entity's officers already knew of the information.
As discussed in our articles, the SEC whistleblower program has become a very effective enforcement tool for the SEC.  But very few whistleblowers have received awards, which underscores the importance of having experienced counsel represent a whistleblower effectively at the SEC.
For more information about SEC whistleblower awards, download our guide SEC Whistleblower Program: Tips from SEC Whistleblower Attorneys to Maximize an SEC Whistleblower Award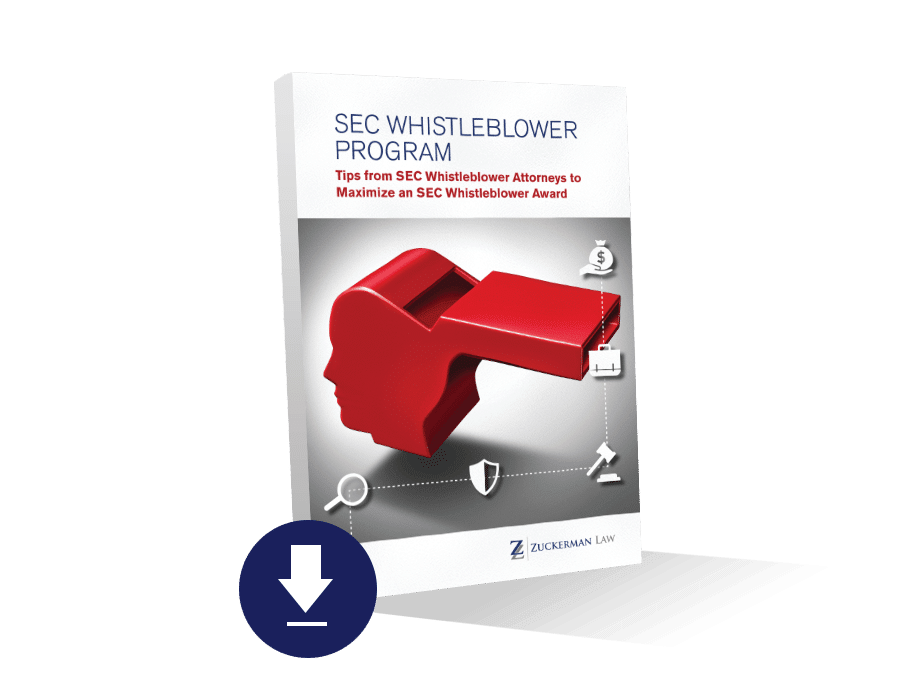 Exceptional Service for Corporate Whistleblowers
We strive not only to deliver exceptional results for our clients, but also provide the highest level of customer service. You deserve an advocate who will always apprise you of new developments, consistently seek your input and provide clear explanations of your options so that you make informed strategic decisions.  Below is a sample of client reviews from corporate executives, including CFOs, that we represented. See additional reviews on Avvo.
WHEN REVIEWING INFORMATION ABOUT TESTIMONIALS OR STATEMENTS REGARDING A LAWYER'S QUALITY, CONSIDER THAT 1) THE FACTS AND CIRCUMSTANCES OF YOUR CASE MAY DIFFER FROM THE MATTERS IN WHICH RESULTS AND TESTIMONIALS HAVE BEEN PROVIDED; 2) ALL RESULTS OF CASES HANDLED BY JASON ZUCKERMAN ARE NOT PROVIDED AND NOT ALL CLIENTS HAVE GIVEN TESTIMONIALS; AND 3) THE TESTIMONIALS PROVIDED ARE NOT NECESSARILY REPRESENTATIVE OF RESULTS OBTAINED BY JASON ZUCKERMAN OR OF THE EXPERIENCE OF ALL CLIENTS OR OTHERS WITH JASON ZUCKERMAN. EVERY CASE IS DIFFERENT, AND EACH CLIENT'S CASE MUST BE EVALUATED AND HANDLED ON ITS OWN MERITS.
Jason Zuckerman is the most focused, thoughtful and aggressive attorneys I have ever known, let alone had the pleasure to have on my side in a highly complex legal case. He brought well-honed legal insights and a rapid pace to our legal preparations. He forcefully brought those preparations to the opposing side, which gave them little choice but to engage with us until a positive settlement was reached. In addition, we found Jason to be extremely responsive at every step, even if it required working past midnight. His character is beyond reproach and his dedication through the entire process was unwavering. If I ever need someone in my legal court again, I won't hesitate for even a second, before I seek Jason's support.
Jason is everything you could possibly ask for an an attorney: highly intelligent, thoughtful, and extraordinarily knowledgeable in his specialty of the law.  In a very short period of time Jason was able to assimilate a laundry list of details and offer a compelling strategy on how to effectively proceed.  Moreover, he is extremely responsive.
Thank the Lord I found Jason Zuckerman. I was in a bad situation; I was put on leave from my company after reporting to the Board of Directors that the CEO asked me to make some questionable accounting entries (I was the CFO). The company took the CEO's side and I was left out in the cold by trying to do the right thing. I was left hanging on leave and being interviewed by a company hired investigator. I found Jason and he immediately put me at ease and took over. All of a sudden the company was on the defensive and I was on the offensive. It was over in two weeks.  Jason was there for me the whole way and was sincerely interested in me as a human being as opposed to just a contingency fee.Like I said, simply the best.
Jason is the consummate professional when it comes to SOX retaliation claims. He is, without question, one of the most deeply knowledgeable, technical, and astute attorneys in this very specialized body of law. During one of the most difficult times in my professional career, Jason not only provided exceptional legal guidance, but equally as important, he provided emotional support that was vital to my family and me.

 Jason ran circles around the "major national law firm" team that was assigned to defend my employer. In fact, Jason made them look silly at times. Jason always advocated my best interests, not his own. 

Jason is not only an exceptional attorney who helped my family to achieve a favorable outcome, but he is a friend. I've worked with major law firms throughout my career and when it comes to SOX and employment law matters, there is not a finer, more talented attorney than Jason Zuckerman.
Jason did an exceptional job in quickly understanding the intricacies of my case, grasping not only his field of expertise of employment law, but also the violations of law and SEC Regulations that were central to my dispute. The overall strategy he utilized insured that opposing counsel was challenged and made clear that this case would simply not proceed based on a timetable convenient to them. Jason is thorough, accurate and seemingly working at all hours based on phone calls and correspondence. Fortunately Jason has a very down to earth personality, understands issues readily and can convey in understandable language current "legal" circumstances and probable outcomes. I would easily and thoroughly recommend Jason for issues related to a Sarbanes-Oxley or employment related dispute.
I selected Jason to handle my case after consulting with three other lawyers because of his extensive SOX experience and negotiation skills. My decision paid off as he easily surpassed all of my expectations. He quickly analyzed the merits of my case and aggressively engaged my former employer to reach a favorable settlement, avoiding years of potential litigation. He was responsive, professional, ethical and a great advocate on my behalf. I truly believe that I could not have found a better lawyer to represent my interests. He would be the first person I would recommend if a colleague or friend were to ever need similar services. Put simply, Jason is a top notch lawyer who works tirelessly to achieve a positive outcome for his clients. It's easy to see why he is regarded as an expert in the field.
Does the Sarbanes Oxley Act Whistleblower Law Protect Executives Against Retaliation?
Click here to learn more about anti-retaliation protections for SEC whistleblowers under the Dodd-Frank Act and Sarbanes-Oxley Act.
SEC Whistleblower Process
Top-Rated Whistleblower Attorneys Protecting Executives, Professionals, and Senior Managers
The whistleblower lawyers at Zuckerman Law have substantial experience litigating whistleblower retaliation cases.  To schedule a free preliminary consultation, click here or call us at 202-262-8959.
Recently Washingtonian magazine named two of our attorneys top whistleblower lawyers. U.S. News and Best Lawyers® have named Zuckerman Law a Tier 1 Law Firm in the Washington D.C. metropolitan area.