Does the False Claims Act protect whistleblowers against retaliation?
Yes: the False Claims Act ("FCA") protects employees, contractors, and agents who engage in protected activity from retaliation in the form of their being "discharged, demoted, suspended, threatened, harassed, or in any other manner discriminated against in the terms and conditions of employment." 31 U.S.C. § 3730(h)(1).
If you have suffered retaliation for whistleblowing, call our leading whistleblower lawyers at 202-262-8959.
What is protected whistleblowing or protected conduct under the False Claims Act Retaliation Provision?
The FCA protects:
"lawful acts . . . in furtherance of an action under [the FCA]"; and
"other efforts to stop 1 or more [FCA] violations." 31 U.S.C. § 3730(h)(1).
Recent cases have interpreted this protected activity to include:
internal reporting of fraudulent activity to a supervisor;
steps taken in furtherance of a potential or actual qui tam action;
efforts to remedy fraudulent activity or to stop an FCA violation; and
Does the False Claims Act anti-retaliation provision protect efforts to stop a government contractor from defrauding the government?
Yes: the FCA protects whistleblowers who try to prevent one or more violations of the FCA, as long as they have an objectively reasonable belief that their employer is violating, or will soon violate, the FCA. Case law has clarified that efforts to stop an FCA violation are protected even if they are not meant to further a qui tam claim.  For example, refusing to falsify documentation that will be submitted to Medicare is protected. 
Does the False Claims Act retaliation law protect internal reporting to a government contractor or grantee?
Yes: case law has clarified that the act of internal reporting itself suffices as both the effort to stop the FCA violation and the notice to the employer that the employee is engaging in protected activity.
What must a whistleblower prove to prevail in a False Claims Act whistleblower retaliation case?
A whistleblowers must prove that:
the whistleblower engaged in protected activity;
the whistleblower's employer took an adverse employment action against him or her; and
the adverse employment action was taken because of the whistleblower's protected activity. 31 U.S.C. § 3730(h)(1).
"A contributing factor is any factor, which alone or in combination with other factors, tends to affect in any way the outcome of the decision. This element is broad and forgiving, and this test is specifically intended to overrule existing case law, which requires a whistleblower to prove that his protected conduct was a 'significant,' 'motivating,' 'substantial,' or 'predominant' factor in a personnel action in order to overturn that action. Temporal proximity between the protected activity and the adverse action is a significant factor in considering a circumstantial showing of causation, the causal connection may be severed by the passage of a significant amount of time, or by some legitimate intervening event."  Feldman v. Law Enforcement Assocs. Corp., 752 F.3d 339, 344 (4th Cir. 2014)
What remedies or damages can a whistleblower recover under the whistleblower-protection provision of the False Claims Act?
A whistleblower who prevails in an anti-retaliation action under the FCA may recover:
reinstatement;
double back pay, plus interest;
special damages, which include litigation costs, reasonable attorney's fees, emotional distress, and other noneconomic harm from the retaliation. 31 U.S.C. § 3730(h)(2).
Recently, a jury awarded more than $2M to a whistleblower in a FCA retaliation case.  As there is no cap on compensatory damages, FCA retaliation plaintiffs can potentially recover substantial damages for the retaliation that they have suffered.
Whistleblower Retaliation Laws Protecting Employees of Federal Contractors
Sarbanes-Oxley Whistleblower Protection
In some cases, a disclosure protected under the False Claims Act might also be protected under the whistleblower protection provisions of the Sarbanes-Oxley Act.  Note that the statute of limitations for SOX whistleblower retaliation claims is just 180 days.
To learn more about Sarbanes-Oxley whistleblower protection, download our free guide to the Sarbanes-Oxley whistleblower protection law.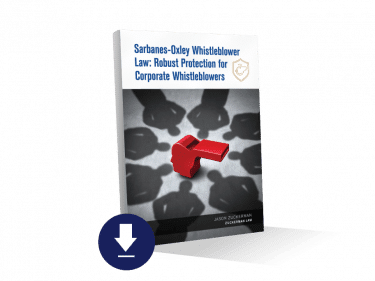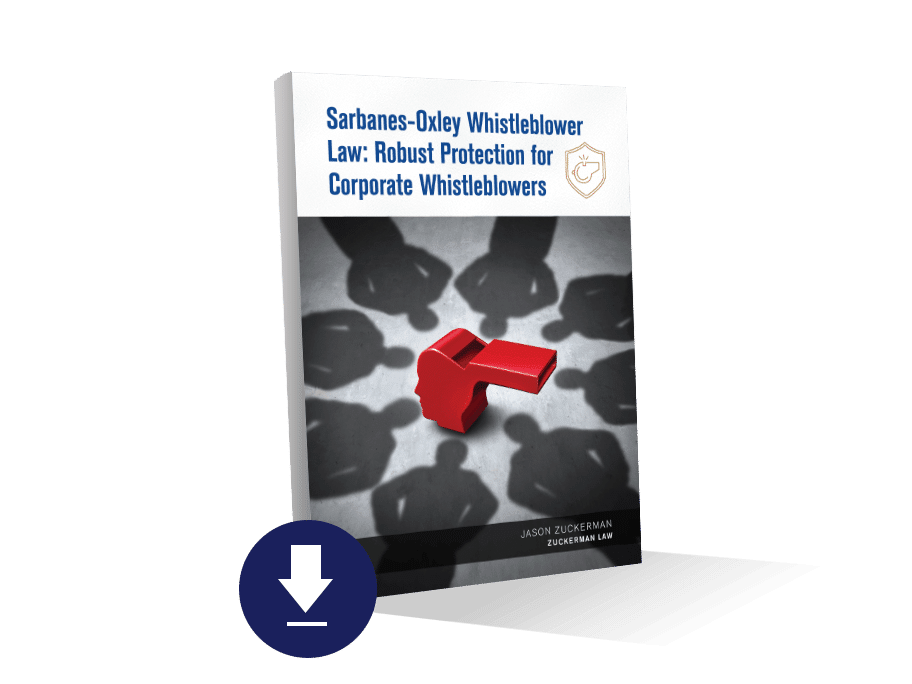 Experienced False Claims Act and NDAA Whistleblower Retaliation Attorneys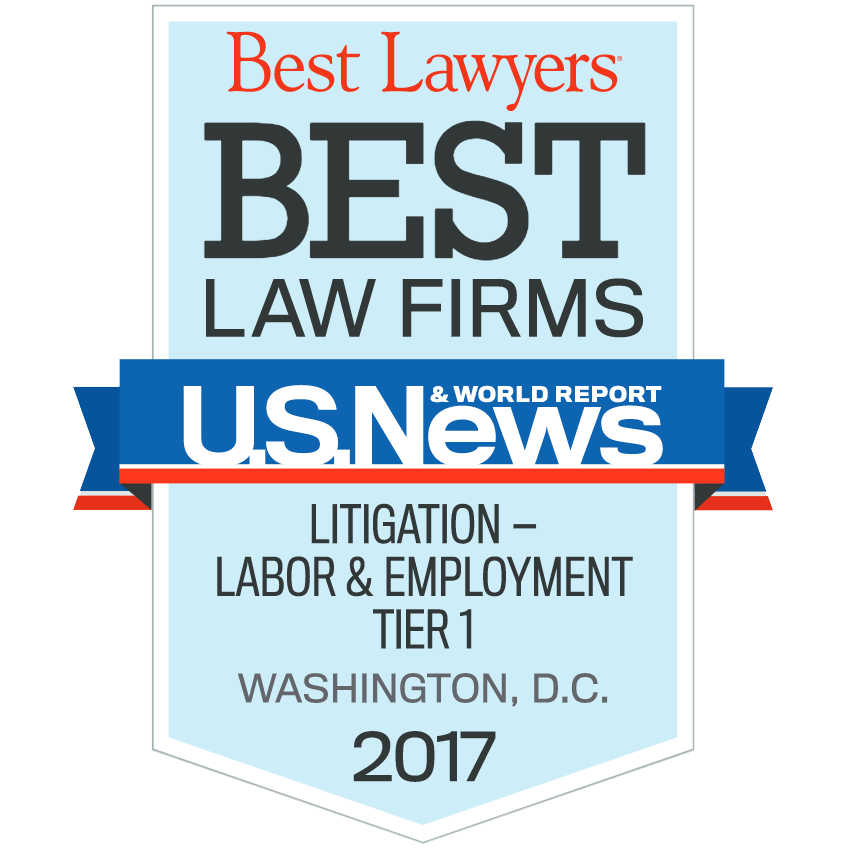 The experienced whistleblower attorneys at leading whistleblower law firm Zuckerman Law have substantial experience representing whistleblowers disclosing fraud and other wrongdoing at government contractors and grantees.  To schedule a free preliminary consultation, click here or call us at 202-262-8959.
Our experience includes:
Representing whistleblowers in NDAA retaliation claims before the Department of Defense, and Department of Homeland Security, Department of Justice Offices of Inspectors General.
Litigating False Claims Act retaliation cases.
Representing qui tam relators in False Claims Act cases.
Representing whistleblowers disclosing fraud on the government in Congressional investigations.
Training judges, senior Office of Inspector General officials, and federal law enforcement about whistleblower protections.
In addition, we have substantial experience representing whistleblowers under the Whistleblower Protection Act (WPA) and enforcing the WPA, the law that the NDAA whistleblower provisions are based upon.  Two of the attorneys on our team served in senior position at the U.S. Office of Special Counsel overseeing investigations of whistleblower retaliation claims and whistleblower disclosures.
Eric Bachman served as Deputy Special Counsel, Litigation and Legal Affairs, OSC, where he spearheaded an initiative to combat whistleblower retaliation at the Department of Veterans Affairs.  During Bachman's tenure at OSC, the number of favorable actions for whistleblowers increased by over 50% agency-wide.
Jason Zuckerman served as Senior Legal Advisor to the Special Counsel at OSC, where he worked on implementation of the Whistleblower Protection Enhancement Act and several high-profile investigations, including a matter resulting in the removal of an Inspector General.
We have also written extensively about whistleblower protections for employees of government contractors and grantees, including the following articles and blog posts:

Yes, the False Claims Act prevents reprisal against an employee who has engaged in either of two areas of protected activity. One, did the employee take acts in furtherance of a qui tam action? The employee need not bring a qui tam action in the False Claims Act, but did they make an effort to try to collect evidence, or to perform an investigation of a possible violation of false claims act?
The other area is did the employee try to stop a violation of False Claims Act? Did they try to halt some fraud against the US government. The key is, the employee need not bring an action under the qui tam provisions, but if the employee has a reasonable belief that there is fraud on the US government and expresses that concern, that is enough for a claim under the False Claims Act, anti-retaliation provision.