Experienced SOX Whistleblower Lawyers: Tier 1 Firm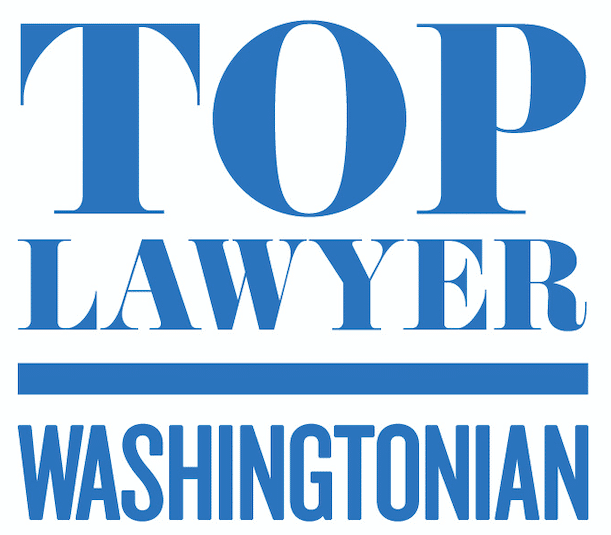 The SOX whistleblower lawyers at Zuckerman Law have substantial experience litigating Sarbanes Oxley whistleblower retaliation claims and have achieved substantial recoveries for officers, executives, accountants, auditors, and other senior professionals.
Click here to read client testimonials about the firm's work in SOX whistleblower matters and other employment-related litigation.  In 2019, the National Law Review awarded Zuckerman its "Go-To Thought Leadership Award" for his analysis of developments in whistleblower law.
To schedule a free preliminary consultation, click here or call us at 202-262-8959.
What is the Sarbanes-Oxley (SOX) corporate whistleblower protection law?
The Sarbanes-Oxley Act ("SOX") prohibits employers from taking adverse employment actions against employees (also referred to here as "whistleblowers") in retaliation for reporting information about conduct that the employees reasonably believe constitutes securities fraud, shareholder fraud, bank fraud, mail fraud, wire fraud, or a violation of any SEC rule or regulation. Adverse employment actions include discharging, demoting, suspending, threatening, harassing, or in any other manner discriminating against a whistleblower. Even disclosing the identity of a whistleblower has been held to be an adverse employment action under SOX.
The purpose of these protections is to combat a "corporate code of silence" that discouraged employees from reporting suspected fraud internally or to the authorities. To avoid another Enronesque catastrophe, Congress sought to ensure that whistleblowers could serve as an effective early-warning system for potential fraud. Congress did so by specifying that to be protected under SOX: (1) whistleblowers need not complain of actual fraud but rather conduct that they reasonably believe constitutes fraud, and (2) whistleblowers need not wait until fraud occurs but rather may complain about violations that they reasonably believe are likely to occur.
Guide to SOX Corporate Whistleblower Protection Law from SOX Whistleblower Lawyers
The whistleblower protection provision of the Sarbanes-Oxley Act provides robust protection to corporate whistleblowers, and indeed some SOX whistleblowers have achieved substantial recoveries.  On the fifteenth anniversary of SOX, leading whistleblower law firm Zuckerman Law released a free guide to the SOX whistleblower protection law: "Sarbanes-Oxley Whistleblower Protection: Robust Protection for Corporate Whistleblowers."  The guide summarizes SOX whistleblower protections and offers concrete tips for corporate whistleblowers from lawyers that have more than a decade of experience litigating SOX whistleblower cases.
The goal of the guide is to arm corporate whistleblowers with the knowledge to effectively combat whistleblower retaliation, avoid the pitfalls that can weaken a SOX whistleblower case, and formulate an effective strategy to obtain the maximum recovery.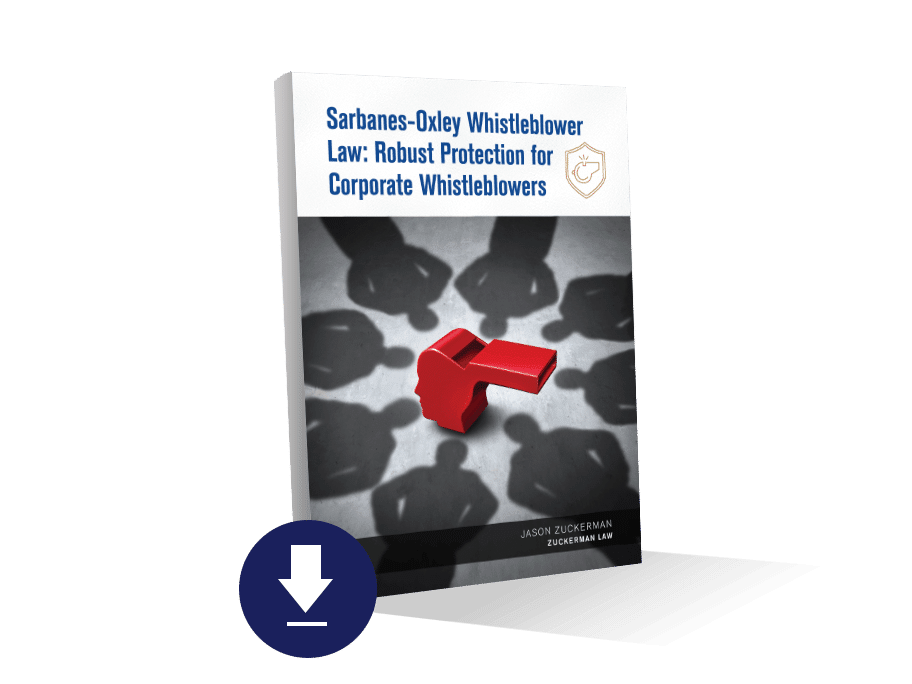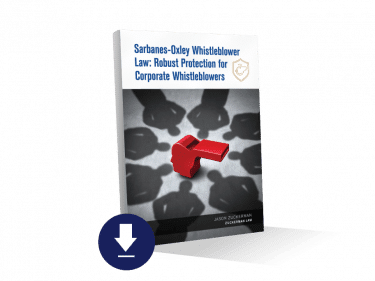 Who is protected under the SOX Corporate Whistleblower Protection Law?
Section 806 of SOX protects (1) employees of publicly traded companies and (2) employees of contractors and subcontractors of publicly traded companies who report fraud committed by a publicly traded company (as opposed to fraud committed by a private company, including contractors and subcontractors).
What whistleblowing is protected under SOX, i.e., what is SOX protected activity or SOX protected conduct?
SOX protects employee disclosures of conduct that an employee reasonably believes constitutes securities fraud, shareholder fraud, bank fraud, mail fraud, wire fraud, or a violation of any SEC rule or regulation. SOX protects disclosures of violations that a whistleblower reasonably believes are likely to occur, even if such violations have not yet been committed.
Does a whistleblower have to disclose an actual violation of law to be protected under SOX?
No: whistleblowers need not disclose actual fraud. Rather, they merely must disclose conduct that they reasonably believe constitutes any type of fraud enumerated in Section 806 of SOX.
Are disclosures made in the ordinary course of performing one's job duties protected under Sarbanes-Oxley?
Most likely yes. Most Department of Labor Administrative Law Judges ("ALJ") who have addressed this issue, as well as the Administrative Review Board ("ARB"), have held that disclosures made pursuant to one's job duties are protected. A U.S. district court in New York reached the same conclusion.
While employers may assert the duty-speech defense—that disclosures made while performing routine job duties are not protected—the decisions by the ALJs, ARB, and U.S. district court that have addressed this issue suggest that courts will reject the duty-speech defense.
What types of retaliation are prohibited by the Sarbanes-Oxley Act (SOX) whistleblower law?
A broad range of retaliatory actions are actionable under SOX, including discharging, demoting, suspending, threatening, harassing, or in any other manner discriminating against a whistleblower. Even disclosing the identity of a whistleblower has been held to be an adverse employment action under SOX.
What damages or remedies can a corporate whistleblower recover under the SOX whistleblower protection law?
A prevailing SOX whistleblower may obtain several types of relief, including lost wages and benefits; reinstatement; and special damages, which include damages for emotional distress, impairment of reputation, personal humiliation, and other noneconomic harm resulting from the retaliation.
Juries have recently awarded substantial damages to SOX whistleblowers. In August 2015, a federal jury in New York awarded $1.6 million in compensatory damages to a SOX whistleblower, even though the whistleblower had not suffered substantial economic loss. In March 2014, a California jury awarded $6 million in compensatory damages to another SOX whistleblower. (The parties settled before a punitive-damages determination was made.) And in September 2013, the U.S. Court of Appeals for the Ninth Circuit affirmed a jury verdict that awarded $2.2 million in damages plus $2.4 million in attorney's fees to two SOX whistleblowers who had been fired in retaliation for their disclosure.
What must a whistleblower prove to prevail in a SOX whistleblower retaliation case?
A whistleblower must demonstrate by a preponderance of the evidence that (1) he or she engaged in protected activity; (2) the employer knew of the whistleblower's protected activity; (3) the whistleblower suffered an adverse personnel action; and (4) the protected activity was a "contributing factor" in the adverse action.
The contributing-factor causation standard is broad and forgiving. A whistleblower need only proffer evidence that his or her protected activity played any role whatsoever in the adverse action. Even if the protected activity is one of many reasons why the employer took the adverse action, the whistleblower prevails in establishing contributing-factor causation. To prove causation, a whistleblower may use circumstantial evidence including "motive, bias, work pressures, past and current relationships of the involved parties, animus, temporal proximity, pretext, shifting explanations, and material changes in employer practices, among other types of evidence." Bobreski v. J. Givoo Consultants, Inc., ARB No. 13-001 (U.S. Dep't of Labor Aug. 29, 2014).
An employer can overcome a whistleblower's showing of contributing-factor causation only by demonstrating by clear and convincing evidence that it would have taken the same adverse action against the whistleblower had the whistleblower not engaged in protected activity. It is not sufficient for an employer to demonstrate that it relied on legitimate reasons in addition to the employee's protected activity when deciding to take the adverse action; no matter how minuscule the protected activity was in the employer's decision, it is a contributing factor unless the employer would have—not merely could have—taken the same adverse action absent the protected activity.
What is the statute of limitations under SOX?
The statute of limitations is 180 days. Specifically, a whistleblower may bring a SOX claim "not later than 180 days after the date on which the violation occurs, or after the date on which the employee became aware of the violation." 18 U.S.C. § 1514A(b)(2)(D).
Can a SOX Whistleblower Obtain a Reward or Bounty for Disclosing Fraud to the SEC?
Yes, the SEC Whistleblower Reward Program provides whistleblowers with a strong monetary incentive to report wrongdoing to the SEC.
Since 2011, the SEC Whistleblower Office has awarded more than $262 million in awards to whistleblowers.  The largest award to date is more than $30 million. In 2016, the whistleblower office issued more than $57 million in awards to whistleblowers. Read more about the success of the program in our column in Forbes:  One Billion Reasons Why The SEC Whistleblower-Reward Program Is Effective.
To learn more about how to qualify for an SEC whistleblower award, download our guide to the SEC Whistleblower Program and call us to schedule a free consultation at 202-262-8959.
Protected Whistleblowing Under the Sarbanes-Oxley Act
Prohibited Whistleblower Retaliation Under Sarbanes-Oxley
Proving Sarbanes-Oxley Whistleblower Retaliation
Relief or Damages for SOX Whistleblowers
Litigating Sarbanes-Oxley Whistleblower Cases
Additional FAQs About the Sarbanes-Oxley Whistleblower Protection Law  
Experienced SOX Whistleblower Attorneys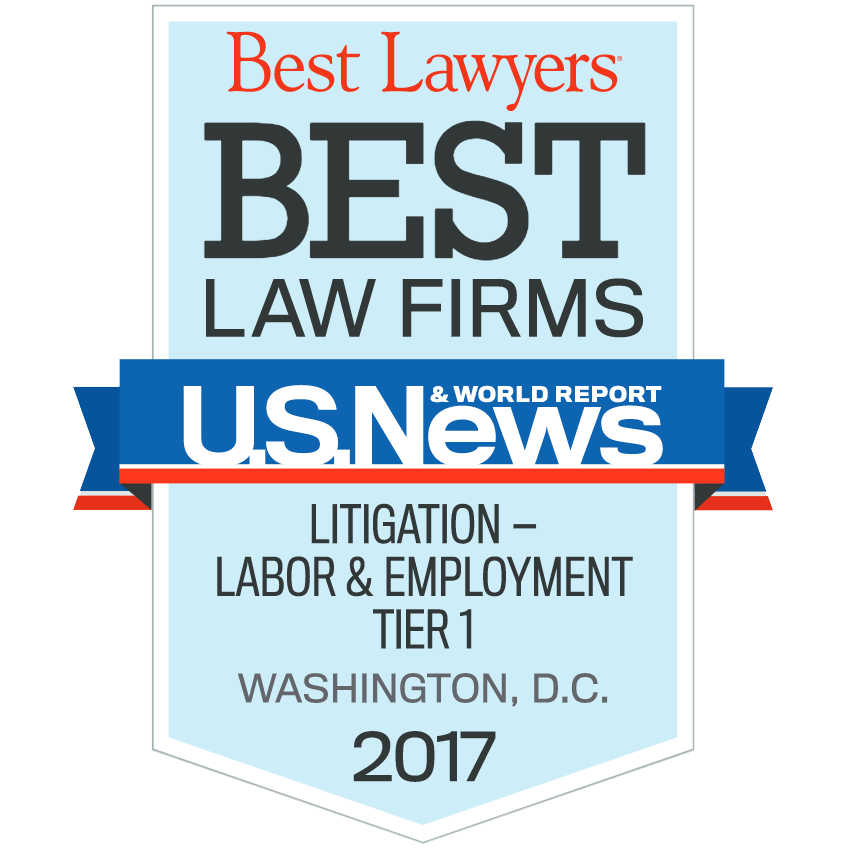 The SOX whistleblower lawyers at Zuckerman Law have substantial experience litigating Sarbanes Oxley whistleblower retaliation claims.  Click here to read client testimonials about the firm's work in SOX whistleblower and other employment-related litigation.  To schedule a free preliminary consultation, click here or call us at 202-262-8959.
We have assembled a team of leading whistleblower lawyers to provide top-notch representation to Sarbanes-Oxley (SOX) whistleblowers.  Recently Washingtonian magazine named two of our attorneys top whistleblower lawyers. U.S. News and Best Lawyers® have named Zuckerman Law a Tier 1 Law Firm in the Washington D.C. metropolitan area.
Matt Stock is a Certified Public Accountant, Certified Fraud Examiner and former KPMG external auditor.  As an auditor, Mr. Stock developed an expertise in financial statement analysis, internal controls testing and fraud recognition, and he uses his auditing experience to help whistleblowers investigate and disclose complex financial frauds to the government and obtain damages for retaliation.  He is lead author of SEC Whistleblower Program: Tips from SEC Whistleblower Attorneys to Maximize an SEC Whistleblower Award.
Both Bachman and Zuckerman served in senior positions at the Office of Special Counsel, where they oversaw investigations of whistleblower retaliation claims and whistleblower disclosures, and enforced the Whistleblower Protection Act.
Eric Bachman has substantial experience litigating precedent-setting employment cases.  His wins include a $100 million settlement in a disparate impact Title VII class action and a $16 million class action settlement against a major grocery chain.  Having served as Special Litigation Counsel in the Civil Rights Division of the Department of Justice and as lead or co-counsel in numerous jury trials, Bachman is ready to go the distance to obtain the relief that you deserve.
Bachman and Zuckerman served on the Department of Labor's Whistleblower Protection Advisory Committee, which makes recommendations to the Secretary of Labor to improve OSHA's administration of federal whistleblower protections.
Jason Zuckerman was recognized by Washingtonian magazine as a "Top Whistleblower Lawyer" in 2017, 2015, 2009, and 2007, selected by his peers to be included in The Best Lawyers in America® in the category of employment law (2011-2017), and selected by his peers to be listed in SuperLawyers(2012 and 2015-2017) in the category of labor and employment law.  Zuckerman is rated 10 out of 10 by Avvo, based largely on client reviews, and rated AV Preeminent® by Martindale-Hubbell based on peer reviews.

The "Definitive and Specific" Standard for Protected Activity
Less than four years after Congress enacted SOX, the ARB appointed by Secretary of Labor Elaine Chao significantly weakened Section 806 of SOX by imposing onerous burdens on whistleblowers that were contrary to the statute's plain meaning and intent. In Platone v. FLYi, Inc., the ARB set forth the following requirements for SOX protected conduct:
A SOX complainant's disclosure must "definitively and specifically" relate to one of the six enumerated categories found in 18 U.S.C. § 1514A.
The disclosure must "approximate . . . the basic elements" of the kind of fraud or violation alleged. For example, a disclosure about securities fraud must allege "a material misrepresentation (or omission), scienter, a connection with the purchase, or sale of a security, reliance, economic loss, and loss causation."
Platone v. FLYi, Inc., ARB Case No. 04-154, 2006 WL 3246910 (ARB Sept. 29, 2006).
Under Platone, SOX whistleblower protection was limited almost only to employees who were familiar with the intricacies of federal securities law.  Many cases were dismissed on summary judgment based on the failure to meet the onerous Platone standard.
And to compound Platone, some federal courts imposed an unduly high standard of objective reasonableness. For example, a Fifth Circuit decision concluded that an internal complaint about a company's overstating gross profits in violation of SEC Staff Accounting Bulletin 101 did not qualify as protected conduct because the company's financial reports had not yet been filed with the SEC. See Allen v. Admin. Review Bd., 514 F.3d 468, 476 (5th Cir. 2008). The apparent logic of Allen is that the whistleblower should wait until shareholders have been defrauded before making an internal complaint. That reasoning, however, is contrary to the prophylactic purpose of Section 806.
Relying on the Chevron doctrine, many federal courts deferred to the ARB's interpretation and adopted the "definitively and specifically" standard for protected activity under SOX.  E.g., Welch v. Chao, 536 F.3d 269, 276 n.2 (4th Cir. 2008).
The ARB Changes Course and Broadly Expands Protections Under SOX
Despite its initially narrow construction of the scope of protected conduct under SOX, the ARB began issuing decisions that slowly chipped away at the "definitively and specifically" standard.  In May of 2011, the ARB appointed by Secretary of Labor Hilda Solis issued a seminal decision in Sylvester v. Parexel, which expressly abrogated Platone and adopted the following broad construction of SOX protected conduct:
SOX complainants need only show that they reasonably believed the conduct complained about violated a relevant law. Sylvester v. Parexel Int'l LLC, ARB Case No. 07-123, at 14 (ARB May 25, 2011).
An employee need not wait until misconduct occurs to make a protected disclosure, so long as the employee "reasonably believes that the violation is likely to happen." at 16.
The reasonable belief standard does not require complainants to tell management or the authorities why their beliefs are reasonable. at 42.
SOX complainants no longer need to show that their disclosures "definitively and specifically" relate to the relevant laws. at 41.
SOX complainants do not need to establish criminal fraud. Requiring a complainant to allege, prove, or approximate the elements of fraud would be contrary to the purpose of the whistleblower protection provision. at 47.
Sylvester also held that the Platone standard was in conflict with "the plain language of the SOX whistleblower protection provision, which protects 'all good faith and reasonable reporting of fraud.'" Id. at 14–15, 30 (quoting 148 Cong. Rec. S7418-01, S7420)
Federal Courts Are Adopting the ARB's Broad Interpretation of SOX Protected Conduct
After the ARB issued Sylvester, the key battleground in SOX litigation in federal court became whether federal courts would continue deferring to the prior ARB's Platone decision or would instead adopt the current ARB's Sylvester decision. Five years later, we know the answer, and it is decisively positive for whistleblowers. In particular, the Second, Third, Sixth, and Eighth Circuits and several district courts have adopted the Sylvester standard of SOX protected conduct, and no federal court has rejected the reasoning in Sylvester. See Beacom v. Oracle America, Inc., No. 15-1729, 2016 WL 3144730, at 3 (8th Cir. June 6, 2016) (expressly adopting the Sylvester standard); Rhinehimer v. U.S. Bancorp Invs., Inc., 787 F.3d 797 (6th Cir. 2015); Nielsen v. AECOM Tech. Corp., 762 F.3d 214, 220–21 (2d Cir. 2014) (granting Skidmore deference to Sylvester); Wiest v. Lynch, 710 F.3d 121 (3d Cir. 2013) (according Chevron deference to Sylvester); Stewart v. Doral Fin. Corp., 997 F. Supp. 2d 129, 135–36 (D.P.R. 2014) (adopting the Sylvester standard); Leshinsky v. Telvent GIT, S.A., 942 F. Supp. 2d 432, 443 (S.D.N.Y. 2013).
            Recently the Sixth Circuit issued an opinion in Rhinehimer v. U.S. Bancorp Investments, Inc., adopting the Sylvester standard and affirming a jury verdict for a whistleblower who disclosed unsuitability fraud. Rhinehimer, 787 F.3d at 811–13. Rhinehimer agrees with the ARB's observation in Sylvester "that an interpretation demanding a rigidly segmented factual showing justifying the employee's suspicion [referring to Platone] undermines this purpose and conflicts with the statutory design, which turns on employees' reasonable belief rather than requiring them to ultimately substantiate their allegations." Id. at 810. In addition, Rhinehimer suggests that the issue of objective reasonableness is rarely amenable to summary disposition:
"[T]he issue of objective reasonableness should be decided as a matter of law only when no reasonable person could have believed that the facts [known to the employee] amounted to a violation" or otherwise justified the employee's belief that illegal conduct was occurring. If, on the other hand, "reasonable minds could disagree about whether the employee's belief was objectively reasonable, the issue cannot be decided as a matter of law."
Id. at 811–12 (citations omitted).
At trial, the jury found that U.S. Bancorp Investments ("USBII") disciplined and fired Michael Rhinehimer in retaliation for alerting one of his superiors to unsuitable trades a coworker made to the detriment of an elderly client. Rhinehimer's manager expressly admitted that he gave Rhinehimer a written warning for opposing the unsuitable trades because Rhinehimer's complaint "prompted a FINRA investigation . . . and anybody associated with this was really feeling the heat." Id. at 804. In addition, the manager warned Rhinehimer that if he were to sue the bank, his career in the city would be over. The bank placed Rhinehimer on a performance improvement plan requiring him to increase his revenue to $40,000 per month. Shortly thereafter, the bank terminated his employment.
On appeal, USBII argued that, under Platone, Rhinehimer was required to establish facts from which a reasonable person could infer each of the elements of an unsuitability fraud claim, including the misrepresentation or omission of material facts and that the broker acted with intent or reckless disregard for the client's needs. The Sixth Circuit held that the evidence was more than sufficient to sustain the jury's finding that Rhinehimer reasonably believed that certain trades constituted unsuitability fraud. Id. at 812. And the court noted that the "employee's reasonable belief is a simple factual question requiring no subset of findings that the employee had a justifiable belief as to each of the legally-defined elements of the suspected fraud." Id. at 806.
Rhinehimer is an important development for corporate whistleblower rights and protections in that it restores the original intent of SOX whistleblower protection. A whistleblower's reasonable belief is now assessed in a manner consistent with similar anti-retaliation statutes; i.e., the employee must subjectively believe that there is a violation, and the belief must be objectively reasonable. And as federal courts continue to adopt or defer to the ARB's construction of SOX protected conduct as articulated in Sylvester, SOX whistleblowers are more likely to survive summary judgment.
This decision is part of a trend,[1] both at the DOL and in federal courts, of broadly construing SOX's protection of whistleblowers and rejecting prior decisions that imposed a heightened standard of objective reasonableness.
In May 2016, the Fourth Circuit held that a SOX whistleblower can establish the reasonableness of his or her belief by proffering corroborating testimony from coworkers. See Deltek, Inc. v. Dep't of Labor, Admin. Review Bd., No. 14-2415, 2016 WL 2946570 (4th Cir. May 20, 2016). Dinah Gunther began working for Deltek, Inc., as a financial analyst in 2008. Gunther, whose position was within Deltek's IT department, lacked a college degree but had experience as an executive assistant and workflow manager. Soon after beginning work at Deltek, Gunther noticed a lack of clear procedure and documentation for Deltek's billing disputes with Verizon Business ("Verizon"). She suspected Deltek employees were obscuring the IT department's financial condition by subjecting Verizon to unfounded billing disputes, thereby concealing a shortfall in Deltek's telecommunications budget. Gunther's coworker, who was responsible for managing the billing relationship between Deltek and Verizon, agreed with her concern. Gunther reported the situation to her immediate supervisor, after which she faced hostility in the workplace. She then expressed her concerns of ongoing fraud in a letter to Deltek's general counsel, which she copied to the SEC. Deltek's general counsel met with Gunther and asked her to gather information about her concerns. Following their meeting, the general counsel investigated Gunther's report and found no improper activity had occurred, but Gunther noticed her coworkers shredding documents.
After continuing to experience mistreatment at work, Gunther informed Deltek's vice president of human resources that she was experiencing stress-related medical issues that were affecting her work. Gunther accepted Deltek's offer of paid leave, conditioned on Gunther's being able to return to work with 24 hours' notice. Upon taking leave, Gunther filed a SOX complaint with the Occupational Safety and Health Administration ("OSHA"). Later, Gunther attempted to return to work on a Monday after having given notice of her return the prior Saturday. But a Deltek attorney and the vice president of human resources met her at the office to say she could not yet return to work, although they assured her she still had a job. The following day, Deltek fired Gunther for being confrontational and disruptive in that meeting.
OSHA concluded that there was no violation of SOX. Gunther appealed, and an administrative law judge ("ALJ") held Deltek liable for retaliating against her. The ARB affirmed, and Deltek appealed. The Fourth Circuit determined that Gunther's belief that Deltek was violating securities laws was reasonable. Id. at *7.
Deltek argued that Gunther's belief was not objectively reasonable because she lacked the education and experience necessary to recognize securities fraud. The Fourth Circuit rejected this argument, stating that consideration of the "factual circumstances," including information Gunther learned from coworkers, was warranted. See id. The Fourth Circuit agreed with the ALJ's determination, which the ARB affirmed, that "in forming her belief Gunther reasonably relied on her close dealings with [her coworker], who did have extensive experience in Verizon invoicing . . . [and] who was himself a 'credible, convincing witness at the hearing.'" Id. Therefore, Gunther's belief was reasonable, and her activity was protected under SOX. Id.
[1] See, e.g., Wiggins v. ING U.S., Inc., No. 3:14-CV-01089-JCH, 2015 WL 8779559 (D. Conn. Dec. 15, 2015). In Wiggins, a U.S. district court in Connecticut held that the heightened Rule 9(b) pleading standard for fraud claims does not apply to SOX retaliation claims. Id. at *3. The court held, furthermore, that a whistleblower can plead that she had a reasonable belief that her employer violated one of Section 1514A's enumerated fraud provisions without alleging specifically that she believed that the employer's conduct satisfied all of the elements of the federal statute or SEC rule that allegedly was violated. See id. at *5–7. The court found that the plaintiff's complaint sufficiently "tethered" her subjective belief to a violation of Section 1514A's enumerated provisions, where the plaintiff was trained in federal securities laws and her complaint identified specific federal statutes and regulations, the responsibilities the employer had pursuant to those laws, and the specific actions that formed the basis of the plaintiff's belief that the employer was breaching those responsibilities. Id.
ZUCKERMAN LAW
Summary
We are a Washington, DC-based law firm that represents whistleblowers in whistleblower rewards and whistleblower retaliation matters and litigates discrimination claims on behalf of employees in the District of Columbia, Maryland, and Virginia. The firm is dedicated to zealously advocating on behalf of our clients to achieve justice and accountability.
Professionalism

Honesty

Perseverance