Is a Sarbanes-Oxley Whistleblower Required to Prove Pretext?
A SOX whistleblower is not required to disprove the employer's allegedly legitimate, non-retaliatory reason for taking an adverse employment action.[i] But proof of pretext can prove causation. As the ARB observed in Palmer, "Indeed, at times, the factfinder's belief that an employer's claimed reasons are false can be precisely what makes the factfinder believe that protected activity was the real reason."[ii]
[i] Zinn v. American Commercial Lines, Inc., ARB No. 10-029, ALJ No. 2009-SOX-025, 2012 WL 1143309, *7 (ARB Mar. 28, 2012); Warren v. Custom Organics, ARB No. 10-092, ALJ No. 2009-STA-030, 2012 WL 759335, *5 (ARB Feb. 29, 2012); Klopfenstein v. PCC Flow Tech., Inc., ARB No. 04-149, ALJ No. 04-SOX-11, 2006 WL 3246904, *13 (ARB May 31, 2006).
[ii] Palmer, ARB No. 16-035 at 54 (citations omitted).
Sarbanes-Oxley (SOX) Whistleblower Anti-Retaliation Law
The whistleblower protection provision of the Sarbanes-Oxley Act provides robust protection to corporate whistleblowers, and indeed some SOX whistleblowers have achieved substantial recoveries.  Earlier this year, a former in-house counsel at a biotechnology company recovered $11 million in a SOX whistleblower retaliation case alleging that the company fired him for disclosing violations of the Foreign Corrupt Practices Act.
On the fifteenth anniversary of SOX, leading whistleblower law firm Zuckerman Law released a free guide to the SOX whistleblower protection law: "Sarbanes-Oxley Whistleblower Protection: Robust Protection for Corporate Whistleblowers."  The guide summarizes SOX whistleblower protections and offers concrete tips for corporate whistleblowers based on lessons learned during years of litigating SOX whistleblower cases.
The goal of the guide is to arm corporate whistleblowers with the knowledge to effectively combat whistleblower retaliation, avoid the pitfalls that can weaken a SOX whistleblower case, and formulate an effective strategy to obtain the maximum recovery.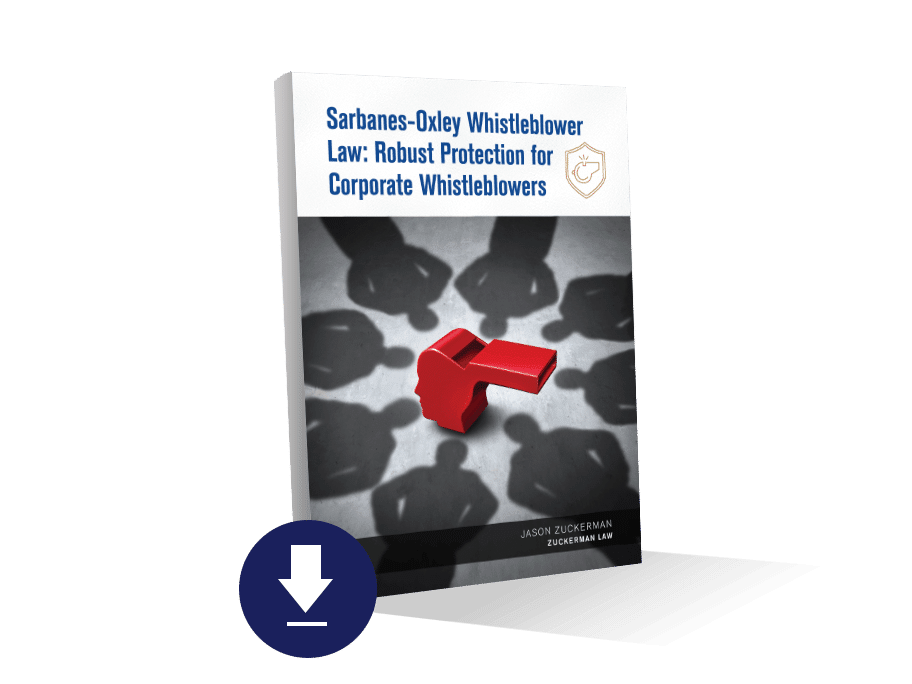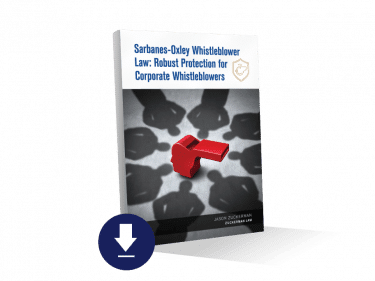 whistleblower_lawyers_012017_infographic