Attorneys Combatting LGBT Discrimination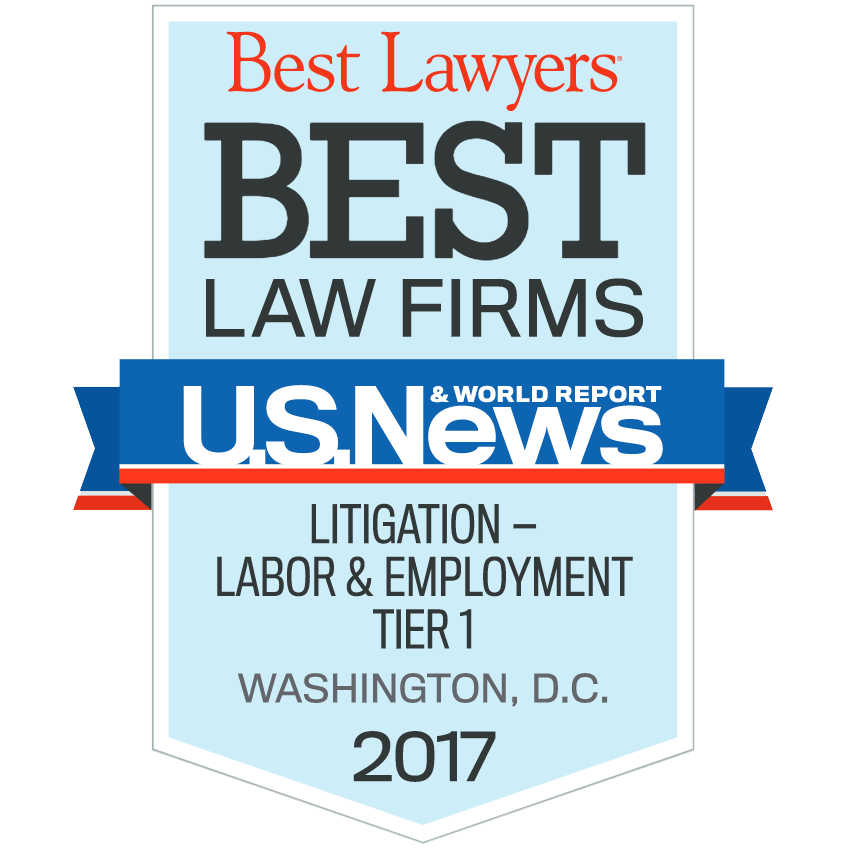 Hiring a proven and effective advocate is critical to obtaining the maximum recovery in a discrimination case.  The employment lawyers at Zuckerman Law have significant experience advocating for full equality on behalf of LGBT victims of discrimination.  Two of the firm's attorneys held senior positions at the U.S. Office of Special Counsel, where they enforced prohibitions against LGBT discrimination in the federal workforce, and provided training and outreach to federal managers and supervisors to prevent LGBT discrimination.
Eric Bachman, Chair of the Firm's Discrimination Practice, has substantial experience litigating precedent-setting individual and class action discrimination cases.  His wins include a $100 million settlement in a disparate impact Title VII class action and a $16 million class action settlement against a major grocery chain.  Having served as Special Litigation Counsel in the Civil Rights Division of the Department of Justice and as lead or co-counsel in numerous jury trials, Bachman is trial-tested and ready to fight for you to obtain the relief that you deserve.
Bachman writes frequently on topics related to promotion discrimination, harassment, and other employment discrimination issues at the Glass Ceiling Discrimination Blog.
U.S. News and Best Lawyers® have named Zuckerman Law a Tier 1 firm in Litigation – Labor and Employment in the Washington DC metropolitan area.  Contact us today to find out how we can help you.  To schedule a preliminary consultation, click here or call us at (202) 769-1681.
What is Sex-Stereotyping?
Sex-stereotyping has provided a sort of back door into Title VII protection for those who have suffered sexual-orientation or gender-identity discrimination. Simply put, discriminatory conduct against LGBT individuals can constitute prohibited sex discrimination under Title VII and other federal statutes that prohibit sex discrimination where the conduct is based on those individuals' nonconformance to gender norms.
This concept developed in a 1989 Supreme Court decision, Price Waterhouse v. Hopkins, where a woman was denied partnership at Price Waterhouse because she did not conform to traditional female stereotypes. (490 U.S. 228 (1989).) In explaining the legal relevance of sex-stereotyping, the Court stated that "we are beyond the day when an employer could evaluate employees by assuming or insisting that they matched the stereotype associated with their group, for '[i]n forbidding employers to discriminate against individuals because of their sex, Congress intended to strike at the entire spectrum of disparate treatment of men and women resulting from sex stereotypes.'" (Id. at 251 (alteration in original) (quoting Los Angeles Dep't of Water & Power v. Manhart, 435 U.S. 702, 707 n.13 (1978)).) In explaining the need for legal recognition of sex-stereotyping, the Court briefly explained: "An employer who objects to aggressiveness in women but whose positions require this trait places women in an intolerable and impermissible catch 22: out of a job if they behave aggressively and out of a job if they do not. Title VII lifts women out of this bind." (Id.)
The Court did not limit the type of proof that could establish sex-stereotyping, though it mentioned that "[r]emarks at work that are based on sex stereotypes . . . can certainly be evidence that gender played a part" in the employment decision. (Id.) The evidence that established sex-stereotyping in Price Waterhouse included proof "that Price Waterhouse invited partners to submit comments; that some of the comments stemmed from sex stereotypes; that an important part of the Policy Board's decision on Hopkins was an assessment of the submitted comments; and that Price Waterhouse in no way disclaimed reliance on the sex-linked evaluations." (Id.)
Less than a decade later, the Supreme Court handed down Oncale v. Sundowner Offshore Services, Inc. (523 U.S. 75 (1998).) Justice Scalia, writing for the unanimous Court, conceded that "male-on-male sexual harassment in the workplace was assuredly not the principal evil Congress was concerned with when it enacted Title VII." (Id. at 79.) But, Scalia continued,
statutory prohibitions often go beyond the principal evil to cover reasonably comparable evils, and it is ultimately the provisions of our laws rather than the principal concerns of our legislators by which we are governed. Title VII prohibits "discriminat[ion] . . . because of . . . sex" in the "terms" or "conditions" of employment. Our holding that this includes sexual harassment must extend to sexual harassment of any kind that meets the statutory requirements.
(Id. at 79–80 (alterations in original).) The Sixth Circuit later summed up the impact of Price Waterhouse and Oncale:
After Price Waterhouse, an employer who discriminates against women because, for instance, they do not wear dresses or makeup, is engaging in sex discrimination because the discrimination would not occur but for the victim's sex. It follows that employers who discriminate against men because they do wear dresses and makeup, or otherwise act femininely, are also engaging in sex discrimination, because the discrimination would not occur but for the victim's sex.  (Smith v. City of Salem, 378 F.3d 566, 574 (6th Cir. 2004).)
The courts of appeals for the First, Sixth, Ninth, and Eleventh Circuits, district courts in the Second, Third, Fourth, Fifth, Sixth, Tenth, Eleventh, and D.C. Circuits, and the EEOC have recognized that transgender individuals' sex-stereotyping claims constitute claims of sex-based discrimination.
District courts in Oregon, Ohio, Connecticut, and D.C. have recognized sex-stereotyping claims of gay or lesbian individuals as sex-based discrimination.
ENDA: Long Overdue Federal Legislation  Barring LGBT Discrimination
The Employment Non-Discrimination Act (ENDA) is a bill that would explicitly extend the federal law's protection against employment discrimination to cover sexual orientation and gender identity. A version of this bill has been introduced into Congress every session since 1994. However, with little Republican support for a sexual-orientation-only ENDA, and even less Republican support for a transgender-inclusive ENDA, this bill has never come close to passing. The current version of ENDA lost the support of influential LGBT-advocacy organizations such as Lambda Legal because it would allow for discrimination by religiously affiliated organizations. So the bill does not appear to be viable in the foreseeable future.
Fortunately, the trend among federal courts is to interpret Title VII as covering sexual-orientation and gender-identity discrimination. If the Supreme Court were to interpret Title VII similarly, then ENDA would become superfluous.
What have the federal courts said about Title VII's protection of employees based on sexual orientation?
The circuits are split regarding whether gay employees are protected under Title VII. The U.S. Court of Appeals for the Eleventh Circuit, in Evans v. Georgia Regional Hospital, in March 2017, held that Title VII does not prohibit employment discrimination based on sexual orientation. (850 F.3d 1248 (11th Cir. 2017).)
Later that month, the Second Circuit, in Christiansen v. Omnicom Group, Inc., reversed a district court's opinion dismissing an HIV-positive gay man's employment-discrimination suit because Title VII does not cover sexual orientation. (852 F.3d 195 (2d Cir. 2017).) The Second Circuit looked to Price Waterhouse's holding that "sex stereotyping," or discriminating against employees because they don't conform to gender norms, constitutes discrimination "because of sex" under Title VII. (Id.) Stopping short of holding that sexual orientation is protected under Title VII, the Second Circuit found that the complainant in Christiansen had endured sex-stereotyping—his employer ridiculed him for being feminine—in violation of Title VII. (Id.) Chief Judge Robert Katzmann, in his concurrence, wrote that the Second Circuit should reverse its precedent that sexual-orientation-based employment-discrimination claims are not cognizable under Title VII on the grounds that recent legal developments militate for an expansive reading of "because of sex" as including discrimination based on sexual orientation. (Id. (Katzmann, C.J., concurring).)
The Seventh Circuit solidified the circuit split in April 2017. In Hively v. Ivy Tech Community College, the Seventh Circuit held that Title VII prohibits employment discrimination based on sexual orientation. (No. 15-1720, 2017 WL 1230393 (7th Cir. Apr. 4, 2017).)