Whistleblower Lawyers Representing Employees fn the Banking Industry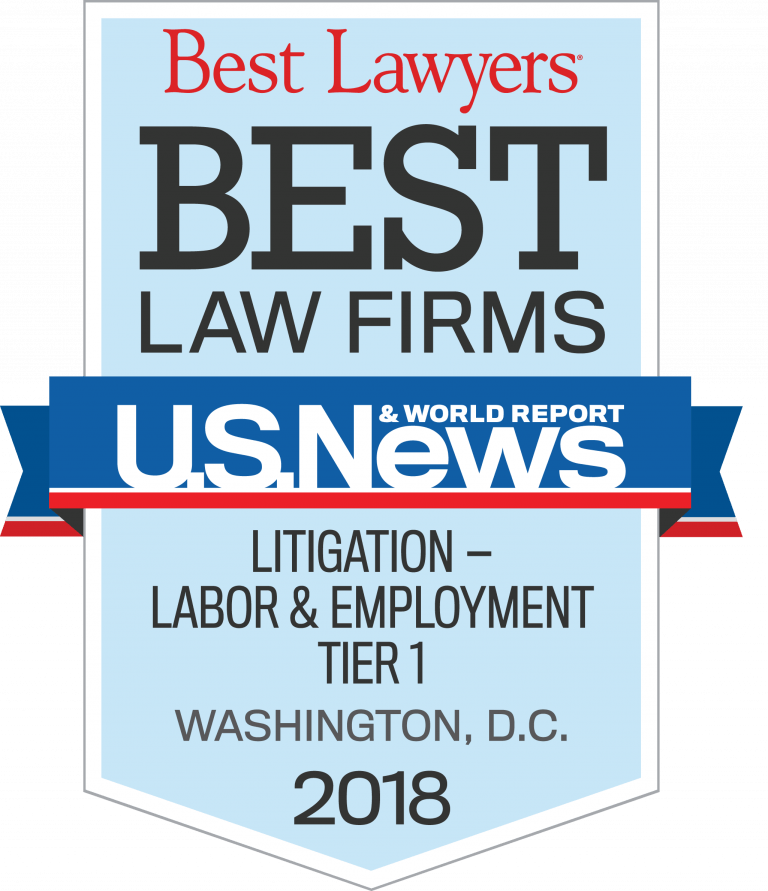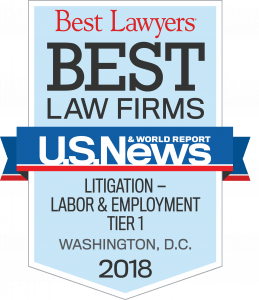 The leading whistleblower lawyers at Zuckerman Law, a Washington DC firm representing whistleblowers nationwide, have extensive experience representing whistleblowers in the financial services industry, including whistleblowers at Goldman Sachs, JP Morgan Chase, Wells Fargo, Bank of America, Deutsche Bank, HSBC, and other financial institutions. Click here to read our client reviews.
We have substantial experience representing whistleblowers in the financial services industry.  Call us today for a free confidential consultation at 202-262-8959.
Click here to read reviews and testimonials from former clients.  And click here to learn more about the damages that can be recovered in a whistleblower retaliation case.
Are Disclosures About Consumer Financial Fraud Protected Under Federal Whistleblower Laws?
Yes, the anti-retaliation provision of the Consumer Financial Protection Act provides a cause of action for corporate whistleblowers who suffer retaliation for raising concerns about potential violations of rules or regulations of the Consumer Financial Protection Bureau.
OSHA has issued final rules implementing the whistleblower protection provision of the Consumer Financial Protection Act (CFPA).   Enacted as Section 1057 of the Dodd-Frank Act, the CFPA's whistleblower protection provision provides robust protection to employees who disclose fraud related to consumer financial protection services.
The whistleblower protection provisions of the Sarbanes-Oxley Act also provides strong protection for whistleblowers.  Click here to download our free guide to the Sarbanes-Oxley whistleblower protection law.
Banking Industry Employees Protected by the Consumer Financial Protection Whistleblower Law
The term "covered employee" means "any individual performing tasks related to the offering or provision of a consumer financial product or service."  The CFPA defines a "consumer financial product or service" to include "a wide variety of financial products or services offered or provided for use by consumers primarily for personal, family, or household purposes, and certain financial products or services that are delivered, offered, or provided in connection with a consumer financial product or service . . . Examples of these include . .. residential mortgage origination, lending, brokerage and servicing, and related products and services such as mortgage loan modification and foreclosure relief; student loans; payday loans; and other financial services such as debt collection, credit reporting, credit cards and related activities, money transmitting, check cashing and related activities, prepaid cards, and debt relief services."
Recently the Fifth Circuit Court of Appeals held in Calderone v. Sonic Houston JLR, L.P that the CFPA does not protect employees of auto dealers.
Scope of Protected Whistleblowing About Consumer Financial Protection Violations
The CFPA protects disclosures made to an employer, to the Consumer Financial Protection Bureau or any State, local, or Federal, government authority or law enforcement agency concerning any act or omission that the employee reasonably believes to be a violation of any CFPB regulation or any other consumer financial protection law that the Bureau enforces. This includes several federal laws regulating "unfair, deceptive, or abusive practices . . . related to the provision of consumer financial products or services."
Some of the matters the CFPB regulates include:
kickbacks paid to mortgage issuers or insurers;
deceptive advertising;
discriminatory lending practices, including a violation of the Equal Credit Opportunity Act ("ECOA");
excessive fees;
any false, deceptive, or misleading representation or means in connection with the collection of any debt; and
debt collection activities that violate the Fair Debt Collection Practices Act (FDCPA).
The ECOA prohibits creditors from discriminating against "any applicant, with respect to any aspect of a credit transaction—on the basis of race, color, religion, national origin, sex or marital status, or age (provided the applicant has the capacity to contract)."  15 U.S.C. § 1691(a)(1).
Reasonable Belief Standard in Banking Whistleblower Retaliation Cases
The CFPA whistleblower protection law employs a reasonable belief standard.  As long as the plaintiff's belief is reasonable, the whistleblower is protected, even if the whistleblower makes a mistake of law or fact about the underlying violation of a law or regulation under the CFPC's jurisdiction.
Prohibited Whistleblower Retaliation Against Financial Services/Banking Industry Employees
The CFPA whistleblower law proscribes a broad range of adverse employment actions, including terminating, "intimidating, threatening, restraining, coercing, blacklisting or disciplining, any covered employee or any authorized representative of covered employees" because of the employee's protected whistleblowing.
Proving CFPA Whistleblower Retaliation
To prevail under a CFPA whistleblower claim, the whistleblower need only prove that his or her protected conduct was a contributing factor in the adverse employment action, i.e., that the protected activity, alone or in combination with other factors, affected in some way the outcome of the employer's decision.  Where the employer takes the adverse employment action "shortly after" learning about the protected activity, courts may infer a causal connection between the two.  Van Asdale v. Int'l Game Tech., 577 F.3d 989, 1001 (9th Cir. 2009).
Remedies or Damages in Banking/Financial Services Whistleblower Retaliation Cases
Filing a CFPA Financial Whistleblower Retaliation Claim
CFPA complaints are filed with OSHA, and the statute of limitations is 180 days from the date when the alleged violation occurs, which is the date on which the retaliatory decision has been both made and communicated to the whistleblower.
The complaint need not be in any particular form and can be filed orally with OSHA. A CFPA complaint need not meet the stringent pleading requirements that apply in federal court, and instead the administrative complaint "simply alerts OSHA to the existence of the alleged retaliation and the complainant's desire that OSHA investigate the complaint." If the complaint alleges each element of a CFPA whistleblower retaliation claim and the employer does not show by clear and convincing that it would have taken the same action in the absence of the alleged protected activity, OSHA will conduct an investigation.
OSHA investigates CFPA complaints to determine whether there is reasonable cause to believe that protected activity was a contributing factor in the alleged adverse action.  If OSHA finds a violation, it can order reinstatement of the whistleblower and other relief.
Is a Bank Whistleblower Eligible for an Award for Reporting Fraud?
Yes, bank whistleblowers may be eligible for an award under several whistleblower-reward programs. For example, the SEC Whistleblower Program will issue awards to whistleblowers who provide original information that leads to enforcement actions with total monetary sanctions in excess of $1 million. A whistleblower may receive an award of 10-30 percent of the monetary sanctions collected. The program also permits whistleblowers to submit anonymous tips to the SEC if represented by an attorney. The largest SEC award to date is more than $30 million to a whistleblower living in a foreign country.
Download our free guide SEC Whistleblower Program: Tips from SEC Whistleblower Attorneys to Maximize an SEC Whistleblower Award.
Sarbanes-Oxley Whistleblower Protection for Banking and Financial Services Employees
The whistleblower protection provision of the Sarbanes-Oxley Act provides robust protection to corporate whistleblowers, and indeed some SOX whistleblowers have achieved substantial recoveries.  Earlier this year, a former in-house counsel at a biotechnology company recovered $11 million in a SOX whistleblower retaliation case alleging that the company fired him for disclosing violations of the Foreign Corrupt Practices Act.
On the fifteenth anniversary of SOX, leading whistleblower law firm Zuckerman Law released a free guide to the SOX whistleblower protection law: "Sarbanes-Oxley Whistleblower Protection: Robust Protection for Corporate Whistleblowers."  The guide summarizes SOX whistleblower protections and offers concrete tips for corporate whistleblowers based on lessons learned during years of litigating SOX whistleblower cases.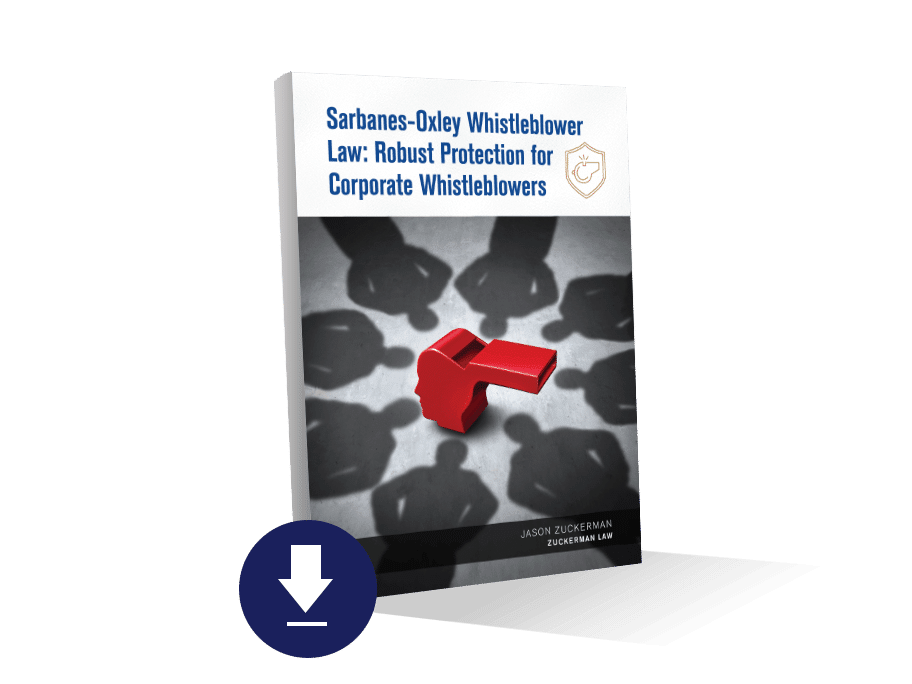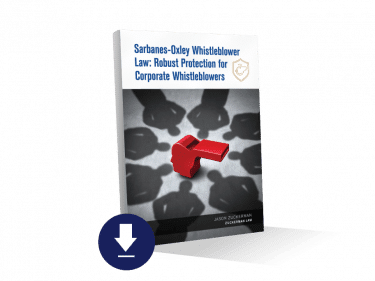 The goal of the guide is to arm corporate whistleblowers with the knowledge to effectively combat whistleblower retaliation, avoid the pitfalls that can weaken a SOX whistleblower case, and formulate an effective strategy to obtain the maximum recovery.
Banking and Financial Services Whistleblower Lawyers
If you are seeking representation in a whistleblower protection case, click here, or call us at 202-262-8959 to schedule a free preliminary consultation.

We have assembled a team of leading whistleblower lawyers to provide top-notch representation to whistleblowers.  Recently Washingtonian magazine named Jason Zuckerman and Eric Bachman top whistleblower lawyers.  Both Bachman and Zuckerman served in senior positions at the Office of Special Counsel, where they oversaw investigations of whistleblower retaliation claims and whistleblower disclosures, and enforced the Whistleblower Protection Act.  Let us put our unique experience and credentials to work for you:
U.S. News and Best Lawyers® have named Zuckerman Law a Tier 1 firm in Litigation – Labor and Employment in the Washington DC metropolitan area
Bachman and Zuckerman served on the Department of Labor's Whistleblower Protection Advisory Committee, which makes recommendations to the Secretary of Labor to improve OSHA's administration of federal whistleblower protections.
Matt Stock is a Certified Public Accountant, Certified Fraud Examiner and former KPMG external auditor.  As an auditor, Mr. Stock developed an expertise in financial statement analysis, internal controls testing and fraud recognition, and he uses his auditing experience to help whistleblowers investigate and disclose complex financial frauds to the government and obtain damages for retaliation.  He is lead author of SEC Whistleblower Program: Tips from SEC Whistleblower Attorneys to Maximize an SEC Whistleblower Award.
Eric Bachman has substantial experience litigating precedent-setting employment cases.  His wins include a $100 million settlement in a disparate impact Title VII class action and a $16 million class action settlement against a major grocery chain.  Having served as Special Litigation Counsel in the Civil Rights Division of the Department of Justice and as lead or co-counsel in numerous jury trials, Bachman is ready to go the distance to obtain the relief that you deserve.
Jason Zuckerman was recognized by Washingtonian magazine as a "Top Whistleblower Lawyer" in 2017, 2015, 2009, and 2007 selected by his peers to be included in The Best Lawyers in America® in the category of employment law (2011-2017), and selected by his peers to be listed in SuperLawyers (2012 and 2015-2017) in the category of labor and employment law.  is rated 10 out of 10 by Avvo, based largely on client reviews, and rated AV Preeminent® by Martindale-Hubbell based on peer reviews.
The firm has published extensively on whistleblower rights and protections, and regularly speaks nationwide at seminars and continuing legal education conferences.  We blog about new developments in whistleblower law at the Whistleblower Protection Blog.
Tips for Whistleblowers to Become Eligible for a SEC Whistleblower Bounty