If you have original information about fraud that may qualify for an SEC whistleblower award, contact the Director of our SEC whistleblower practice at [email protected] or call our leading SEC whistleblower lawyers at (202) 930-5901 or (202) 262-8959. All inquiries are confidential.  This page has FAQs and other resources for prospective SEC whistleblowers.
Our experienced and effective SEC whistleblower attorneys will provide SEC whistleblowers with the highest-quality representation. In conjunction with our courageous clients, we have helped the SEC halt multi-million dollar investment schemes, expose violations at large publicly traded companies, and return funds to defrauded investors.
In contrast to most SEC whistleblower law firms, our team includes a Certified Public Accountant and Certified Fraud Examiner with substantial experience auditing public companies and investigating complex fraud schemes.
Attorneys Representing SEC Whistleblowers
Tips for SEC Whistleblowers
SEC Whistleblower Process to Obtain an SEC Whistleblower Award
Protections for SEC Whistleblowers
Overview of the SEC Whistleblower Program
Whistleblowers Eligible for an Award
Reporting to the SEC and Maximizing Award Percentage
After Reporting to the SEC
To learn more about the SEC Whistleblower Program, download Zuckerman Law's eBook: SEC Whistleblower Program: Tips from SEC Whistleblower Attorneys to Maximize an SEC Whistleblower Award:
SEC Whistleblower Protection Lawyers
The SEC whistleblower protection lawyers at Zuckerman Law have represented CEOs, CFOs, in-house counsel, partners at audit firms and other senior professionals in high-stakes whistleblower matters.  Click here to read reviews and testimonials from whistleblower clients.
Drawing on our substantial experience representing corporate whistleblowers, we have published a free guide to SOX titled Sarbanes-Oxley Whistleblower Protection: Robust Protection for Corporate Whistleblowers: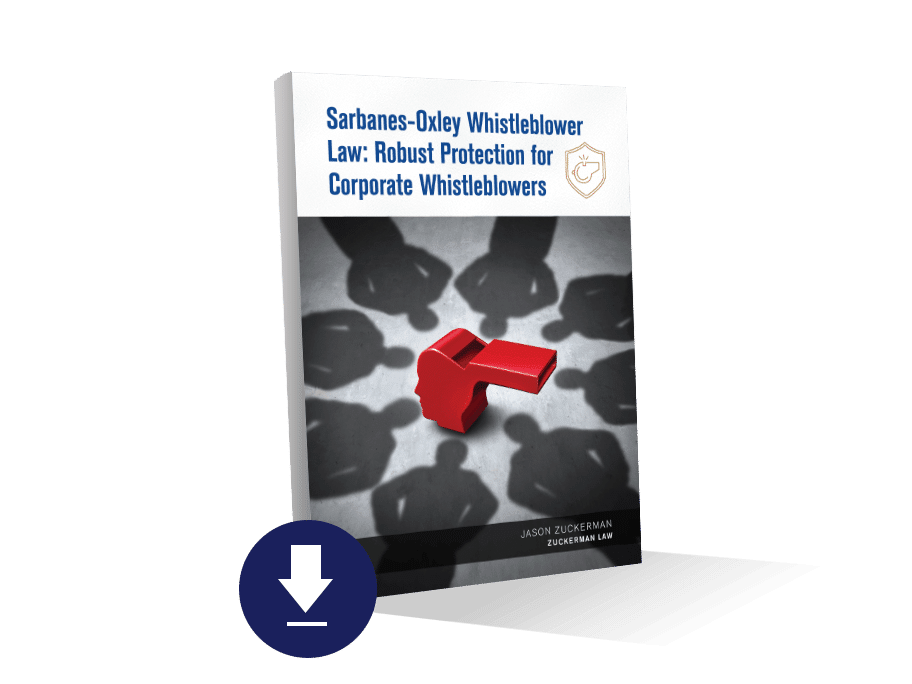 Click here to learn more about anti-retaliation protections for SEC whistleblowers under the Dodd-Frank Act and Sarbanes-Oxley Act.
whistleblower_lawyers_012017_infographic