Yes.  The whistleblower protection provision of the Sarbanes-Oxley Act protects the following activity: "to file, cause to be filed, testify, participate in, or otherwise assist in a proceeding filed or about to be filed (with any knowledge of the employer) relating to an alleged violation[.]"
To learn more about Sarbanes-Oxley whistleblower protections, click here, and call us at 202-262-8959 to schedule a preliminary consultation.
The SOX whistleblower lawyers at Zuckerman Law have represented CEOs, CFOs, in-house counsel, partners at audit firms and other senior professionals in high-stakes whistleblower matters.  Click here to read reviews and testimonials from former clients.  Drawing on our substantial experience representing corporate whistleblowers, we have published a free guide to SOX titled Sarbanes-Oxley Whistleblower Protection: Robust Protection for Corporate Whistleblowers: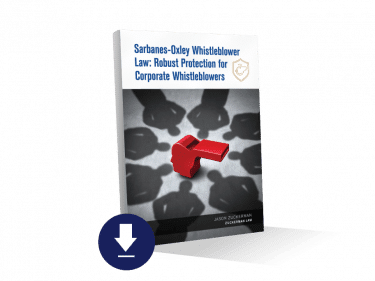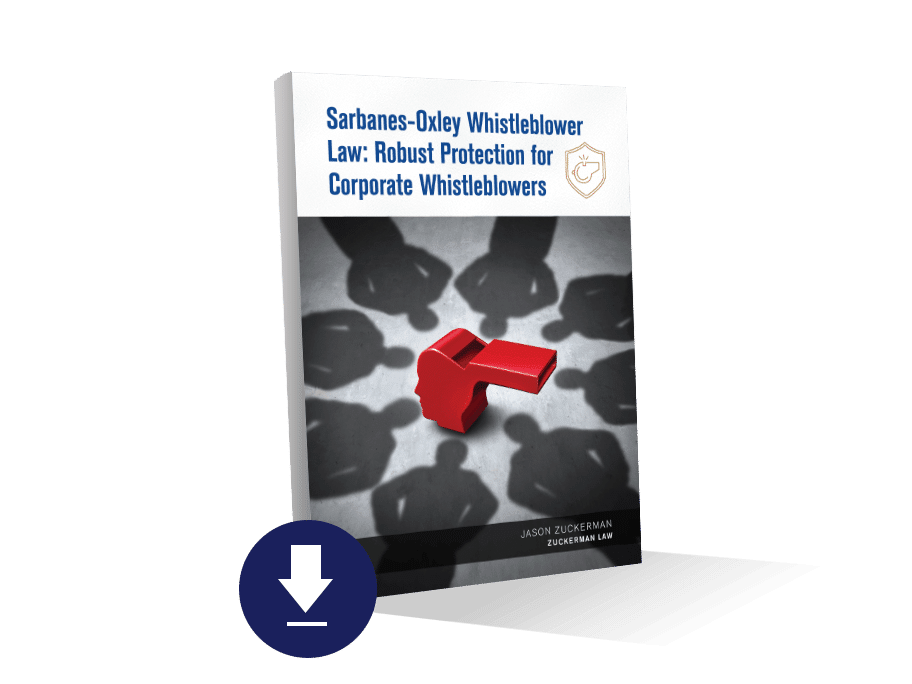 Sarbanes-Oxley Whistleblower Attorneys

We have assembled a team of leading whistleblower lawyers to provide top-notch representation to Sarbanes-Oxley (SOX) whistleblowers.  Recently Washingtonian magazine named two of our attorneys top whistleblower lawyers. U.S. News and Best Lawyers® have named Zuckerman Law a Tier 1 Law Firm in the Washington D.C. metropolitan area.
The whistleblower lawyers at Zuckerman Law have substantial experience litigating Sarbanes Oxley whistleblower retaliation claims and have achieved substantial recoveries for officers, executives, accountants, auditors, and other senior professionals.  To schedule a free preliminary consultation, click here or call us at 202-262-8959.
Matt Stock is a Certified Public Accountant, Certified Fraud Examiner and former KPMG external auditor.  As an auditor, Mr. Stock developed an expertise in financial statement analysis, internal controls testing and fraud recognition, and he uses his auditing experience to help whistleblowers investigate and disclose complex financial frauds to the government and obtain damages for retaliation.  He is lead author of SEC Whistleblower Program: Tips from SEC Whistleblower Attorneys to Maximize an SEC Whistleblower Award.
Both Bachman and Zuckerman served in senior positions at the Office of Special Counsel, where they oversaw investigations of whistleblower retaliation claims and whistleblower disclosures, and enforced the Whistleblower Protection Act.
Eric Bachman has substantial experience litigating precedent-setting employment cases.  His wins include a $100 million settlement in a disparate impact Title VII class action and a $16 million class action settlement against a major grocery chain.  Having served as Special Litigation Counsel in the Civil Rights Division of the Department of Justice and as lead or co-counsel in numerous jury trials, Bachman is ready to go the distance to obtain the relief that you deserve.
Bachman and Zuckerman served on the Department of Labor's Whistleblower Protection Advisory Committee, which makes recommendations to the Secretary of Labor to improve OSHA's administration of federal whistleblower protections.
Jason Zuckerman was recognized by Washingtonian magazine as a "Top Whistleblower Lawyer" in 2017, 2015, 2009, and 2007, selected by his peers to be included in The Best Lawyers in America® in the category of employment law (2011-2017), and selected by his peers to be listed in SuperLawyers(2012 and 2015-2017) in the category of labor and employment law.  Zuckerman is rated 10 out of 10 by Avvo, based largely on client reviews, and rated AV Preeminent® by Martindale-Hubbell based on peer reviews.
The firm has published extensively on whistleblower rights and protections, and regularly speaks nationwide at seminars and continuing legal education conferences.  We blog about new developments in whistleblower law at the Whistleblower Protection Blog.