Does SOX prohibit post-termination retaliation?
The ARB and some district judges have held that SOX prohibits post-employment retaliation in certain circumstances. For example, in Kshetrapal v. Dish Network, LLC,[i] Mr. Kshetrapal, an associate director for Dish Network ("Dish"), disclosed that a marketing agency with which Dish had contracted was submitting fraudulent bills. When Mr. Kshetrapal disclosed the fraud, his supervisors initially ignored him. Mr. Kshetrapal continued to press the issue, and Dish conducted an investigation, which resulted in Dish firing Mr. Kshetrapal's supervisor and terminating its contract with the marketing agency. One month after taking these corrective actions, Dish forced Mr. Kshetrapal to resign.
The marketing agency sued Dish for breach of contract, and Mr. Kshetrapal was deposed in that litigation. During his deposition, Mr. Kshetrapal testified about the marketing agency's fraud and his belief that his supervisor received bribes from the marketing agency. Shortly after the deposition, Mr. Kshetrapal began working for a music streaming service on which Dish ran ads. Upon learning that Mr. Kshetrapal worked for the music streaming service, Dish pulled its ads. Soon thereafter, a prospective employer of Mr. Kshetrapal rescinded a job offer because Dish ordered it not to hire Mr. Kshetrapal.
Mr. Kshetrapal sued Dish for retaliation, and in denying Dish's motion to dismiss, Judge Crotty held that Mr. Kshetrapal's deposition testimony about the alleged fraud was protected under SOX even though the deposition took place when he no longer worked for Dish.  According to Judge Crotty, "a contrary holding would discourage employees from exposing fraudulent activities of their former employers for fear of retaliation in the form of blacklisting or interference with subsequent employment. Such a result would contravene the purpose of SOX."[ii] Some courts, however, have held that SOX does not proscribe post-termination retaliation.[iii]
A Supreme Court decision construing Title VII's anti-retaliation provision also suggests that SOX proscribes post-termination retaliation.  See Robinson v. Shell Oil Co., 519 U.S. 337, 341 (1997).  In Robinson, the Court held that the term "employees" in Title VII's anti-retaliation provisions encompasses former employees.
There are, however, cases adopting a contrary position, such as Erhart v. Bofi Holding, Inc., No. 15-cv-02287, 2022 WL 119191 (S.D. Cal. Jan 12, 2022).  But even if a retaliatory act post-employment is not actionable under SOX, it is relevant evidence that has the "tendency to make a fact more or less probable than it would be without the evidence" —  whether the employer's adverse employment action against the whistleblower was taken in retaliation for protected conduct.  Although a SOX whistleblower need not prove an employer's retaliatory motive to prevail, post-employment statements or actions by the employer are relevant to the employer's motive for taking an adverse employment action.
[i] 90 F. Supp. 3d 108, 112–14 (S.D.N.Y. 2015).
[ii] Id. at 114.
[iii] See, e.g., Hughart v. Raymond James & Assocs., Inc., 2004 DOLSOX LEXIS 92, at* 129 (ALJ Dec. 17, 2004)
March 2021 Sixth Circuit Decision Construing FCA to Prohibit Post-Employment Retaliation
On March 31, 2021, the Sixth Circuit issued a well-reasoned opinion in United States ex rel. Felten v. William Beaumont Hospital holding that the False Claims Act whistleblower protection provision, which is similar to SOX, protects former employees alleging post-termination retaliation. The Sixth Circuit construed the FCA consistent with the roadmap for statutory interpretation laid out by the Supreme Court in Robinson v. Shell Oil Co., 519 U.S. 337 (1997), where the Court held that the Civil Rights Act of 1964 bars discrimination against current and former employees.
First, there is no temporal qualifier accompanying "employee" in 3730(h) suggesting that it refers solely to current employees. Instead, the reference to "any employee" can apply to any employee who has ever been employed by a particular employer. Further, half of the retaliatory acts proscribed by the statute – "threatened," "harassed," and "discriminated" – are not restricted to a current employment relationship and can refer to former employees.  And the FCA's catch-all category of retaliation – discrimination in the "terms and conditions of employment" — does not limit actionable retaliation to personnel actions taken while the whistleblower works for the employer.  Examples of terms and conditions of employment that can persist after an employee's termination include non-competition and confidentiality restrictions and discontinuance of severance pay.
Second, the statutory and dictionary definitions of "employee" reveal that the FCA's anti-retaliation provision protects former employees. Although the FCA does not define the word employee, the term "employed" can refer to someone who "is employed" or "was employed."
Third, other aspects of the statutory framework suggest that it protects former employees. For example, one of the remedies authorized under the statute is reinstatement, which is available only to a former employee (only someone who has lost a job can be reinstated). Likewise, the FCA's authorization of "special damages sustained as a result of the discrimination" provides a remedy for misconduct that is not dependent on whether the plaintiff is still an employee.
Finally, the Sixth Circuit assessed the FCA's broader context and found that Congress intended to encourage employees to report fraud against the government and facilitate the government's ability to stymie crime by protecting whistleblowers: "If employers can simply threaten, harass, and discriminate against employees without repercussion as long as they fire them first, potential whistleblowers could be dissuaded from reporting fraud against the government."
SOX Whistleblower Protection Law
We represent corporate whistleblowers nationwide in high-stakes whistleblower retaliation cases and have obtained substantial recoveries for CEOs, CFOs, auditors, accountants, risk managers, CISOs, and other executives and senior professionals.  We have recovered more than $15 million for corporate whistleblowers and have obtained settlements in excess of one million dollars in at least ten SOX matters. Click here to read reviews from senior executives and professionals that we represented in whistleblower retaliation matters.
To learn more about the Sarbanes-Oxley corporate whistleblower protection law, download our free guide Sarbanes-Oxley Whistleblower Protection: Robust Protection for Corporate Whistleblowers.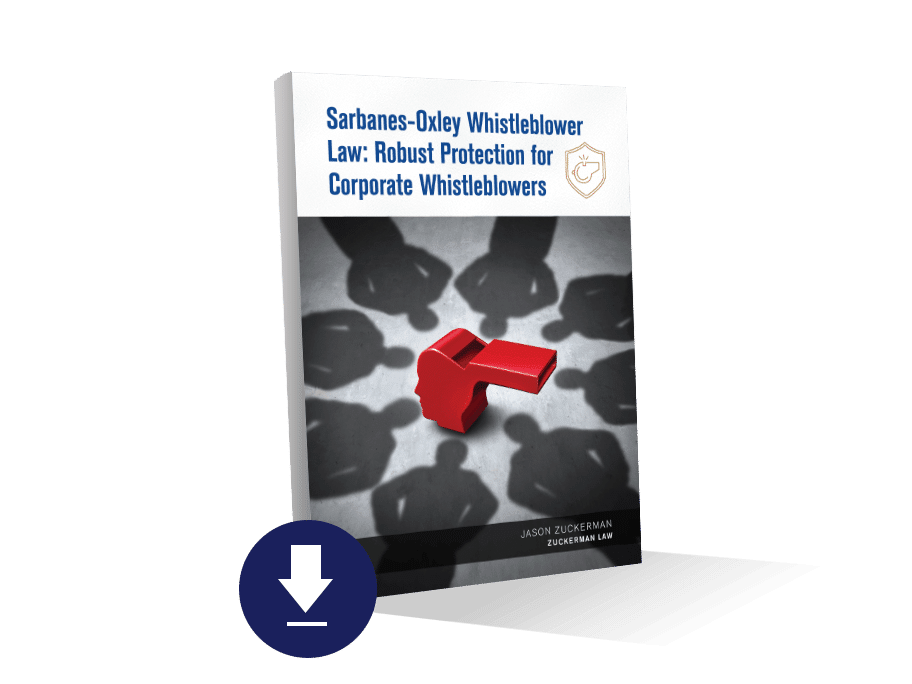 Why Hire Leading Washington DC SOX Whistleblower Law Firm Zuckerman Law 
We have assembled a team of leading whistleblower lawyers to provide top-notch representation to Sarbanes-Oxley (SOX) whistleblowers.  Recently Washingtonian magazine named two of our attorneys top whistleblower lawyers. U.S. News and Best Lawyers® have named Zuckerman Law a Tier 1 Law Firm in the Washington D.C. metropolitan area.
The whistleblower lawyers at Zuckerman Law have substantial experience litigating Sarbanes Oxley whistleblower retaliation claims and have achieved substantial recoveries for officers, executives, accountants, auditors, and other senior professionals.  To schedule a free preliminary consultation, click here or call us at 202-262-8959.
Client Reviews from Executives and Senior Professionals in SOX Whistleblower Retaliation Matters
"Jason is the consummate professional when it comes to SOX retaliation claims. He is, without question, one of the most deeply knowledgeable, technical, and astute attorneys in this very specialized body of law. During one of the most difficult times in my professional career, Jason not only provided exceptional legal guidance, but equally as important, he provided emotional support that was vital to my family and me. Jason ran circles around the "major national law firm" team that was assigned to defend my employer. In fact, Jason made them look silly at times. Jason always advocated my best interests, not his own.  Jason is not only an exceptional attorney who helped my family to achieve a favorable outcome, but he is a friend. I've worked with major law firms throughout my career and when it comes to SOX and employment law matters, there is not a finer, more talented attorney than Jason Zuckerman."
"Jason is everything you could possibly ask for an an attorney: highly intelligent, thoughtful, and extraordinarily knowledgeable in his specialty of the law. In a very short period of time Jason was able to assimilate a laundry list of details and offer a compelling strategy on how to effectively proceed.  Moreover, he is extremely responsive."
"Jason did an exceptional job in quickly understanding the intricacies of my case, grasping not only his field of expertise of employment law, but also the violations of law and SEC Regulations that were central to my dispute. The overall strategy he utilized insured that opposing counsel was challenged and made clear that this case would simply not proceed based on a timetable convenient to them. Jason is thorough, accurate and seemingly working at all hours based on phone calls and correspondence. Fortunately Jason has a very down to earth personality, understands issues readily and can convey in understandable language current "legal" circumstances and probable outcomes. I would easily and thoroughly recommend Jason for issues related to a Sarbanes-Oxley or employment related dispute."
"I selected Jason to handle my case after consulting with three other lawyers because of his extensive SOX experience and negotiation skills. My decision paid off as he easily surpassed all of my expectations. He quickly analyzed the merits of my case and aggressively engaged my former employer to reach a favorable settlement, avoiding years of potential litigation. He was responsive, professional, ethical and a great advocate on my behalf. I truly believe that I could not have found a better lawyer to represent my interests. He would be the first person I would recommend if a colleague or friend were to ever need similar services. Put simply, Jason is a top notch lawyer who works tirelessly to achieve a positive outcome for his clients. It's easy to see why he is regarded as an expert in the field."
"Jason Zuckerman is the most focused, thoughtful and aggressive attorneys I have ever known, let alone had the pleasure to have on my side in a highly complex legal case. He brought well-honed legal insights and a rapid pace to our legal preparations. He forcefully brought those preparations to the opposing side, which gave them little choice but to engage with us until a positive settlement was reached. In addition, we found Jason to be extremely responsive at every step, even if it required working past midnight. His character is beyond reproach and his dedication through the entire process was unwavering. If I ever need someone in my legal court again, I won't hesitate for even a second, before I seek Jason's support."