Circumstantial Evidence Proving Retaliation
Circumstantial evidence of retaliation includes:
temporal proximity;
indications of pretext;
inconsistent application of an employer's policies;
an employer's shifting explanations for its actions;
antagonism or hostility toward a complainant's protected activity, the falsity of an employer's explanation for the adverse action taken; and
a change in the employer's attitude toward the complainant after he or she engages in protected activity.
"Contributing Factor" Causation
The Department of Labor Administrative Review Board's ruling in Palmer v. Canadian National Railway, ARB No. 16-035, ALJ No. 2014-FRS-154 (ARB Sept. 30, 2016) (en banc), underscores that the burden-shifting framework under most of the whistleblower protection laws enforced by the Department of Labor is favorable to whistleblowers.  Though the ARB held that ALJs can consider an employer's reason for taking an adverse action in determining whether the whistleblower has proven "contributing factor" causation, such evidence will rarely be dispositive where there is any evidence that the complainant's protected conduct played any role in the adverse action.
Since the whistleblower need show only that the protected activity played a role in the adverse action, "the employee necessarily prevails at step one if there was more than one reason and one of those reasons was the protected activity."  Palmer, ARB No. 16-035 at 53.
Palmer also clarifies several critical aspects of the burden-shifting framework under most of the DOL whistleblower-protection laws:
"Contributing factor" causation is a broad and forgiving standard for whistleblowers, requiring the complainant to show that protected activity played some role—even an insignificant or insubstantial role—in the adverse action.
Decision-maker knowledge of the protected activity and close temporal proximity will suffice to prove causation in some cases.
A whistleblower need not disprove the employer's reasons for taking an adverse action (i.e., prove pretext) to demonstrate causation.
"Since the 'contributing factor' standard requires only that the protected activity play some role in the adverse action, the employer's nonretaliatory reasons are not 'weighed against' the employee's protected activity to determine which reasons might be weightier. In other words, the ALJ should not engage in any comparison of the relative importance of the protected activity and the employer's nonretaliatory reasons." at 55.
Once the whistleblower demonstrates contributing factor causation (a minimal burden), the employer has an onerous burden to prove by clear and convincing evidence that it would have taken the adverse action absent the employee's engaging in protected conduct. "It is not enough for the employer to show that it could have taken the same action; it must show that it would have. . . . Quantified, the probabilities might be in the order of above 70%."  at 57.
For more information about the ARB's Palmer decision, click here.  The ARB's Palmer decision cites an amicus curiae brief that Zuckerman Law filed in that case on behalf of the National Employment Lawyers Association, Teamsters for a Democratic Union, Truckers Justice Center, and General Drivers, Warehousemen & Helpers Local No. 89.
If you are seeking representation in a whistleblower retaliation case, contact our experienced whistleblower retaliation lawyers today at 202-262-8959.
Zuckerman Law Amicus Curiae Brief Filed on Behalf of Senator Wyden and Representative Speier Clarifying the Contributing Factor Causation Standard
In July 2021, whistleblower protection law firm Zuckerman Law filed this amicus curiae brief in the Second Circuit concerning the appropriate causation standard under federal whistleblower protection laws.
AMICUS CURIAE BRIEF OF SENATOR RON WYDEN AND REPRESENTATIVE JACKIE SPEIER AND IN SUPPORT OF THE PLAINTIFF-APPELLEE-CROSS-APPELLANT

SOX Whistleblower Retaliation Damages
Sarbanes-Oxley (SOX) Whistleblower Protection Lawyers
Section 806 of the Sarbanes-Oxley Act protects whistleblowers working at publicly-traded companies or at contractors and subcontractors of publicly-traded companies.  By enacting SOX, Congress intended to dismantle a corporate culture that discouraged employees from reporting fraudulent behavior internally or to outside authorities.
The experienced SOX whistleblower lawyers at Zuckerman Law have extensive experience representing corporate whistleblowers and have recovered more than fifteen million dollars for SOX whistleblowers,
Call us today for a free preliminary consultation about your corporate whistleblower case.  We can be reached at 202-262-8959 or by clicking here.
We have represented CEOs, CFOs, partners at audit firms and other senior professionals in high-stakes whistleblower matters.  Click here to read reviews and testimonials from former clients.  Drawing on our substantial experience representing corporate whistleblowers, we have published a free guide to SOX titled Sarbanes-Oxley Whistleblower Protection: Robust Protection for Corporate Whistleblowers.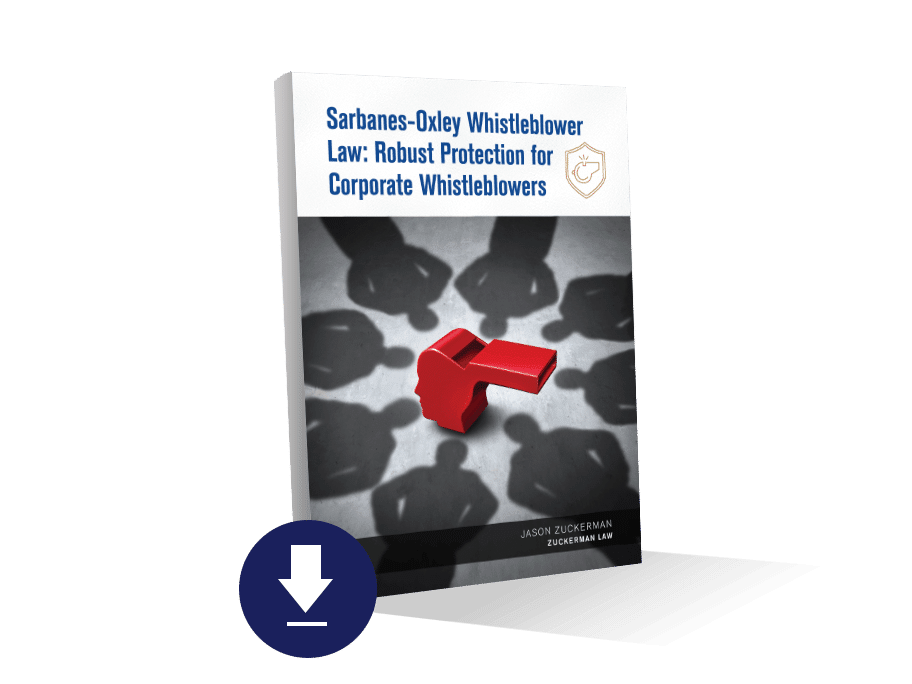 And for information about the SEC's Whistleblower Reward Program, download our free ebook SEC Whistleblower Program: Tips from SEC Whistleblower Attorneys to Maximize an SEC Whistleblower Award.
Corporate Whistleblower Protection Laws