SEC Whistleblower Attorneys Representing Whistleblowers Worldwide
The SEC whistleblower attorneys at Zuckerman Law have extensive experience representing SEC whistleblowers both domestically and internationally.  If you have information that you would like to report to the SEC, contact an SEC whistleblower attorney at Zuckerman Law for a free, confidential consultation about your case by calling 202-262-8959.
The attorneys at Zuckerman Law have counseled whistleblowers worldwide, including in China, Europe, India, Angola, the Middle East, Afghanistan, Argentina, and Canada, and the firm has represented whistleblowers worldwide in disclosing fraud to the SEC and the Department of Justice.
SEC Whistleblower Program 
Under the SEC Whistleblower Program, whistleblowers are eligible for monetary awards when they provide information to the SEC about violations of federal securities laws. Whistleblowers are eligible to receive between 10% and 30% of the monetary sanctions collected if their tip leads to a successful enforcement action resulting in monetary sanctions exceeding $1,000,000.
Since 2011, the SEC Whistleblower Office has awarded more than $154 million to whistleblowers. The largest award to date is more than $30 million. In 2016, the office issued more than $57 million in awards to whistleblowers.
Whistleblowers need not be U.S. citizens to be eligible for SEC whistleblower awards
Regardless of citizenship, whistleblowers who provide original information that leads to enforcement actions with total civil penalties of more than $1 million may be eligible an award of between 10-30 percent of the total sanctions imposed.
Since the beginning of the whistleblower program, submissions have come from whistleblowers in 103 countries outside of the United States. In 2016 alone, the SEC received tips from whistleblowers in 67 foreign countries. According to a recent SEC press release, the SEC Whistleblower Office received the highest number of tips from whistleblowers in the:
United Kingdom,
Canada,
China;
India; and
Australia.
The largest award to date – more than $30 million – was issued to a whistleblower living in a foreign country.
What violations qualify for an award from the SEC Whistleblower Program?
Any violation of federal securities laws qualifies for an award under the SEC Whistleblower Program, including:
Can I submit an anonymous tip to the SEC Whistleblower Office?
The SEC Whistleblower Program allows whistleblower to submit anonymous tips if represented by an attorney. In addition, if the SEC opens an investigation based on a whistleblower's tip, it will go out of its way to protect whistleblower's confidentiality. In certain circumstances, whistleblower may fear retaliation and an experienced SEC whistleblower attorney can skillfully guide whistleblowers through the process, maximizing the likelihood that their identity is not revealed to unauthorized parties.
Law Firm Representing Whistleblowers Internationally
The experienced SEC whistleblower lawyers at Washington DC whistleblower law firm Zuckerman Law have successfully represented whistleblowers in whistleblower rewards and whistleblower rewards matters before the SEC and DOL concerning fraud, bribery, and other securities law violations that occurred in the U.S. and abroad.
The firm has a licensed Certified Public Accountant and Certified Fraud Examiner on staff to enhance its ability to investigate and disclose complex financial fraud to the SEC, and two of the firm's attorneys served in high-level position at a government agency that protects whistleblowers.  Firm Principal Jason Zuckerman has been named by Washingtonian Magazine as a "Top Whistleblower Lawyer" and the firm has been ranked by U.S. News as a Tier 1 Firm in Labor & Employment Litigation.
To learn more about the SEC Whistleblower Program, download Zuckerman Law's eBook: SEC Whistleblower Program: Tips from SEC Whistleblower Attorneys to Maximize an SEC Whistleblower Award: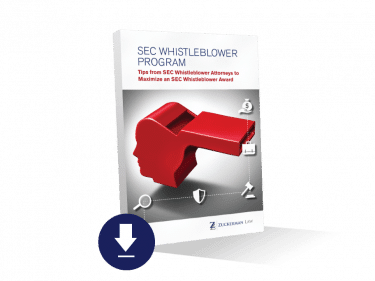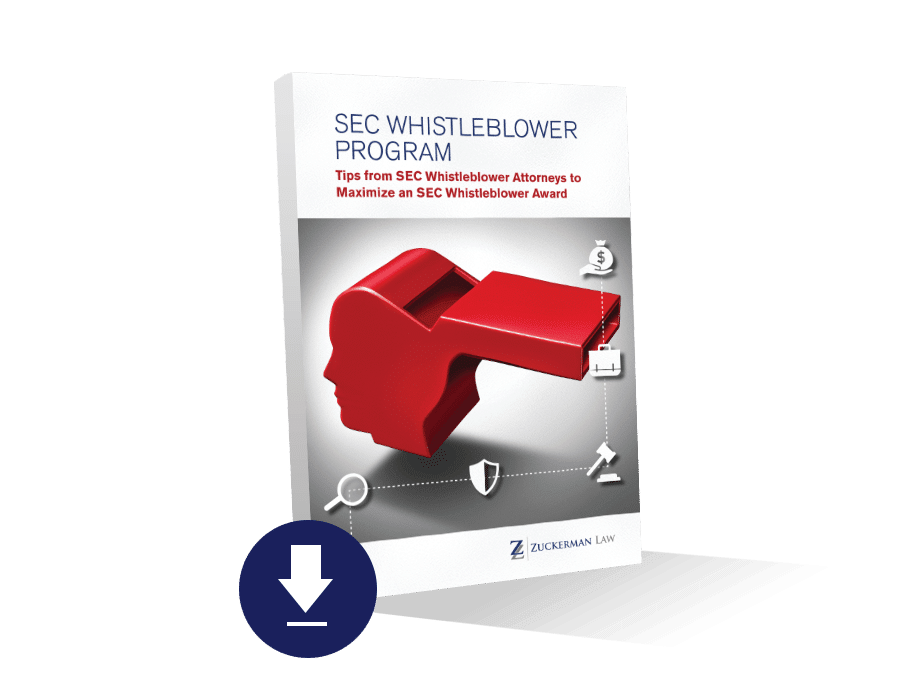 In addition, see the following resources:
Zuckerman Law SEC Whistleblower Reward Program FAQ
If you are seeking representation in an SEC whistleblower bounty case, click here, or call us at 202-262-8959 to schedule a free, confidential consultation.
whistleblower_lawyers_012017_infographic