SEC Whistleblower Program
The SEC whistleblower program offers awards to eligible whistleblowers who provide original information that leads to successful SEC enforcement actions with total civil penalties exceeding $1 million. A whistleblower may receive an award of between 10% and 30% of the monetary sanctions collected in actions brought by the SEC and in related actions brought by other regulatory or law-enforcement authorities.The largest SEC whistleblower awards to date are $50 million, $39 million and $33 million.
In 2010, Congress enacted the whistleblower-reward provisions in the Dodd-Frank Act to "motivate those with inside knowledge to come forward and assist the Government to identify and prosecute persons who have violated securities laws and recover money for victims of financial fraud," S. Rep. No. 111-176, at 110 (2010). Notably, any violation of the federal securities laws qualifies for an SEC whistleblower award.
SEC Whistleblower Program's Success
The SEC Whistleblower Program, in its short history, has enabled the SEC to uncover significant investment fraud schemes and halt ongoing fraud.  Since 2011, the SEC Whistleblower Office has received over 28,000 tips, some of which led to enforcement actions resulting more than $1.7 billion in monetary sanctions from wrongdoers. The SEC Office of the Whistleblower has paid more than $326 million in awards to whistleblowers. In fiscal year 2018 alone, the SEC paid more than $168 million in awards to whistleblowers.
Anonymous Reporting to SEC Office of the Whistleblower
Under the rules of the SEC Whistleblower Program, whistleblowers have the ability to report anonymously if represented by an attorney. A skilled whistleblower attorney will be able to skillfully guide a whistleblower through the process, maximizing the likelihood that their identity is not revealed to unauthorized parties. The program also offers substantial protection against retaliation. For more information on the SEC Whistleblower Program:
Click here to learn more about anti-retaliation protections for SEC whistleblowers under the Dodd-Frank Act and Sarbanes-Oxley Act.
Contact Leading SEC Whistleblower Law Firm to Find out if You May Qualify for a SEC Whistleblower Award
For more information about whistleblower rewards and bounties, contact the SEC whistleblower lawyers at Zuckerman Law at 202-262-8959.
To learn more about the SEC Whistleblower Program, download Zuckerman Law's eBook: SEC Whistleblower Program: Tips from SEC Whistleblower Attorneys to Maximize an SEC Whistleblower Award: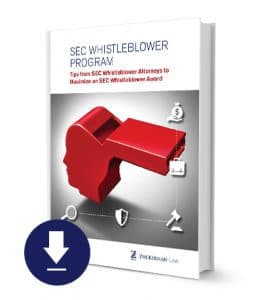 How to Report Information to the SEC and Qualify for a SEC Whistleblower Award
SEC Whistleblower Attorneys
We have substantial experience investigating securities fraud schemes and preparing effective submissions to the SEC concerning a wide range of federal securities violations, including:
Top-Rated SEC Whistleblower Lawyers

We have assembled a team of leading whistleblower lawyers to provide top-notch representation to SEC whistleblowers.  Recently Washingtonian magazine named two of our attorneys top whistleblower lawyers.  U.S. News and Best Lawyers® have named Zuckerman Law a Tier 1 firm in Litigation – Labor and Employment in the Washington DC metropolitan area
Protection Against Retaliation for SEC Whistleblowers
Several federal and state laws protect corporate whistleblowers.  We routinely represent whistleblowers in Sarbanes-Oxley whistleblower retaliation cases.  For an overview of SOX whistleblower protection, download our titled Sarbanes-Oxley Whistleblower Protection: Robust Protection for Corporate Whistleblowers: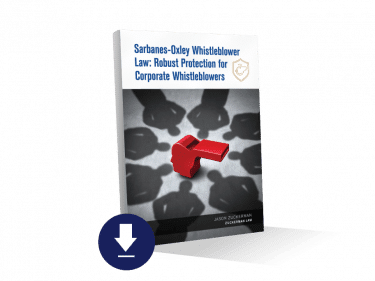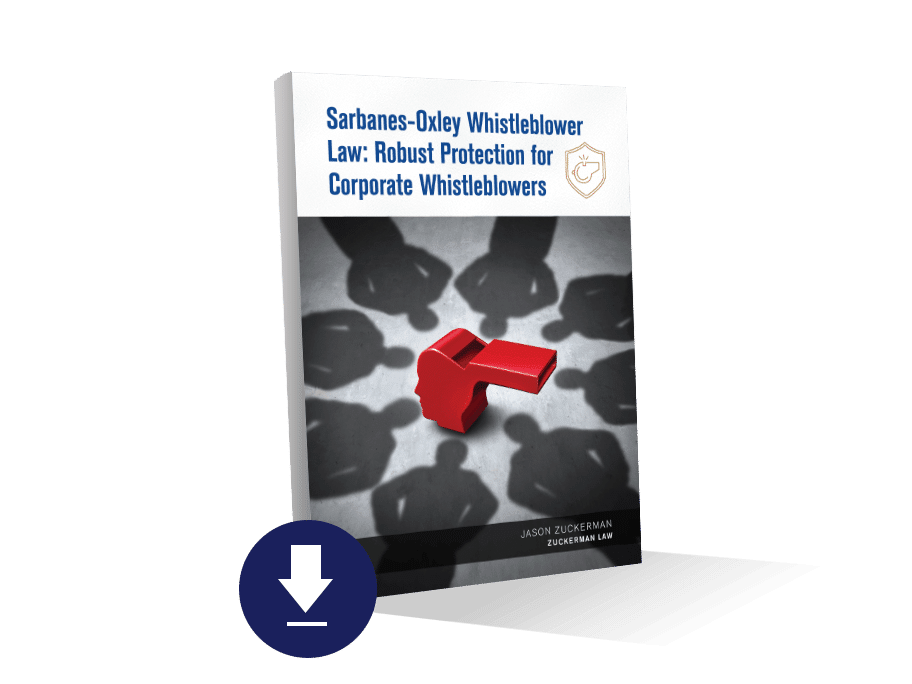 Resources for SEC Whistleblowers
To find out more about the SEC Whistleblower Program from a leading SEC whistleblower law firm, see the following ollowing resources:
whistleblower_lawyers_012017_infographic