SEC Whistleblower Attorney
Under the SEC Whistleblower Program, whistleblowers are eligible for monetary awards when they provide original information that leads to successful SEC enforcement actions, or related successful actions, resulting in monetary sanctions over $1,000,000. A whistleblower may receive an award of between 10 to 30 percent of the monetary sanctions collected. Since the program's inception, the SEC has paid more than $154 million in awards to whistleblowers.
Whistleblowers may submit tips anonymously through an attorney. For many whistleblowers, it is imperative that their identity remain confidential when submitting information to the SEC. An experienced SEC whistleblower attorney can skillfully guide whistleblowers through the process, maximizing the likelihood that their identity is not revealed to unauthorized parties.
In addition, an experienced SEC whistleblower attorney can maximize the likelihood of recovering an SEC whistleblower award. Under the program, the SEC is authorized to pay awards for original information about any violation of the federal securities laws, including:
If you have information you would like to report to the SEC, contact an experienced SEC whistleblower attorney at Zuckerman Law for a free, confidential consultation by calling 202-262-8959. Zuckerman Law, one of the nation's leading law firms representing whistleblowers in whistleblower rewards and whistleblower retaliation claims, will work to quickly provide you with the highest-quality representation to maximize your likelihood of recovering an SEC whistleblower award.
SEC Whistleblower Program
Under the SEC Whistleblower Program, the SEC is required to pay awards, subject to certain limitations and conditions, to: (i) eligible whistleblowers who voluntarily provide the SEC with (ii) original information that (iii) leads to successful SEC enforcement actions, or related actions, resulting in monetary sanctions over $1,000,000.
First, most individuals, regardless of citizenship, may be "eligible" whistleblowers if they voluntarily submit a tip to the SEC about a violation that has occurred, is ongoing, or is about to occur. Indeed, even lawyers, external auditors, and individuals involved in the wrongdoing may be eligible for awards if certain steps are taken. If you are uncertain about your eligibility, you should consult with an experienced SEC whistleblower attorney to determine the appropriate steps.
Next, a whistleblower must provide the SEC with "original information"—i.e., information not already known to the SEC. If someone reports another individual's information to the SEC first, the latter will not be entitled to a percentage of any monetary sanctions collected.
Finally, original information "leads to" a successful SEC enforcement action, or related action, if it causes the SEC or other designated authorities to open an investigation, re-open a previously closed investigation, pursue a new line of inquiry, or if the information "significantly contributes" to an open investigation. A whistleblower's information may "significantly contribute" to an open investigation in several ways, including if the information allows the SEC to bring the enforcement action in significantly less time or with significantly less resources, expands the scope of the current investigation, leading to additional successful claims, or allows the SEC to bring claims against additional parties.
Protection for SEC Whistleblowers
SEC whistleblowers are also offered anti-retaliation protections. Specifically, an employer may not "discharge, demote, suspend, threaten, harass, directly or indirectly, or in any manner discriminates against, a whistleblower" for legally reporting a violation of the federal securities laws to the SEC. Relief or damages for retaliation includes reinstatement, double backpay, and litigation costs and reasonable attorneys' fees. SEC whistleblower are also afforded protections under the Sarbanes-Oxley Act (SOX). A SOX whistleblower recently received a jury verdict of $11 million after prevailing on his SOX retaliation claim.
SEC Whistleblower Awards
The SEC can pay awards ranging from 10 to 30 percent of the "monetary sanctions" collected. Monetary sanctions include any money, such as penalties, disgorgement, and interest, ordered to be paid and any money deposited into a disgorgement fund or other fund pursuant to federal law.
Since 2011, the SEC Whistleblower Office has issued more than $154 million in awards to whistleblowers. In FY 2016 alone, the office issued over $57 million in awards to whistleblowers, including six of the ten largest whistleblower awards in the program's history. The largest award to date is more than $30 million.
The table below identifies some of the largest awards that the SEC has issued to whistleblowers:
Whistleblower Award
Date
Basis for Whistleblower Award
$30 million
September 22, 2014
A foreign whistleblower came to the SEC with "information about an ongoing fraud that would have been very difficult to detect."

This reward underscores that non-US citizens are eligible whistleblowers in the SEC Whistleblower Program.

$22 million
August 30, 2016
A former financial executive at Monsanto exposed weaknesses in the company's internal controls that failed to account for millions of dollars in rebates. Monsanto agreed to settle the allegations of accounting fraud for $80 million.

Importantly, auditors and accountants are eligible whistleblowers in the SEC Whistleblower Program. They are often best positioned to witness this type of wrongdoing.
$17 million
June 9, 2016
A company insider "substantially advanced the agency's investigation and ultimate enforcement action."

This award highlights that whistleblowers may receive a reward if they provide original information regarding an open SEC investigation that significantly contributes to the success of the action.
$14 million
September 30, 2013
The whistleblower exposed a fraudulent offering that targeted foreign nationals who sought to invest in the U.S. economy and gain a legal pathway to citizenship through the EB-5 Immigrant Investor Program.

In 2016, the SEC increased staff in its investment adviser/investment company examination program. As such, we expect to see an increase in the number of actions brought against investment advisers and companies in the coming years.
$7 million
January 23, 2017
Three whistleblowers split an award of more than $7 million after helping the SEC prosecute an investment scheme.

One whistleblower provided information that was a primary impetus for the start of the SEC's investigation. That whistleblower received more than $4 million. Two other whistleblowers jointly provided new information during the SEC's investigation that significantly contributed to the success of the SEC's enforcement action. Those two whistleblowers will split more than $3 million.
$5.5 million
January 6, 2017
An anonymous whistleblower orally provided the SEC with critical information about ongoing securities fraud. Generally, the SEC requires that whistleblower provide information "in writing." However, the SEC waived that requirement in this case due to "highly unusual circumstances" and awarded the whistleblower more than $5.5 million for the information.

This award marks the second time that the SEC has deemed it appropriate to waive a procedural requirement. Former chief of the SEC whistleblower office, Sean McKessy, noted that this award underscores the SEC's discretionary authority to do what justice requires.
$5 million
May 17,2016
A former company insider's detailed tip led the agency to uncover securities violations that would have been nearly impossible for it to detect but for the whistleblower's information.

In the SEC's press release, it noted that employees are often best positioned to witness wrongdoing.

$4 million
April 25, 2017
The SEC issued the $4 million award to an anonymous whistleblower who provided information that led another governmental authority (not the SEC) to a successful enforcement action resulting in significant monetary sanctions.

This award highlights that SEC whistleblowers are still eligible for an award when they provide information to the SEC that leads other governmental authorities to a successful enforcement action resulting in monetary proceeds in excess of $1 million.
$4 million
September 30, 2016
The SEC issued the award to an anonymous whistleblower for "alter[ing] the agency to a fraud."

The lack of information about the whistleblower and the enforcement action underscores how serious SEC is about protecting the confidentiality of whistleblowers.
$3.5 million
May 13, 2016
The whistleblower "bolstered an ongoing investigation with additional evidence of wrongdoing" which helped the SEC during settlement discussions with the company.
$3.5 million
December 5, 2016
A whistleblower received an award of $3.5 million for providing original information to the SEC that led to a successful enforcement action.
SEC Whistleblower Tips
Since 2011, the SEC Whistleblower Office has received over 18,000 tips. According to the SEC Whistleblower Program's 2016 Annual Report to Congress, the number of whistleblower tips has increased each year since the inception of the program:
FY2011: 334
FY2012: 3,001
FY2013: 3,238
FY2014: 3,620
FY2015: 3,923
FY2016: 4,218
Due to the increased quantity of tips, it is imperative that whistleblowers prepare high-quality submissions that grab the SEC's attention. Otherwise, whistleblowers run the risk of having their tip fall to the wayside like most of the 18,000 tips.
An experienced SEC whistleblower attorney can help whistleblowers get noticed by drafting a Form TCR that will grab the SEC's attention and highlight the most important aspects of the claim. A well-prepared submission will also increase the likelihood that the SEC will act on the tip. Further, an experienced attorney will draft a TCR with an eye to the future and include significant factors that could increase the percentage of a potential award.
In addition to preparing the TCR, an SEC whistleblower attorney can determine the appropriate evidence to provide (or not provide) to the SEC as well as advise the whistleblower on any potential exposure as a result of providing the evidence. Finally, and as a practical matter, the SEC will likely view a whistleblower's tip as more credible if it is submitted by a reputable SEC whistleblower attorney who has prior experience working with the SEC Whistleblower Office.
SEC Whistleblower Attorney: Top FAQs 
whistleblower_lawyers_012017_infographic

What is Age Discrimination?
Age discrimination occurs when an employee is denied a job, terminated or discriminated against in any way by an employer because of their age.
Age Discrimination in Employment Act
The Age Discrimination in Employment Act of 1967 (ADEA)'s protections apply to both employees and job applicants. Under the ADEA, it is unlawful to discriminate against a person because of his/her age with respect to any term, condition, or privilege of employment including:
Hiring
Firing
Promotions
Layoffs
Compensations
Benefits
Job assignments
Training
The ADEA also prohibits retaliation for opposing age discrimination or filing an age discrimination charge, testifying, or participating in any way in an investigation, proceeding, or litigation under the ADEA.
The ADEA applies to employers with 20 or more employees, including state and local governments. It also applies to employment agencies and labor organizations, as well as to the federal government.  Some statute anti-discrimination provie broader protection against age discrimination.
Exceptions to ADEA Protection
The ADEA contains several exceptions:
Executives or others in high policy-making positions can be required to retire at age 65 if they would receive annual retirement pension benefits worth $44,000 or more.
There are special exceptions for police and fire personnel, tenured university faculty and certain federal employees having to do with law enforcement and air traffic control.
The ADEA makes an exception when age is an essential part of a job – known by the legal term "bona fide occupational qualification" or BFOQ.
Proving Age Discrimination
An employer can only be held liable for age discrimination if the employee can show that an intentional action was taken against the employee because of the employee's age.  The Supreme Court has held that the ADEA does not authorize a mixed-motive theory of recovery and instead requires a plaintiff to prove that her age was the "but for" reason (or "because of" reason) for the adverse action.   Gross v. FBL Fin. Servs., Inc., 557 U.S. 167,(2009).
Circumstantial Evidence of Age Discrimination
Not being hired because the employer wanted a younger looking person to do the job.
Receiving a negative job evaluation because you were not flexible in taking on new projects
Being terminated because your boss wanted to keep younger workers who are paid less.
Being turned down for a promotion, which went to someone younger hired from outside the company, because the boss indicated the company's desire to be younger
When company layoffs are announced, most of the persons laid off were older, while younger workers with less seniority and less on-the-job experience were kept on
Prior to termination, your supervisor made age-related remarks about you
Remedies for Age Discrimination
Back Pay
Hiring
Promotion
Reinstatement
Front Pay
Liquidated Damages
Occasionally Court Costs and Attorney's Fees
Maryland Virginia Washington DC Age Discrimination Attorneys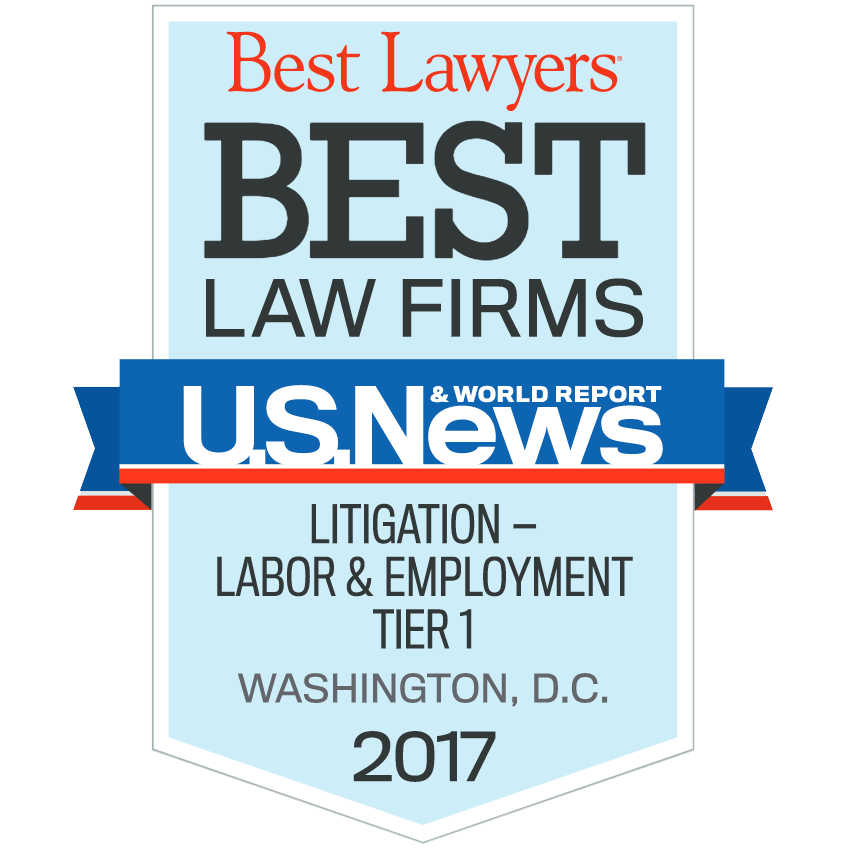 Hiring a proven and effective advocate is critical to obtaining the maximum recovery in an age discrimination case.  Eric Bachman, Chair of the Firm's Discrimination Practice, has substantial experience litigating precedent-setting individual and class action discrimination cases.   His wins include a $100 million settlement in a disparate impact Title VII class action and a $16 million class action settlement against a major grocery chain.  Having served as Special Litigation Counsel in the Civil Rights Division of the Department of Justice and as lead or co-counsel in numerous jury trials, Bachman is trial-tested and ready to fight for you to obtain the relief that you deserve.
Bachman writes frequently on employment discrimination issues at the Glass Ceiling Discrimination Blog.
U.S. News and Best Lawyers® have named Zuckerman Law a Tier 1 firm in Litigation – Labor and Employment in the Washington DC metropolitan area.  Contact us today to find out how we can help you.  To schedule a preliminary consultation, click here or call us at 202-262-8959 or (202) 769-1681.