An article in Law 360 titled Big Awards Pushing Compliance Pros To Be Whistleblowers discusses the impact of the SEC's award of approximately $1.5M to a compliance officer.  The article reports that both defense counsel and whistleblower counsel have seen an uptick in whistleblower complaints brought by internal audit and compliance personnel.
In the article, leading whistleblower lawyer Jason Zuckerman notes that this substantial award to a compliance officer and prior SEC whistleblower awards to internal audit and accounting personnel show that compliance programs in some companies are ineffective.   According to the SEC's press release, the "compliance officer reported misconduct after responsible management at the entity became aware of potentially impending harm to investors and failed to take steps to prevent it."  Similarly, a July 2014 SEC press release announcing a $400,000 award notes that the whistleblower did "everything feasible to correct the issue internally" before turning to the SEC.
To learn more about the SEC Whistleblower Program, download Zuckerman Law's eBook: SEC Whistleblower Program: Tips from SEC Whistleblower Attorneys to Maximize an SEC Whistleblower Award: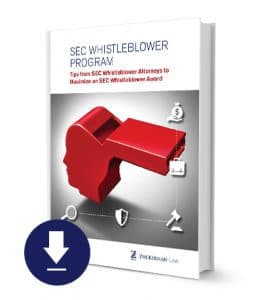 To discuss your SEC whistleblower claim, contact the SEC whistleblower lawyers at Zuckerman Law for a free, confidential consultation at 202-262-8959.
See our column in Forbes:  One Billion Reasons Why The SEC Whistleblower-Reward Program Is Effective
See our column in Going Concern:  Sarbanes-Oxley 15 Years Later: Accountants Need to Speak Up Now More Than Ever