Whistleblower Outside U.S. Recovers Record SEC Whistleblower Award
A Law360 article titled SEC Welcomes Foreign Whistleblowers Though Courts Don't quotes whistleblower lawyer Jason Zuckerman about the SEC awarding more than $30 million to a whistleblower under the SEC's Dodd-Frank whistleblower reward program.  The article focuses on two aspects of the SEC's order.  First, the order clarifies that the SEC can reward whistleblowers overseas who disclose violations of U.S. securities laws. Second, the order penalizes the whistleblower for not coming forward earlier to disclose the fraud.
The article quotes whistleblower attorney Jason Zuckerman's observation that the SEC's order will encourage whistleblower to disclose fraud early on to get a higher award:
"The SEC is sending a strong signal that whistleblowers should report violations early on in order to protect investors," said Jason Zuckerman . . . who focuses on whistleblower claims. "His massive award will likely embolden more whistleblowers to take the risk entailed in coming forward and reporting fraud."
Are Whistleblowers Working Outside the U.S. Protected Under SOX Whistleblower Law?
Recently the Department of Labor Administrative Review Board issued a decision in Blanchard v. Exelis Systems Corp., ARB No. 15-031, ALJ No. 2014-SOX-20 (ARB Aug. 29, 2017), which provides a thorough analysis of why SOX whistleblower protection applies extraterritorially.  Click here to read more about extraterritorial application of SOX.
The SOX whistleblower lawyers at Zuckerman Law have represented CEOs, CFOs, in-house counsel, partners at audit firms and other senior professionals in high-stakes whistleblower matters.  Click here to read reviews and testimonials from former clients.  Drawing on our substantial experience representing corporate whistleblowers, we have published a free guide to SOX titled Sarbanes-Oxley Whistleblower Protection: Robust Protection for Corporate Whistleblowers: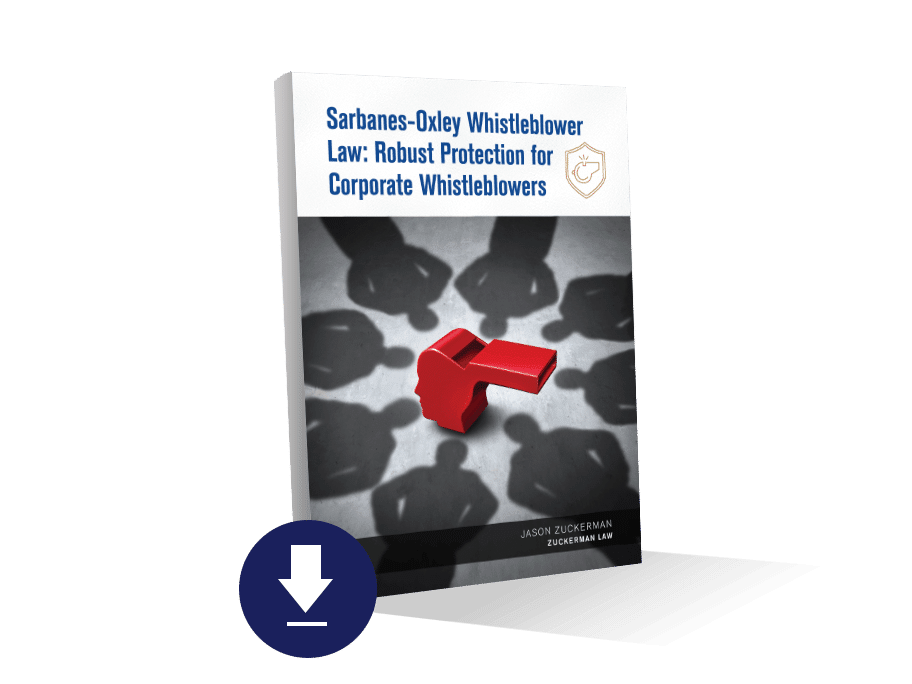 Call us today for a free confidential consultation about your corporate whistleblower case.  We can be reached at 202-262-8959 or by clicking here.
Experienced SEC Whistleblower Attorneys
The experienced whistleblower lawyers at Zuckerman Law represent whistleblowers worldwide before the SEC under the Dodd-Frank SEC Whistleblower Program.  The firm has a licensed Certified Public Accountant and Certified Fraud Examiner on staff to enhance its ability to investigate and disclose complex financial fraud to the SEC, and two of the firm's attorneys served on the Department of Labor's Whistleblower Protection Advisory Committee and in senior leadership positions at a government agency that protects whistleblowers.
Firm Principal Jason Zuckerman has been named by Washingtonian Magazine as a "Top Whistleblower Lawyer" and the firm has been ranked by U.S. News as a Tier 1 Firm in Labor & Employment Litigation.
Leading whistleblower law firm Zuckerman Law has substantial experience investigating securities fraud schemes and preparing effective submissions to the SEC concerning a wide range of federal securities violations, including:
See our article in Forbes:  One Billion Reasons Why The SEC Whistleblower-Reward Program Is Effective
For more information about the SEC Whistleblower Program, download our free ebook SEC Whistleblower Program: Tips from SEC Whistleblower Attorneys to Maximize an SEC Whistleblower Award and see the following resources:
SEC Whistleblower Rewards and Bounties
Qualifying for an SEC Whistleblower Award
Sarbanes-Oxley Whistleblower Attorney