Many companies ban employees from making audio or video recordings in the workplace. Companies argue that these policies promote employee communication without the fear of being recorded. However, are these policies lawful? Can corporate whistleblowers provide recordings evidencing fraud to the SEC notwithstanding these policies?
Taping and Disclosing Information to the SEC Can be Protected Activity 
Rule 21F-17, one of the regulations implementing the Dodd-Frank SEC whistleblower-reward program, prohibits companies from having policies or provisions in agreements that prevent whistleblowers from providing information to the SEC: "No person may take any action to impede an individual from communicating directly with the Commission staff about a possible securities law violation, including enforcing, or threatening to enforce, a confidentiality agreement . . . with respect to such communications." The SEC has used this rule to eliminate obstacles that whistleblowers face when reporting violations to the SEC, such as:
Rule 21F-17 arguably trumps any company policies that prohibit employees from making recordings of non-privileged information to disclose securities law violations to the SEC.
Workplace recordings can also be protected under the Sarbanes-Oxley Act (SOX) and other whistleblower protection laws. For example, in Franchini v. Argonne National Laboratory, the Department of Labor Administrative Review Board (ARB) held that recording workplace conversations to gather evidence of safety violations is protected whistleblowing under the whistleblower protection provision of the ERA. In Franchini, the whistleblower recorded conversations evidencing potential radiation contamination and workplace safety issues. In the course of raising his concerns internally and to the Department of Energy, the whistleblower made about 50 recordings of discussions with his supervisors and co-workers.
The ARB held that gathering evidence by recording workplace conversations can be protected whistleblowing under the ERA. Notably, the ARB distinguished the whistleblower's recordings from other unprotected recordings, such as when a whistleblower engages in indiscriminate and excessive recording of unrelated topics, i.e., a company's business strategy and finances.
No Law Provides Blanket Authorization to Record Workplace Conversations 
Though using workplace audio or video recordings to blow the whistle can be protected under some whistleblower protection laws, there are several countervailing issues that whistleblowers and their counsel should consider before using a recording to advance a whistleblower retaliation or whistleblower rewards claim.
First, the SEC will not use privileged information (e.g., a recording of a lawyer providing advice), and the SEC seeks to avoid receiving any privileged information because of the risk that it could taint an investigation.  To the extent a whistleblower has a recording containing privileged information, the whistleblower and counsel should proceed very carefully and should consult state attorney ethics rules.
Second, an employee could face civil or criminal liability for making a surreptitious recording in a state in which two-party consent is required.  The Reporters Committee for Freedom of the Press has issued a helpful state-by-state guide to taping phone calls and in-person conversations, which is available here.
Third, in retaliation claims, a recording that violates company policy could potentially give rise to an after-acquired evidence defense. After-acquired evidence is evidence of wrongdoing that an employer discovers after an adverse employment action that would justify the employer taking the adverse action at the time that the employer discovers the evidence.  For example, if an employer fires a whistleblower in violation of the Sarbanes-Oxley whistleblower law and subsequently discovers that the whistleblower embezzled money from the company, the company could likely prove an after-acquired evidence defense at the time it discovers the theft, thereby limiting the whistleblower's remedies.
The after-acquired evidence is often misused by employers to justify a witch hunt aimed at digging up dirt on the whistleblower after the employer already took the adverse employment action.  Fortunately, there is a high bar to proving an after-acquired evidence defense.   In Clemmons v. Ameristar Airways, Inc., the ARB ruled that an employer asserting an after-acquired evidence defense must prove the defense by clear and convincing evidence. An employer will only meet this burden if the evidence immediately tilts the evidentiary scales in the employer's direction. In other words, an employer must show that the wrongdoing was so significant that it would have fired the employee for that action alone.
The issue of whistleblowers using company documents to prosecute their claims is complex.  A recent decision providing a comprehensive analysis of these issues is Erhart v. Bofi Holdings, which is summarized here in the Whistleblower Protection Law Blog.
See these related posts and FAQs:
Click below to hear SEC whistleblower lawyer Matt Stock's tips for SEC whistleblowers:
Whistleblower Protections for SEC Whistleblowers
Click here to learn more about anti-retaliation protections for SEC whistleblowers under the Dodd-Frank Act and Sarbanes-Oxley Act.
Drawing on our substantial experience representing SOX whistleblowers, we have published a free guide to SOX titled Sarbanes-Oxley Whistleblower Protection: Robust Protection for Corporate Whistleblowers: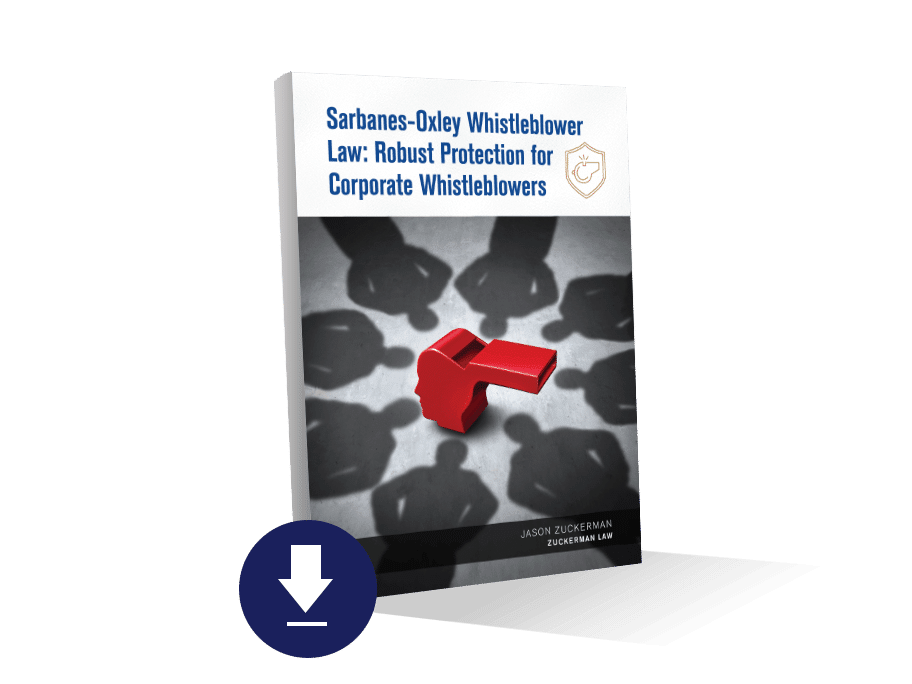 Leading SEC Whistleblower Lawyers
For more information about the SEC Whistleblower Program, download our free ebook SEC Whistleblower Program: Tips from SEC Whistleblower Attorneys to Maximize an SEC Whistleblower Award
The experienced whistleblower lawyers at Zuckerman Law represent whistleblowers worldwide before the SEC under the Dodd-Frank SEC Whistleblower Program.  The firm has a licensed Certified Public Accountant and Certified Fraud Examiner on staff to enhance its ability to investigate and disclose complex financial fraud to the SEC, and two of the firm's attorneys served in high-level positions at a government agency that protects whistleblowers.  Firm Principal Jason Zuckerman has been named by Washingtonian Magazine as a "Top Whistleblower Lawyer" and the firm has been ranked by U.S. News as a Tier 1 Firm in Labor & Employment Litigation.
The whistleblower lawyers at Zuckerman Law substantial experience investigating securities fraud schemes and preparing submissions to the SEC concerning a wide range of federal securities violations, including:
To schedule a free preliminary consultation, click here or call us at 202-262-8959.
To learn more about the SEC Whistleblower Program, download Zuckerman Law's eBook: SEC Whistleblower Program: Tips from SEC Whistleblower Attorneys to Maximize an SEC Whistleblower Award:
Tips for SEC Whistleblowers
SEC Whistleblower Rewards Process
SEC Whistleblower Bounties
Attorneys Representing SEC Whistleblowers