Washington, D.C. SEC Whistleblower Attorney – Tier 1 Law Firm
The SEC whistleblower attorneys at Zuckerman Law, a Washington, D.C.-based  law firm, represent SEC whistleblowers both domestically and internationally.  The firm has a licensed Certified Public Accountant and Certified Fraud Examiner on staff to enhance its ability to investigate complex financial fraud and report it to the SEC.  Zuckerman Law has worked with whistleblowers to report a wide variety of fraudulent schemes, including :
SEC Whistleblower Awards
Under the SEC Whistleblower Program, whistleblowers may be eligible for monetary awards when they voluntarily provide the SEC with original information about violations of federal securities laws. Whistleblowers are eligible to receive between 10% and 30% of the monetary sanctions collected if their tip leads to a successful enforcement action resulting in monetary sanctions exceeding $1,000,000.
The SEC Whistleblower Program also protects the confidentiality of whistleblowers and does not disclose information that might directly or indirectly reveal a whistleblower's identity. In fact, whistleblowers can even submit a tip anonymously if represented by counsel. Furthermore, there is no citizenship requirement to be eligible for an SEC whistleblower award.
Since the law went into effect, the SEC Whistleblower Office has awarded more than $154 million to whistleblowers. The largest award to date is more than $30 million. In 2016, the office issued more than $57 million in awards to whistleblowers.
Largest SEC Whistleblower Awards
The table below identifies some of the larger awards that the SEC has provided to whistleblowers:
Whistleblower Award
Date
Basis for Whistleblower Award
$30 million
September 22, 2014
A foreign whistleblower came to the SEC with "information about an ongoing fraud that would have been very difficult to detect."

This reward underscores that non-US citizens are eligible whistleblowers in the SEC Whistleblower Program.

$22 million
August 30, 2016
A former financial executive at Monsanto exposed weaknesses in the company's internal controls that failed to account for millions of dollars in rebates. Monsanto agreed to settle the allegations of accounting fraud for $80 million.

Importantly, auditors and accountants are eligible whistleblowers in the SEC Whistleblower Program. They are often best positioned to witness this type of wrongdoing.
$17 million
June 9, 2016
A company insider "substantially advanced the agency's investigation and ultimate enforcement action."

This award highlights that whistleblowers may receive a reward if they provide original information regarding an open SEC investigation that significantly contributes to the success of the action.
$14 million
September 30, 2013
The whistleblower exposed a fraudulent offering that targeted foreign nationals who sought to invest in the U.S. economy and gain a legal pathway to citizenship through the EB-5 Immigrant Investor Program.

In 2016, the SEC increased staff in its investment adviser/investment company examination program. As such, we expect to see an increase in the number of actions brought against investment advisers and companies in the coming years.
$7 million
January 23, 2017
Three whistleblowers split an award of more than $7 million after helping the SEC prosecute an investment scheme.

One whistleblower provided information that was a primary impetus for the start of the SEC's investigation. That whistleblower received more than $4 million. Two other whistleblowers jointly provided new information during the SEC's investigation that significantly contributed to the success of the SEC's enforcement action. Those two whistleblowers will split more than $3 million.
$5.5 million
January 6, 2017
An anonymous whistleblower orally provided the SEC with critical information about ongoing securities fraud. Generally, the SEC requires that whistleblower provide information "in writing." However, the SEC waived that requirement in this case due to "highly unusual circumstances" and awarded the whistleblower more than $5.5 million for the information.

This award marks the second time that the SEC has deemed it appropriate to waive a procedural requirement. Former chief of the SEC whistleblower office, Sean McKessy, noted that this award underscores the SEC's discretionary authority to do what justice requires.
$5 million
May 17,2016
A former company insider's detailed tip led the agency to uncover securities violations that would have been nearly impossible for it to detect but for the whistleblower's information.

In the SEC's press release, it noted that employees are often best positioned to witness wrongdoing.

$4 million
April 25, 2017
The SEC issued the $4 million award to an anonymous whistleblower who provided information that led another governmental authority (not the SEC) to a successful enforcement action resulting in significant monetary sanctions.

This award highlights that SEC whistleblowers are still eligible for an award when they provide information to the SEC that leads other governmental authorities to a successful enforcement action resulting in monetary proceeds in excess of $1 million.
$4 million
September 30, 2016
The SEC issued the award to an anonymous whistleblower for "alter[ing] the agency to a fraud."

The lack of information about the whistleblower and the enforcement action underscores how serious SEC is about protecting the confidentiality of whistleblowers.
$3.5 million
May 13, 2016
The whistleblower "bolstered an ongoing investigation with additional evidence of wrongdoing" which helped the SEC during settlement discussions with the company.
$3.5 million
December 5, 2016
A whistleblower received an award of $3.5 million for providing original information to the SEC that led to a successful enforcement action.
SEC Whistleblower Attorney
The SEC whistleblower attorneys at Zuckerman Law will work to quickly provide the highest-quality representation. It is critical that whistleblowers provide timely information to the SEC to maximize the potential of an SEC award. The attorneys will also use lessons drawn from our previous experience representing SEC whistleblowers to offer critical guidance on how to:
(1) maximize the probability of recovering an award; and
(2) maximize the award percentage.
If you have information that you would like to report to the SEC, contact an experienced SEC whistleblower attorney at Zuckerman Law for a free, confidential consultation about your case by calling 202-262-8959.
To learn more about the SEC Whistleblower Program, download Zuckerman Law's eBook: SEC Whistleblower Program: Tips from SEC Whistleblower Attorneys to Maximize an SEC Whistleblower Award: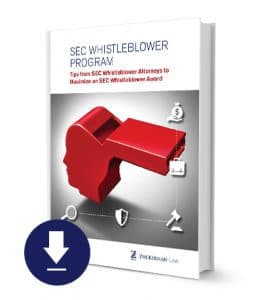 whistleblower_lawyers_012017_infographic