Whistleblower Retaliation
Whistleblower retaliation laws prohibit a broad range of retaliatory actions against whistleblowers, including any act that would dissuade a worker from engaging in protected whistleblowing.  Examples include:
Terminating a whistleblower;
Constructively discharging a whistleblower;
Demoting a whistleblower;
Suspending a whistleblower;
Harassing a whistleblower or subjecting the whistleblower to a hostile work environment;
Reassigning a whistleblower to a position with significantly different responsibilities;
Issuing a performance evaluation or performance improvement plan that supplies the necessary foundation for the eventual termination of the whistleblower's employment, or a written warning or counseling session that is considered discipline by policy or practice and is routinely used as the first step in a progressive discipline policy;
Placing the whistleblower on administrative leave;
Threatening to take an adverse action against a whistleblower;
Subjecting a whistleblower to a retaliatory investigation;
Suing a whistleblower for the purpose of retaliating against the whistleblower;
Discriminating against a whistleblower in the terms and conditions of employment because of whistleblowing.
Damages for Whistleblower Retaliation
Whistleblower retaliation can derail a career and deprive the whistleblower of future earnings.  Whistleblowers should be rewarded for doing the right thing, but all too often they suffer retaliation and find themselves marginalized and ostracized.  Federal and state whistleblower protection laws provide remedies to compensate whistleblowers that have suffered retaliation, including:
back pay (lost wages and benefits);
emotional distress damages;
damages for reputational harm;
reinstatement or front pay in lieu thereof;
lost future earnings; and
punitive damages.
Every case is unique.  Contact an experienced whistleblower retaliation attorney to find out what damages you might be able to recover.
Whistleblower Retaliation Lawyers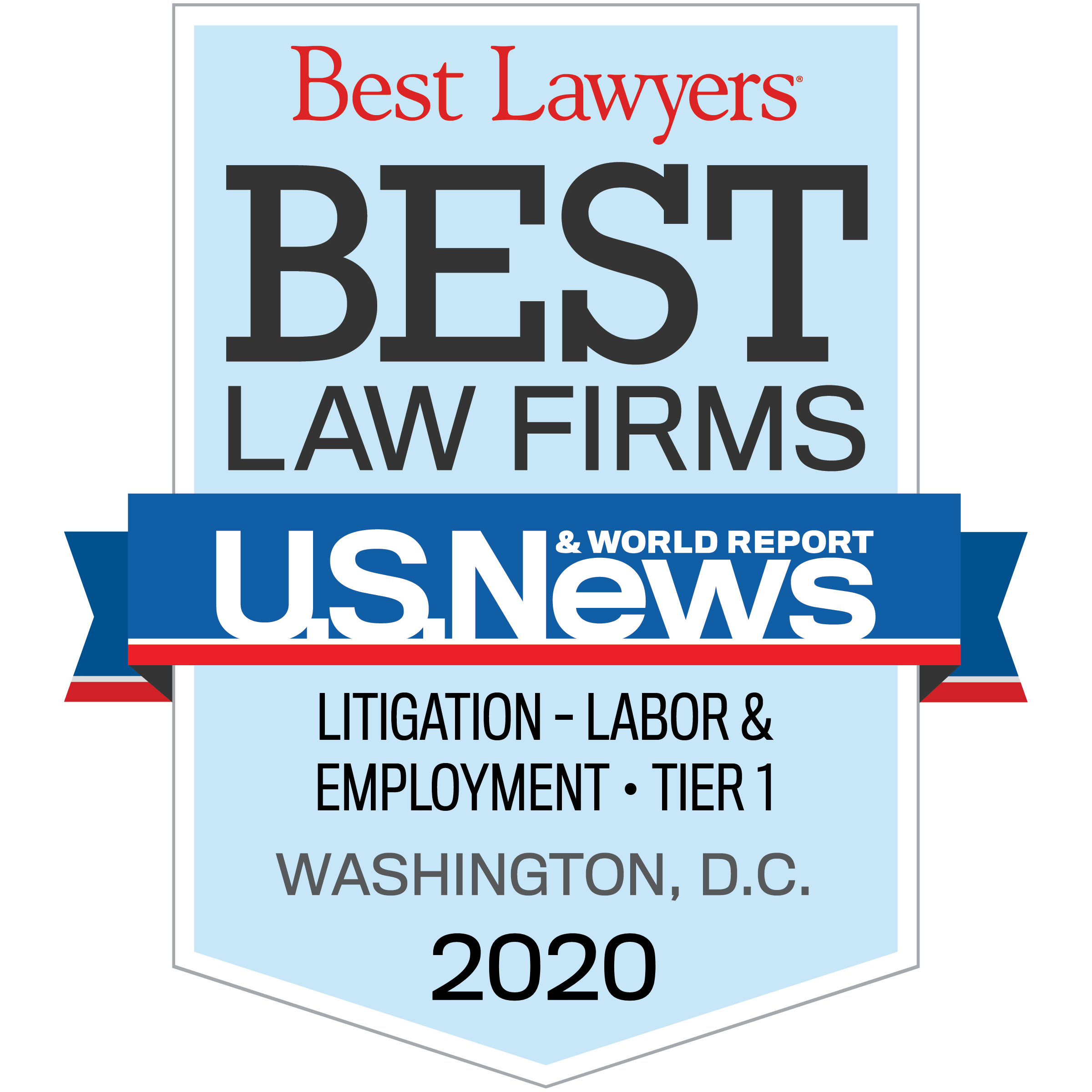 The experienced whistleblower retaliation lawyers at Zuckerman Law represent whistleblowers in retaliation actions under a variety of federal and state whistleblower protection laws, including the Sarbanes-Oxley Act.
Call us today for a confidential consultation about your corporate whistleblower case.  We can be reached at 202-262-8959 or by clicking here.
We have represented CEOs, CFOs, in-house counsel, partners at audit firms and other senior professionals in high-stakes whistleblower matters.  Click here to read reviews and testimonials from former clients, including corporate officers and executives. U.S. News and Best Lawyers® have named Zuckerman Law a Tier 1 firm in Litigation – Labor and Employment in the Washington DC metropolitan area in the 2021 edition of "Best Law Firms."
See our guide Sarbanes-Oxley Whistleblower Protection: Robust Protection for Corporate Whistleblowers: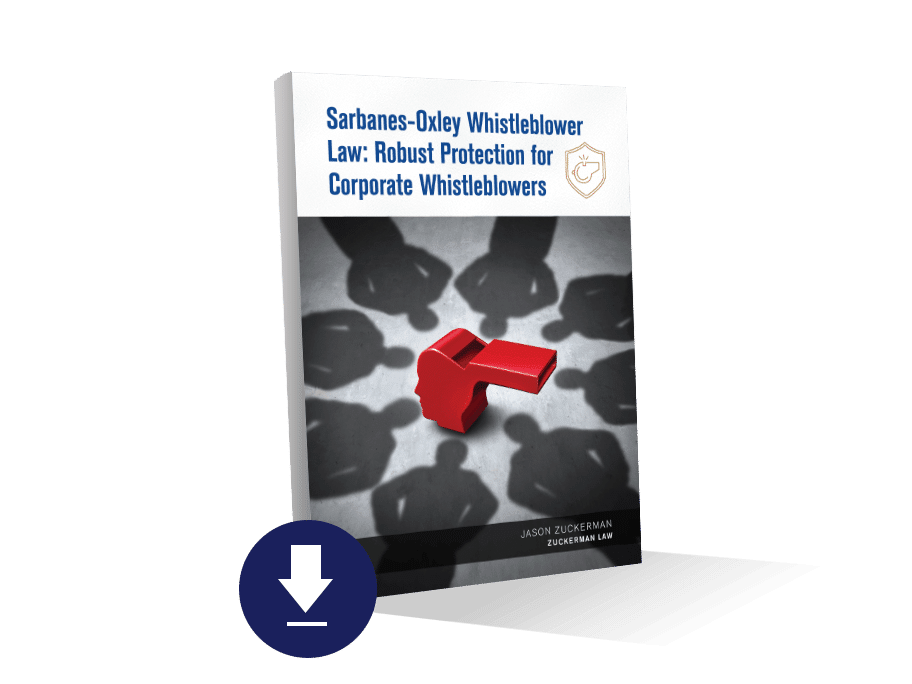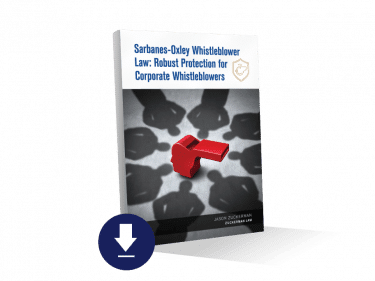 SEC Whistleblower Protection Against Retaliation
False Claims Act Whistleblower Retaliation Law
Tax Fraud IRS Whistleblower Retaliation  Law
Actionable Retaliation Outside the Workplace
In addition, some forms of post-employment retaliation and retaliation outside the workplace can constitute actionable retaliation.  The EEOC's 2016 Enforcement Guidance states:
Actions That Are Not Work-Related. A materially adverse action may also be an action that has no tangible effect on employment, or even an action that takes place exclusively outside of work, as long as it might well dissuade a reasonable person from engaging in protected activity. Prohibiting only employment-related actions would not achieve the goal of avoiding retaliation because "an employer can effectively retaliate against an employee by taking actions not directly related to his employment or by causing him harm outside the workplace."[118] The Supreme Court in Burlington Northern observed that, although the substantive anti-discrimination provisions seek elimination of discrimination that affects employment opportunities because of employees' racial, ethnic, or other protected status, the anti-retaliation provisions seek to secure that objective by preventing an employer from interfering in a materially adverse way with efforts to enforce the law's basic guarantees.[119]
Additional Examples. Other examples of materially adverse actions may include:
disparaging the person to others or in the media;[120]
making false reports to government authorities;[121]
filing a civil action;[122]
threatening reassignment;
scrutinizing work or attendance more closely than that of other employees, without justification;
removal of supervisory responsibilities;[123]
abusive verbal or physical behavior that is reasonably likely to deter protected activity, even if it is not sufficiently "severe or pervasive" to create a hostile work environment;
requiring re-verification of work status, making threats of deportation, or initiating other action with immigration authorities because of protected activity;[124]
terminating a union grievance process or other action to block access to otherwise available remedial mechanisms;[125]
taking (or threatening to take) a materially adverse action against a close family member (who could bring a claim as an aggrieved individual in addition to the person who engaged in protected activity);[126] and
any other action that might well deter reasonable individuals from engaging in protected activity.[127]
A fact-driven analysis applies to determine if the challenged employer action(s) in question would be likely to deter participation or opposition. To the extent some lower courts applying Burlington Northern have found that some of the above-listed actions can never be significant enough to deter protected activity, the Commission concludes that such a categorical view is contrary to the context-specific analysis, broad reasoning, and specific examples endorsed by the Supreme Court.
Matters are not actionable as retaliation if they are not likely to dissuade an employee from engaging in protected activity in the circumstances. For example, courts have concluded on the facts of given cases that a temporary transfer from an office to a cubicle consistent with office policy was not a materially adverse action[128] and that occasional brief delays by an employer in issuing refund checks to an employee that involved small amounts of money were not materially adverse.[129] Such actions were not deemed likely to deter protected activity, as distinguished from the transfer to harder work, the exclusion from a weekly training lunch, or the unfavorable schedule change described by the Supreme Court in Burlington Northern as materially adverse.
If the employer's action would be reasonably likely to deter protected activity, it can be challenged as retaliation even if it falls short of its goal.[130] The degree of harm suffered by the individual "goes to the issue of damages, not liability."[131] Regardless of the degree or quality of harm to the particular complainant, retaliation harms the public interest by deterring others from filing charges.[132] An interpretation of Title VII that permits some forms of retaliation to go unpunished would undermine the effectiveness of the EEO statutes and conflict with the language and purpose of the anti-retaliation provisions.
Determining whether an action is reasonably likely to deter protected activity under Burlington Northern is fact-dependent.
This guidance and the cases cited therein can be persuasive authority in whistleblower retaliation cases.