Virginia Lawyers Representing Whistleblowers in Whistleblower Rewards and Whistleblower Retaliation Claims
Our experienced Virginia whistleblower protection lawyers represent whistleblowers in Virginia under Virginia and federal whistleblower protection laws, including in claims under these laws:
Contact us today to find out how a leading Virginia whistleblower law firm can help maximize your recovery in a Virginia whistleblower retaliation or whistleblower rewards matter.
Click here to read reviews from clients that we have represented in whistleblower rewards and whistleblower retaliation matters.
To find out if you have a whistleblower claim in Virginia, contact Jason Zuckerman at (202) 262-8959 or Dallas Hammer to schedule a confidential consultation.
Virginia Whistleblower Protection Law
Whistleblowers in Virginia are now protected against retaliation under HB798, Virginia's whistleblower protection law, which authorizes a whistleblower to bring a civil action seeking injunctive relief, reinstatement, and uncapped compensation for lost wages, benefits, and other remuneration.
The scope of prohibited retaliation under Virginia's new whistleblower protection law is broad.  It prohibits an employer from discharging, disciplining, threatening, discriminating against, or penalizing an employee, or taking other retaliatory action regarding an employee's compensation, terms, conditions, location, or privileges of employment because of the employee's protected conduct.  Protected conduct includes:
Reporting in good faith a violation of any federal or state law or regulation to a supervisor or to any governmental body or law enforcement official;
Being requested by a governmental body or law enforcement official to participate in an investigation, hearing, or inquiry;
Refusing to engage in a criminal act that would subject the employee to criminal liability;
Refusing an employer's order to perform an action that violates any federal or state law or regulation when the employee informs the employer that the order is being refused for that reason; or
Providing information to or testifying before any governmental body or law enforcement official conducting an investigation, hearing, or inquiry into any alleged violation by the employer of federal or state law or regulation.
HB798 clarifies that it does not:
Authorize an employee to make a disclosure of data otherwise protected by law or any legal privilege;
Permit an employee to make statements or disclosures knowing that they are false or that they are in reckless disregard of the truth; or
Permit disclosures that would violate federal or state law or diminish or impair the rights of any person to the continued protection of confidentiality of communications provided by common law.
There is no requirement to exhaust administrative remedies, i.e., an employee alleging retaliation can bring a civil action in a court of competent jurisdiction within one year of the prohibited retaliatory action without first filing a claim with an administrative body.  A prevailing whistleblower can obtain the following relief:
An injunction to restrain continued violation;
Reinstatement to the same or an equivalent position held before the employer took the retaliatory action; and/or
Compensation for lost wages, benefits, and other remuneration, together with interest, as well as reasonable attorneys' fees and costs.
New Virginia Whistleblower Law Offers Broad Employee Protection

Virginia Whistleblower Realiation Law
2020 Legislative Session Heralds a Sea Change in Virginia Employment Law

Whistleblower Protections for Virginia Employees of Federal Government Contractors
Our Virginia whistleblower lawyers represent employees of federal contractors and grantees that have suffered retaliation for opposing fraud on the government or raising concerns about:
gross mismanagement of a Federal contract or grant;
a gross waste of Federal funds;
an abuse of authority  relating to a Federal contract or grant; or
a substantial and specific danger to public health or safety, or a violation of law, rule, or regulation related to a Federal contract.
To learn more about False Claims Act whistleblower protection, see our FCA whistleblower retaliation FAQ.
To learn more about remedies for whistleblowers at federal contractors or grantees, see our Practical Law Practice Note: Whistleblower Protections Under the National Defense Authorization Act.
Whistleblower Protection Lawyers Representing Virginia Whistleblowers
The Virginia whistleblower attorneys at Zuckerman Law have extensive experience representing executives and senior professionals at Virginia companies in Sarbanes-Oxley whistleblower retaliation claims, including CEOs and CFOs.  We have recovered more than fifteen million dollars for SOX whistleblowers.
Drawing on our substantial experience representing corporate whistleblowers in Virginia, we have published a free guide to SOX titled Sarbanes-Oxley Whistleblower Protection: Robust Protection for Corporate Whistleblowers.
The guide summarizes SOX whistleblower protections and offers concrete tips for Virginia corporate whistleblowers based on lessons learned during years of litigating SOX whistleblower cases.
Before hiring a lawyer for a high-stakes whistleblower case in Virginia, assess the lawyer's reputation, prior experience representing whistleblowers, knowledge of whistleblower laws and prior results.  And consider the experience of other whistleblowers working with that attorney.  See our client testimonials by clicking here.
Recently some corporate whistleblowers have obtained significant recoveries in SOX whistleblower retaliation claims:
Virginia Wrongful Termination Lawyers
Though Virginia is an "at-will employment" jurisdiction, Virginia recognizes an exception to the at-will employment doctrine for cases of wrongful termination in violation of public policy.
To establish a claim for wrongful termination in Virginia, a plaintiff must prove by a preponderance of the evidence that:
The plaintiff was an at-will employee terminated by the defendant;
The termination of the plaintiff's employment violates a specific public policy; and
There is a causal connection between the public policy violation and the employer's decision to terminate the plaintiff.
Virginia law recognizes only three situations where public policy protects an employee:
When an employer violated a policy enabling the exercise of an employee's statutorily created right;
When the public policy violated by the employer was explicitly expressed in the statute and the employee was clearly a member of that class of persons directly entitled to the protection enunciated by the public policy; or
When the discharge was based on the employee's refusal to engage in a criminal act. A claim under the third Bowman exception requires allegations that an employer "asked, or directed" an employee to engage in a criminal act, which could lead to the employee's prosecution under Virginia law
In a Virginia wrongful termination action, it is critical for the plaintiff to identify with specificity the public policy that the employer violated by discharging the plaintiff. In a Virginia wrongful termination action, a plaintiff must identify a Virginia state statute that establishes the relevant public policy.
In Anderson v Reeds Jewelers, No. 2:2016cv00739 (E.D. Va. 2017), the court noted that two types of statutes may give rise to a viable wrongful discharge claim on public policy grounds: (1) statutes involving laws containing explicit statements of public policy; and (2) statutes that implicitly express an established state public policy, designed to protect the property rights, personal freedoms, health, safety, or welfare of the people in general that the discharge violates.
A prevailing plaintiff in a Virginia wrongful termination action can recover back pay (lost wages and benefits), front pay, and punitive damages.  An action for wrongful termination in violation of public policy can be brought in state court any time within two years of when the termination occurred.
Virginia Whistleblower Damages
Virginia SOX Whistleblower Lawyers
We represent corporate whistleblowers in retaliation claims under the whistleblower protection provision of the Sarbanes-Oxley Act.  This FAQ provides an overview of key aspects of SOX whistleblower protection.
Virginia SEC Whistleblower Attorneys
The Virginia whistleblower lawyers at leading whistleblower law firm Zuckerman Law represent whistleblowers before the SEC disclosing fraud and other violations of federal securities laws, including:
The SEC has jurisdiction over a wide range of industries and entities – both public and private. If you have information that may qualify for a SEC whistleblower reward, contact the experienced SEC whistleblower lawyers at Zuckerman Law for a free, confidential consultation.
Virginia Whistleblower Protection Act Lawyers
Whistleblower attorneys Eric Bachman and Jason Zuckerman, former senior officials at the U.S. Office of Special Counsel, have released a guide for federal employee whistleblowers titled The Whistleblower Protection Act: Empowering Federal Employees to Root Out Waste, Fraud and Abuse and is available for download by clicking here.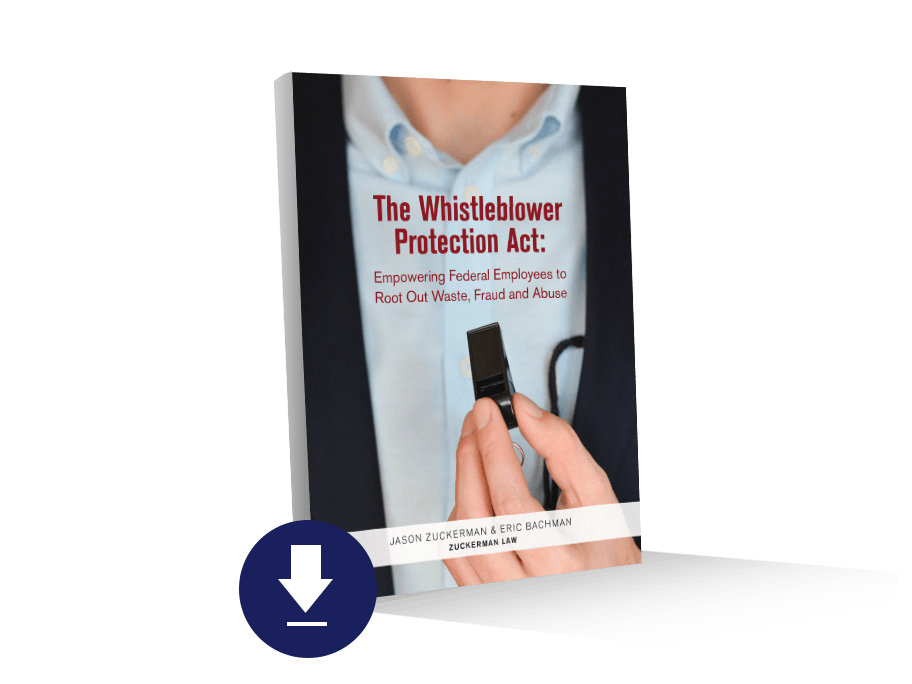 The goal of the guide is to inform federal employees about the whistleblower rights and protections available under the Whistleblower Protection Act, as amended by the Whistleblower Protection Enhancement Actand the Follow the Rules Act.
Tips for Virginia SEC Whistleblowers About Qualifying for a SEC Whistleblower Award
5 Tips for SEC Whistleblowers and Lessons Learned from SEC Whistleblower Awards
See our column in Forbes: One Billion Reasons Why The SEC Whistleblower-Reward Program Is Effective.
SEC Whistleblower Program
Scheduling a Consultation with Zuckerman Law Virginia Whistleblower Lawyers
To schedule a confidential consultation, call us at (202) 262-8959.
1934 Old Gallows
Rd #350
Tysons, VA 22182
By Appointment Only
Virginia SEC Whistleblower Lawyers
Resources for Whistleblowers at Federal Contractors and Grantees
Whistleblower Protections Under the National Defense Authorization Act (w-008-5821)