Virginia Lawyers Representing Whistleblowers
We represent whistleblowers in Virginia under whistleblower rewards and whistleblower protection laws, including in claims under:
Contact us to day to find out how a leading whistleblower law firm can help maximize your recovery:
To find out if you have a claim, contact Dallas Hammer at (571) 288-1309 to schedule a confidential consultation.
Whistleblower Protections for Employees of Federal Government Contractors
We represent employees of federal contractors and grantees that have suffered retaliation for opposing fraud on the government or raising concerns about:
gross mismanagement of a Federal contract or grant;
a gross waste of Federal funds;
an abuse of authority  relating to a Federal contract or grant; or
a substantial and specific danger to public health or safety, or a violation of law, rule, or regulation related to a Federal contract.
To learn more about remedies for whistleblowers, see our Practical Law Practice Note: "Whistleblower Protections Under the National Defense Authorization Act" and the following resources:
Corporate Whistleblower Protections for Virginia Employees
The attorneys at Zuckerman Law have extensive experience representing executives and senior professionals at Virginia companies in Sarbanes-Oxley whistleblower retaliation claims, including CEOs and CFOs.  We have recovered more than fifteen million dollars for SOX whistleblowers.
Drawing on our substantial experience representing corporate whistleblowers in Virginia, we have published a free guide to SOX titled Sarbanes-Oxley Whistleblower Protection: Robust Protection for Corporate Whistleblowers.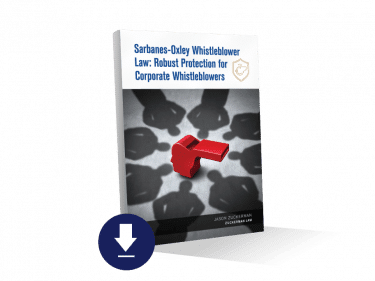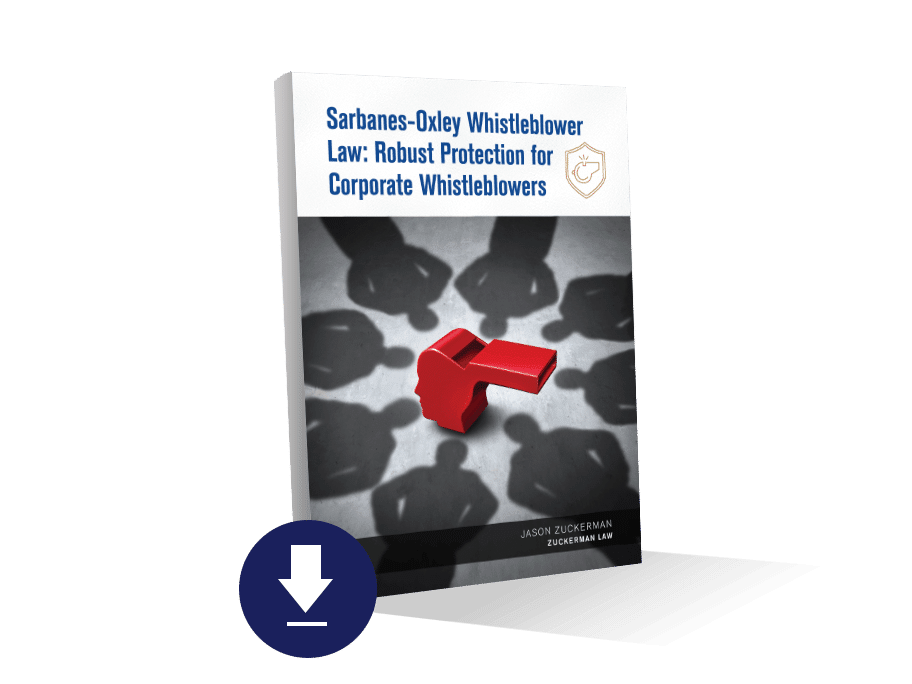 The guide summarizes SOX whistleblower protections and offers concrete tips for Virginia corporate whistleblowers based on lessons learned during years of litigating SOX whistleblower cases.
Before hiring a lawyer for a high-stakes whistleblower case in Virginia, assess the lawyer's reputation, prior experience representing whistleblowers, knowledge of whistleblower laws and prior results.  And consider the experience of other whistleblowers working with that attorney.  See our client testimonials by clicking here.
Recently some corporate whistleblowers have obtained significant recoveries in SOX whistleblower retaliation claims:
Virginia Wrongful Termination Lawyers
Though Virginia is an "at-will employment" jurisdiction, Virginia recognizes an exception to the at-will employment doctrine for cases of wrongful termination in violation of public policy.
To establish a claim for wrongful termination in Virginia, a plaintiff must prove by a preponderance of the evidence that:
The plaintiff was an at-will employee terminated by the defendant;
The termination of the plaintiff's employment violates a specific public policy; and
There is a causal connection between the public policy violation and the employer's decision to terminate the plaintiff.
Virginia law recognizes only three situations where public policy protects an employee:
The employee is exercising a statutory right;
The employer is violating a statute, and the employee is a clear member of the class of persons the statute intends to protect; or
The employee is fulfilling a statutory obligation.
In a wrongful termination action, it is critical for plaintiffs to identify with specificity the public policy that the employer violated by discharging the plaintiff. In a Virginia wrongful termination action, a plaintiff must identify a Virginia state statute that establishes the relevant public policy.
A prevailing plaintiff in a wrongful termination action can recover back pay (lost wages and benefits), front pay, and punitive damages.
An action for a wrongful termination in violation of public policy can be brought in state court any time within two years of when the termination occurred.
Virginia SEC Corporate Whistleblower Attorneys
The whistleblower lawyers at leading whistleblower law firm Zuckerman Law represent whistleblowers before the SEC disclosing fraud and other violations of federal securities laws, including:
The SEC has jurisdiction over a wide range of industries and entities – both public and private. If you have information that may qualify for a SEC whistleblower reward, contact the experienced SEC whistleblower lawyers at Zuckerman Law for a free, confidential consultation.  Click here or call us today at 202-262-8959.
Tips for Virginia Corporate Whistleblowers About Qualifying for a SEC Whistleblower Award
5 Tips for SEC Whistleblowers and Lessons Learned from SEC Whistleblower Awards
See our column in Forbes: One Billion Reasons Why The SEC Whistleblower-Reward Program Is Effective.
SEC Whistleblower Program
Scheduling a Consultation with Zuckerman Law Virginia Employment Lawyers
To schedule a confidential consultation, call us at (571) 288-1309.
1934 Old Gallows
Rd #350
Tysons, VA 22182
By Appointment Only