If you have suffered retaliation for whistleblowing, it is critical to retain an experienced Virginia whistleblower lawyer to thoroughly assess potential claims and devise a strategy to maximize your recovery.
To schedule a confidential consultation with our Virginia whistleblower lawyers, call us today at (202) 262-8959.
Several Virginia and federal laws protect whistleblowers against retaliation, and some whistleblower laws reward disclosures of original information about Medicaid fraud, Medicare fraud, tax fraud, securities fraud, and fraud on the government.
See our tips to maximize your recovery in a whistleblower retaliation case.
Virginia Whistleblower Protection Law
In this article, we summarize a whistleblower protection law that Virginia adopted in 2020.
New Virginia Whistleblower Law Offers Broad Employee Protection

Virginia Fraud Against Taxpayers Act
The federal False Claims Act and the Virginia Fraud Against Taxpayers Act authorize rewards for whistleblowers and also protect whistleblowers disclosing fraud on the government.  And under the NDAA, employees of Virginia Department of Defense contractors are protected against retaliation for disclosing the following to their employer or the government:
Violation of law, rule, or regulation related to a federal contract;
Gross mismanagement of a federal contract or grant;
Gross waste of federal funds;
Abuse of authority relating to a federal contract or grant; or
Substantial and specific danger to public health or safety.
Protections for Whistleblowers in Virginia
2020 Legislative Session Heralds a Sea Change in Virginia Employment Law

Virginia Healthcare Whistleblower Protection Law
Virginia's healthcare worker whistleblower protection law protects employees of assisted living facilities, adult daycare centers, and child welfare agencies for reporting misconduct and/or abuse in assisted living facilities, adult daycare centers, and child welfare agencies.  The statute states:
§ 32.1-125.4. Retaliation or discrimination against complainants.
No hospital may retaliate or discriminate in any manner against any person who (i) in good faith complains or provides information to, or otherwise cooperates with, the Department or any other agency of government or any person or entity operating under contract with an agency of government having responsibility for protecting the rights of patients of hospitals, or (ii) attempts to assert any right protected by state or federal law.
Virginia Safety and Health Whistleblower Protection Law
Virginia Code § 40.1-51.2:1 provides that "[n]o person shall discharge or in any way discriminate against an employee because the employee has filed a safety or health complaint or has testified or otherwise acted to exercise rights under the safety and health provisions of this title for themselves or others."  Such a claim must be filed with the Commissioner of Labor and Industry within 60 days after the violation occurs.
If the Commissioner finds a violation, they shall attempt by conciliation to abate the violation and if a voluntary agreement cannot be obtained, the Commissioner shall bring an action in circuit court.  The court can "restrain violations and order appropriate relief, including rehiring or reinstatement of the employee to his former position with back pay plus interest."
If the Commissioner does not bring a charge, the employee can bring an action in a circuit court having jurisdiction over the person allegedly discriminating against the employee.  To prevail, the plaintiff must prove that his termination 'would not have taken place 'but for' [his] engagement in protected activity." Clark v. General Internal Medicine Grp., Inc., No. 1:20-cv-1332, 2021 WL 3669322, at *8 (E.D. Va. Aug. 18, 2021).
Defense Contractor Whistleblower Law Protecting Virginia Workers
Employees of federal contractors and grantees are protected from retaliation under the NDAA whistleblower protection law.
Whistleblower Protections Under the National Defense Authorization Act (w-008-5821)

Sarbanes-Oxley Corporate Whistleblower Protection for Virginia Workers
The Sarbanes-Oxley Act whistleblower protection provision covers employees at Virginia public companies and contractors of public companies.  To learn about the scope of the Sarbanes-Oxley corporate whistleblower protection law, download our free guide Sarbanes-Oxley Whistleblower Protection: Robust Protection for Corporate Whistleblowers.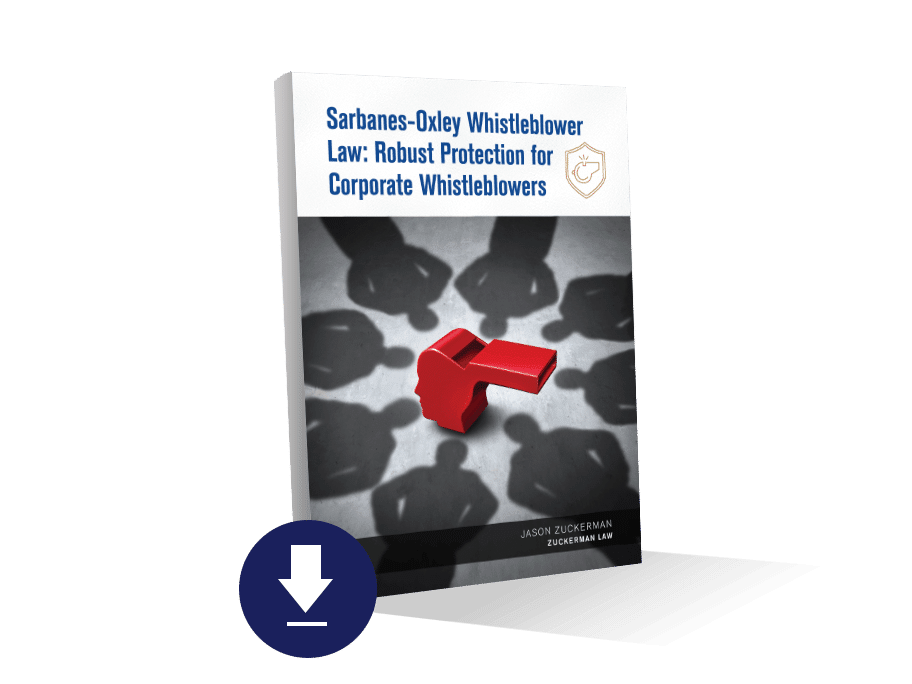 Corporate whistleblowers in Virginia may also be protected under the Dodd-Frank whistleblower law.
Tax Fraud Whistleblower Law Protecting Virginia Whistleblowers
The Taxpayer First Act protects tax whistleblowers against retaliation for reporting tax fraud or underpayment of tax or any conduct which the employee reasonably believes constitutes a violation of the internal revenue laws or any provision of Federal law relating to tax fraud.  See our article in Accounting Today: Whistleblower protections for accountants and tax professionals bolstered by new law.
Remedies for Whistleblower Retaliation
Remedies for retaliation include:
reinstatement;
back pay with interest;
damages for emotional distress and reputational harm; and
attorney fees, litigation costs, and expert witness fees.
Contact a Virginia Whistleblower Retaliation Lawyer Today
To schedule a confidential consultation with our Virginia whistleblower lawyers, call us today at 202-262-8959.