Top-Rated Maryland Employment Lawyers
If you work in Maryland and believe your employer has discriminated against you, a number of different laws may apply to your claim.  For example, federal statutes like Title VII of the 1964 Civil Rights Act, the Equal Pay Act, the Americans with Disabilities Act, and the Age Discrimination in Employment Act may apply.
In addition, certain state and local laws may provide you with additional legal protection and remedies, which you should consider before filing a lawsuit in court.  Below is a summary of some of the laws and ordinances that may be of use for employment discrimination claims in Maryland.
If you have suffered discrimination or retaliation, contact our Maryland discrimination lawyers today to learn about your rights.  Our Maryland office is located in Chevy Chase, Maryland, about one block from the Friendship Heights Metro station.  You can take a virtual tour of our offices in Chevy Chase, MD here.
To schedule a confidential consultation, click here or call us at (202) 769-1681.
In 2017, Washingtonian magazine named two of our attorneys top whistleblower lawyers.  Recently, Eric Bachman was interviewed for an article titled How to Identify Workplace Sexual Harassment When You See It.
Click here to see our videos answering frequently asked questions about discrimination and retaliation.
Maryland's statewide anti-discrimination law
Maryland state law (State Government Article, § 20-602, Annotated Code of Maryland) protects Maryland employees from discrimination based on their:
race

color

religion

ancestry or national origin

sex

age

marital status

gender identity

genetic information
Important:  Maryland's law applies to employers who have 15 or more employees.
Examples of illegal discrimination in Maryland
The Maryland anti-discrimination law makes it unlawful for an employer to engage in the following conduct because of the protected characteristics listed above:
recruiting for employment

hiring

establishing work conditions

firing

harassment

retaliation
Whether the conduct you experienced meets the legal definitions of these unlawful practices must be evaluated on a case-by-case basis.
In addition, unions and labor organizations may not deny membership or otherwise discriminate in apprenticeship opportunities for qualified candidates based on a protected characteristic.
Likewise, it is unlawful for your employer to retaliate against you for filing a complaint of discrimination or assisting the investigation of a discrimination claim.
Anti-discrimination laws in Maryland at the County level
Several different counties in Maryland provide additional statutory protections against employment discrimination, including:
Montgomery County;

Baltimore County;

Prince Georges County;

Howard County; and

Frederick County
These county laws vary in terms of the protected classes they cover, the deadlines by which complaints must be filed, and the damages and remedies that are available.  It is thus important to speak with an experienced employment discrimination lawyer to explore and understand your legal options in Maryland.
Notably, the Montgomery County Code recently enacted a legal standard for hostile work environment/harassment claims that is more protective of employees as compared to federal law.
For example, the Prince George's County Human Rights Ordinance prohibits discrimination based on familial status and marital status.
The Washington Lawyer's Committee for Civil Rights has a helpful comparison of local human rights laws available by clicking here.
Filing a discrimination complaint in Maryland
If you believe you have been discriminated against at work and want to file a complaint, the Maryland Commission on Civil Rights (MCCR) has a website with helpful information about how to file your complaint.  You should contact MCCR or the Equal Employment Opportunity Commission (EEOC) as soon as possible if you are considering filing a complaint because strict deadlines apply.
Also, you may be able to file a complaint with your county's government agency.  The "Helpful Resources" section below provides additional information.
NOTE: if you are employed by a federal, state, or local government agency, different remedies and complaint procedures will apply and you should consult with your agency's EEO office or an experienced attorney as quickly as possible to understand the requirements.
Remedies available in Maryland discrimination claims
In most employment discrimination claims against private employers, you may be awarded some of the following types of relief:
Back pay – the difference between what you should have been paid if promoted or hired and what the company actually paid you;

Compensatory damages – damages to address emotional distress, reputational harm, etc. that you suffered as a result of the company's discrimination or retaliation;

Punitive damages – damages to punish the company if it acted with malice or reckless indifference;

Attorney's fees and litigation expenses; and/or

Make-whole relief – placing you into the position you were unlawfully denied.
NOTE: if you are employed by a federal, state, or local government agency, different remedies and complaint procedures will apply and you should consult with your agency's EEO office or an experienced attorney as quickly as possible to understand the requirements.
Top-Rated Maryland Sexual Harassment Lawyers
Zuckerman Law advises sexual harassment victims about their rights and vindicating those rights.  Although every case is unique, the following frequently asked questions provide an overview of the key legal issues that often arise in sexual harassment cases.  
Eric Bachman is frequently quoted in the media about the rights of victims of harassment and workplace discrimination, including in these recent articles:
Download our Sexual Harassment Survival Guide for Employees
Resources about Maryland anti-discrimination laws
Frederick County Human Relations Department

Howard County Office of Human Rights
Maryland Gender Discrimination and Glass Ceiling Discrimination Lawyers
A glass ceiling generally refers to an unfair, artificial barrier that prevents certain employees (women; people of color; lesbian, gay, bi-sexual, or transgender) from fairly competing for upper management jobs in companies.  In practice, it keeps qualified employees from reaching their full potential and, depending on applicable law, illegally blocks them from occupying the best-paid and most powerful positions.  The glass ceiling can be caused by, among other things:
entrenched attitudes/stereotypes about what type(s) of people should get the "top" jobs at the company;
subjective/hard to define qualifications for promotions that introduce conscious or unconscious biases into decision-making; and/or
a lack of networking and mentoring opportunities for women and people of color.
To learn more about glass ceiling discrimination, download our guide Shattering the Glass Ceiling: Tips for Combatting Promotion Discrimination: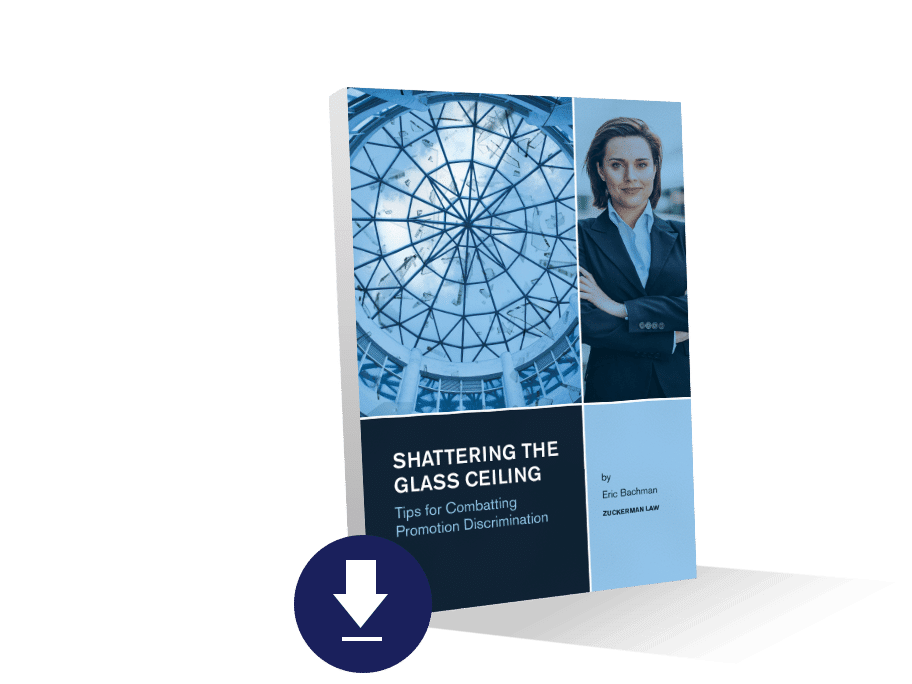 Hiring experienced Maryland discrimination attorneys
Hiring a proven and effective Maryland discrimination lawyer is critical to obtaining the maximum recovery in an employment discrimination case in Maryland.  Eric Bachman, Chair of the Firm's Discrimination Practice, has substantial experience litigating precedent-setting individual and class action discrimination cases.   His wins include a $100 million settlement in a disparate impact Title VII class action and a $16 million class action settlement against a major grocery chain.  Having served as Special Litigation Counsel in the Civil Rights Division of the Department of Justice and as lead or co-counsel in numerous jury trials, Bachman is trial-tested and ready to fight for you to obtain the relief that you deserve.
Bachman writes frequently on topics related to promotion discrimination, harassment, and other employment discrimination issues at the Glass Ceiling Discrimination Blog.
U.S. News and Best Lawyers® have named Zuckerman Law a Tier 1 firm in Litigation – Labor and Employment in the Washington DC metropolitan area.  Contact us today to find out how we can help you.  To schedule a preliminary consultation, click here or call us at (202) 769-1681.
We are located in Chevy Chase, Maryland at 5425 Wisconsin Avenue Suite 600 Chevy Chase, MD 20815.  Call 202-769-1681 to schedule a consultation.
Top-Rated Maryland Employment Discrimination Lawyers
Our office is located in Chevy Chase, and we serve workers in several Maryland cities, towns and municipalities, including:
Bethesda
Chevy Chase
Rockville
Silver Spring
Kensington
Frederick
College Park
Frederick
Columbia
Gaithersburg
Garrett Park
Glen Echo
Greenbelt
Greensboro
Kensington
Laurel
New Carrollton
Somerset
Takoma Park
SexualHarassment_Infographic_draft