SOX whistleblower lawyer Jason Zuckerman is quoted in American Banker and Financial Planning in article entitled Wells Fargo ends fight with a whistleblower in fake-accounts scandal.
The article reports that Wells Fargo has resolved a Sarbanes-Oxley whistleblower retaliation claim brought by Claudia Ponce de Leon, a former Wells Fargo bank manager who alleged that the bank terminated her employment because she opposed a scheme to open fake accounts and enroll customers in bank products without their knowledge, consent or appropriate disclosures.  In July 2017, the U.S. Department of Labor Occupational Safety and Health Administration ordered Wells Fargo to reinstate and pay approximately $577,500 damages to Ms. Ponce de Leon.  The terms of the settlement are confidential.
Wells Fargo has paid more than $185 million in penalties for the fake accounts scheme.  A report of the Independent Directors of Wells Fargo's Board found that "[t]he root cause of sales practice failures was the distortion of the Community Bank's sales culture and performance management system, which, when combined with aggressive sales management, created pressure on employees to sell unwanted or unneeded products to customers and, in some cases, to open unauthorized accounts."
The American Banker article about the settlement of the SOX case quotes Zuckerman's observations about potential issues driving a resolution:
Taking the case further might have been too much of a gamble for Wells, which has drawn immense negative publicity for its business practices, an expert said.
"Wells Fargo may have foreseen massive exposure if the case were tried before a jury," says whistleblower lawyer Jason Zuckerman, who was not involved with the case. "The bank is well aware that she would have had the option to go before a jury in federal court. And, because this scheme was well known, one can expect that an average juror would be highly motivated to hold the bank accountable for retaliating against a whistleblower who tried years ago to halt it."
In fighting the complaint that Ponce de Leon lodged against the bank with the Labor Department's Occupational Safety and Health Administration, Wells had accused her of drinking excessively and other inappropriate behavior.
"It is typical for an employer defending a whistleblower case to impugn the whistleblower's credibility and motive," Zuckerman says. "But I have also found that attempts to create post-hoc justifications for a retaliatory termination often backfire.
To lean more about Sarbanes-Oxley whistleblower protection, download our Guide to Sarbanes Oxley Whistleblower Protection.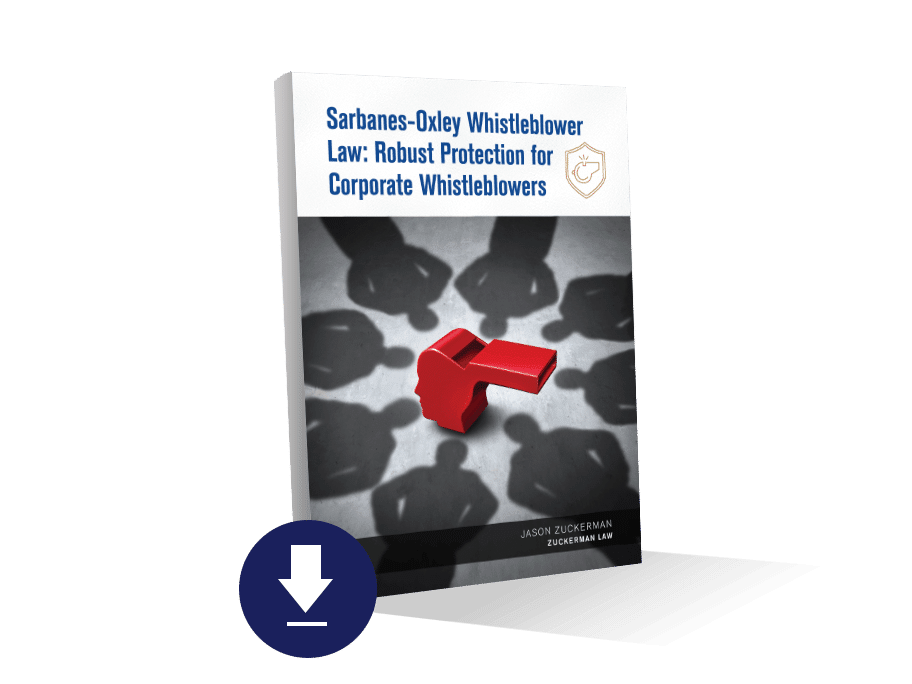 The guide provides an overview of the key elements of a SOX whistleblower retaliation claim, and the procedures governing the investigation and adjudication of SOX claims.