CLE About Practicing Before the MSPB
Whistleblower attorney Jason Zuckerman spoke at a DC Bar CLE program titled "Practice Before the Merit Systems Protection Board (MSPB): What Happens After the Whistle is Blown?"  The program addressed the basics of Whistleblower Protection including a review of the Whistleblower Protection Enhancement Act (WPEA) and how both whistleblower disclosures and claims of reprisal are processed and investigated by the Office of Special Counsel.
In addition, the CLE covered the most recent decisions by the MSPB interpreting the WPEA and adjudicating Individual Right of Action (IRA) appeals.   Zuckerman was honored to teach this CLE program with Stephani Abramson, Counsel for Procurement and Employment Law, National Archives and Records Administration, Peter Mina, Chief, Labor and Employment Law Division, U.S. Immigration and Customs Enforcement, Shirine Moazed, Washington D.C. Field Office Chief, U.S. Office of Special Counsel, and Daniel Turbitt, Chief Counsel, Merit Systems Protection Board.
Guide to the Whistleblower Protection Act
Whistleblower attorneys Eric Bachman and Jason Zuckerman, former senior officials at the U.S. Office of Special Counsel, have released a guide for federal employee whistleblowers titled The Whistleblower Protection Act: Empowering Federal Employees to Root Out Waste, Fraud and Abuse and is available for download by clicking here.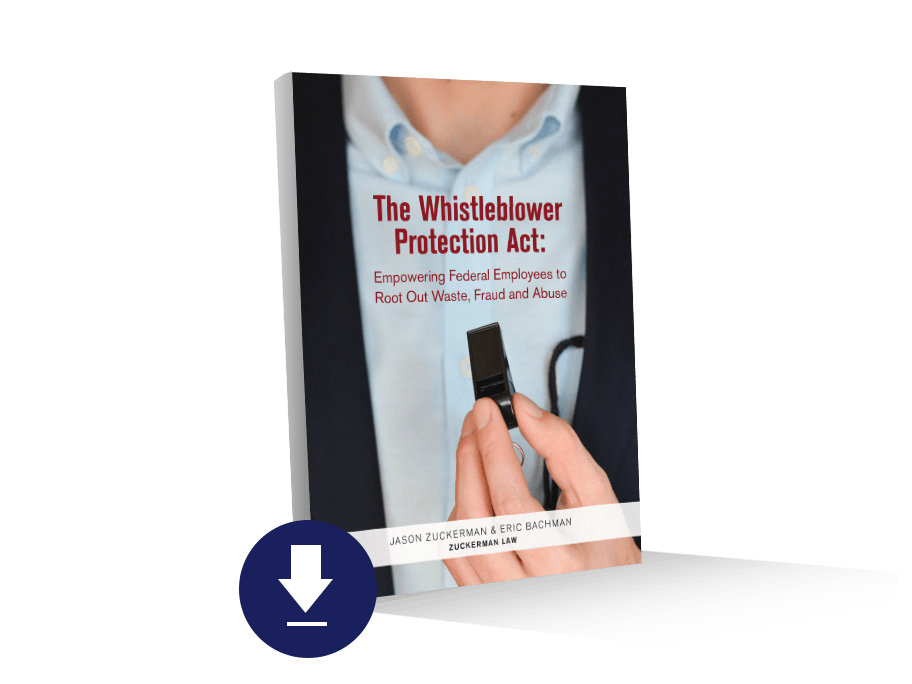 The goal of the guide is to inform federal employees about the whistleblower rights and protections available under the Whistleblower Protection Act, as amended by the Whistleblower Protection Enhancement Act and the Follow the Rules Act.
Drawing on their experience enforcing the WPA at OSC and representing whistleblowers in private practice,  the guide provides an overview of the WPA and offers practical tips for navigating some of the challenging issues that often arise in whistleblower cases.  Topics covered include:
What Disclosures are Protected Under the Whistleblower Protection Act?
Does the Whistleblower Protection Act Protect Employees Who Exercise an Appeal or Grievance Right?
Prohibited Forms of Whistleblower Retaliation
Proving Knowledge of Protected Whistleblowing
Proving Causation
What is an Agency's Burden to Avoid Liability Once the Whistleblower Has Proved Causation?
Seeking Relief from Retaliation
Election of Remedies
Can OSC Seek a Stay of a Personnel Action?
Damages or Remedies for Retaliation
Gag Orders and Non-Disclosure Agreements
Experienced Whistleblower Protection Lawyers
Before hiring a lawyer for a high-stakes whistleblower case, assess the lawyer's reputation, prior experience representing whistleblowers, knowledge of whistleblower laws and prior results.  And consider the experience of other whistleblowers working with that attorney.  We have extensive experience representing whistleblower under a wide variety of corporate whistleblower protection laws.  See our client testimonials by clicking here.
To learn more about whistleblower rewards or whistleblower protections, call the whistleblower lawyers at Zuckerman Law at 202-262-8959.