Prohibited Whistleblower Retaliation Under the Whistleblower Protection Act
The Whistleblower Protection Act covers a broad range of personnel actions, including the following types of actions:
"An appointment.
"A promotion.
"An action under Chapter 75 of Title 5 or other disciplinary or corrective action.
"A detail, transfer, or reassignment.
A reinstatement.
A restoration."
A reemployment.
"A performance evaluation under Chapter 43 of Title 5 or under Title 38.
"A decision concerning pay, benefits, or awards.
"A decision concerning education or training if the education or training may reasonably be expected to lead to an appointment, promotion, performance evaluation, or other personnel action.
"A decision to order psychiatric testing or examination.
The implementation or enforcement of any nondisclosure policy, form, or agreement.
"Any other significant change in duties, responsibilities, or working conditions. (5 U.S.C. § 2302(a)(2)(A).)
An action recorded on a Standard Form 50 Notification of Personnel Action (SF-50) is generally sufficient to prove a personnel action.
Appointments
An appointment to a federal position, whether it is intermittent, permanent, seasonal, or temporary, is a personnel action. The failure to renew an appointment or reappoint an individual to a position is also a personnel action.
There are two elements of an appointment:
" An authorized appointing officer, who takes an action that reveals awareness that the officer is making an appointment in the US civil service.
" Action by the appointee denoting acceptance.  (Watts v. Office of Pers. Mgmt., 814 F.2d 1576, 1580 (Fed. Cir. 1987); Robinson v. U.S. Postal Serv., 92 M.S.P.R. 37, 40 (2002); Brock v. Dep't of the Navy, 49 M.S.P.R. 564, 567 (1991).)
The best evidence of an appointment is an SF-50 or SF-52 (Request for Personnel Action).
Disciplinary Actions Under the Whistleblower Protection Act
Disciplinary actions include: "
A demotion.
A reduction in pay.
A reduction in grade.
A furlough of up to 30 days.
Removal from federal employment.
A suspension.
Placement on administrative leave.
A letter of warning.
A reduction in force (RIF).
A reprimand. "
An oral reprimand.
Although an oral reprimand is a personnel action, the MSPB may dismiss an appeal based on an oral reprimand because there is no meaningful corrective action available.
A constructive demotion, where an employee is effectively reduced to performing duties associated with a lower position, is also a personnel action.
Failures and Threats To Take a Personnel Action
The failure or threat to take any of the above personnel actions is also a personnel action. For example, a failure to appoint can be established by an employer's:
"Failure to extend or renew a temporary appointment(seeO'Brienv. Office of the Indep. Counsel, 79 M.S.P.R. 406, 410–11 (1998)).
Failure to reinstate an employee after the employee resigns (see Holloway v. Dep't of the Interior, 82 M.S.P.R. 435, 440 n.4 (1999)).
"Not selecting an individual for a position (see Wojcicki v. Dep't of the Air Force, 72 M.S.P.R. 628, 635 (1996)).
A failure to promote can be established by an employer:
Not selecting an individual for promotion (Monasteri v. Merit Sys. Prot. Bd., 232 F.3d 1376, 1380 (Fed. Cir. 2000)).
"Denying an employee a promotion by cancelling the vacancy announcement and selecting no one for the promotion (Ruggieri v. Merit Sys. Prot. Bd., 454 F.3d 1323, 1325 (Fed. Cir. 2006)).
"Failing to promote an individual non-competitively, such as by reclassification of the position (Briley v. Nat'l Archives & Records Admin., 71 M.S.P.R. 211, 222 (1996)).
However, failing to upgrade an employee's prior position after the employee was reassigned may not be a constructive demotion (see Tackett v. Dep't of Agric., 89 M.S.P.R. 348 (2001)).
The MSPB interprets "threats" broadly and has found that the following actions are threats to take disciplinary action:
" A memorandum of warning (see Campo v. Dep't of the Army, 93 M.S.P.R. 1, 3 ¶ 5 (2002)).
" A proposal to take a Chapter 75 or other disciplinary or corrective action (see Campo, 93 M.S.P.R. at 3-4 ¶ 6-8).
" A performance improvement plan (PIP) (see Czarkowski v. Dep't of the Navy, 87 M.S.P.R. 107 (2000)).
" A record of an agency's investigation into an employee's purported questionable conduct for which the employee faced potential disciplinary action (see Gergick v. Gen. Servs. Admin., 43 M.S.P.R. 651 (1990)).
Employment Actions that Are Not Personnel Actions
The MSPB has determined that certain actions are not personnel actions for the purposes of whistleblower protection under the WPA. These include:
" An arrest by an agency police officer (Weber v. Gen. Serv. Admin., 54 M.S.P.R. 444, 446 (1992)).
" Comments directing an employee to "find another job" (Shivaee v. Dep't of the Navy, 74 M.S.P.R. 383, 387 (1997)).
" Denying or revoking an employee's security clearance (Dep't of the Navy v. Egan, 484 U.S. 518, 526-32 (1988)).
Merely opening an investigation into an employee's conduct is not a personnel action. However, employees can seek compensation for defending against retaliatory investigations. An employee may recover fees, costs, or damages reasonably incurred due to an agency investigation of the employee if the agency began, expanded, or extended the investigation to retaliate against the employee for the disclosure or protected activity. (5 U.S.C. § 1214(h).)
Guide to the Whistleblower Protection Act
Whistleblower attorneys Eric Bachman and Jason Zuckerman, former senior officials at the U.S. Office of Special Counsel, have released a guide for federal employee whistleblowers titled The Whistleblower Protection Act: Empowering Federal Employees to Root Out Waste, Fraud and Abuse and is available for download by clicking here.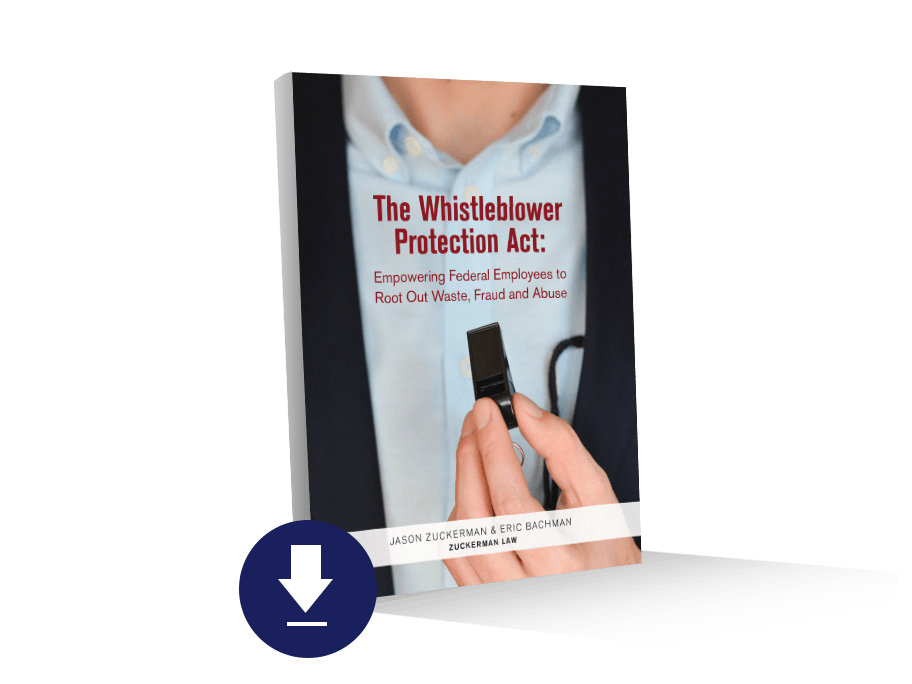 The goal of the guide is to inform federal employees about the whistleblower rights and protections available under the Whistleblower Protection Act, as amended by the Whistleblower Protection Enhancement Act and the Follow the Rules Act.
Drawing on their experience enforcing the WPA at OSC and representing whistleblowers in private practice,  the guide provides an overview of the WPA and offers practical tips for navigating some of the challenging issues that often arise in whistleblower cases.  Topics covered include:
What Disclosures are Protected Under the Whistleblower Protection Act?
Does the Whistleblower Protection Act Protect Employees Who Exercise an Appeal or Grievance Right?
Prohibited Forms of Whistleblower Retaliation
Proving Knowledge of Protected Whistleblowing
Proving Causation
What is an Agency's Burden to Avoid Liability Once the Whistleblower Has Proved Causation?
Seeking Relief from Retaliation
Election of Remedies
Can OSC Seek a Stay of a Personnel Action?
Damages or Remedies for Retaliation
Gag Orders and Non-Disclosure Agreements
Experienced Washington DC Whistleblower Protection Act Lawyers
Zuckerman Law has represented whistleblowers before the Office of Special Counsel, Offices of Inspectors General, and Congressional oversight committees.  The firm is uniquely qualified to represent whistleblowers in the federal government because two of the firm's attorneys served in senior roles at the U.S. Office of Special Counsel.
Eric Bachman served as Deputy Special Counsel, Litigation and Legal Affairs, OSC, where he spearheaded an initiative to combat whistleblower retaliation at the Department of Veterans Affairs.  During Bachman's tenure at OSC, the number of favorable actions for whistleblowers increased by over 50% agency-wide.
Jason Zuckerman served as Senior Legal Advisor to the Special Counsel at OSC, where he worked on implementation of the Whistleblower Protection Enhancement Act and several high-profile investigations.
The firm has represented whistleblowers testifying before the House Financial Services Committee and vigorously opposed efforts to silence whistleblowers.  The whistleblower protection lawyers at Zuckerman Law have also helped federal employees combat unlawful gag provisions in agency policies or agreements.
If you are seeking representation in a whistleblower protection case, click here, or call us at (202) 769-1681 to schedule a free preliminary consultation. And to learn more about whistleblower protections for federal employees, see Whistleblower Protections Under the Whistleblower Protection Act.