Leading whistleblower lawyer Jason Zuckerman will deliver an address at the NRS Fall 2017 Compliance Conference in Las Vegas on October 26th titled "Whistleblower Program: The 'Game-Changer' in Securities Enforcement and Compliance."
Just seven years after Congress enacted the Dodd-Frank Act, whistleblowers have enabled the SEC to recover one billion dollars in penalties and protect investors by halting ongoing fraud schemes.  And fifteen years after Congress enacted robust protection for corporate whistleblowers, Sarbanes-Oxley whistleblowers are obtaining substantial jury verdicts for whistleblower retaliation.  Earlier this year, a former in-house counsel who alleged that he was fired for reporting FCPA compliance issues was awarded nearly $14 million at trial.  Whistleblower rewards and protections pose challenges and provide opportunities for Ethics and Compliance professionals.  This session will discuss recent developments under federal whistleblower rewards and protection laws, with a focus on compliance whistleblowing:
How the SEC Whistleblower Program has changed securities compliance and the main requirements to qualify for an award
Whether compliance professionals are eligible for SEC whistleblower rewards and are protected under whistleblower protection laws
Tips for compliance professionals raising concerns internally
Lessons learned from recent Sarbanes-Oxley whistleblower jury verdicts
How compliance professionals can foster a culture that encourages internal whistleblowing
Whether employees can use confidential company documents to disclose fraud to the SEC and law enforcement
Resources for Compliance Personnel About Whistleblower Protections and Incentives
Compliance Personnel, Auditors, Officers and Directors Can Obtain SEC Whistleblower Awards
One Billion Reasons Why The SEC Whistleblower-Reward Program Is Effective.
Shkreli Trial Reveals the Challenges Faced by Compliance Whistleblowers
Auditors' and accountants' guide to SEC whistleblower awards
Guide to Sarbanes-Oxley Corporate Whistleblower Protection Law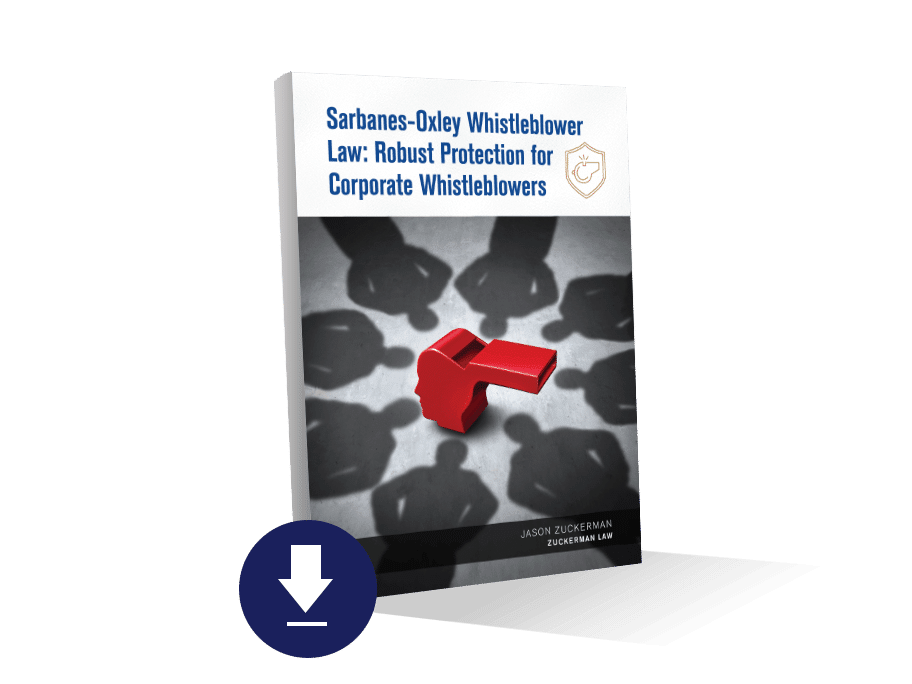 Guide to SEC Whistleblower Program and Tips for SEC Whistleblowers