What is Age Discrimination?
Age discrimination occurs when an employee is denied a job, terminated or discriminated against in any way by an employer because of their age.
Age Discrimination in Employment Act
The Age Discrimination in Employment Act of 1967 (ADEA)'s protections apply to both employees and job applicants. Under the ADEA, it is unlawful to discriminate against a person because of his/her age with respect to any term, condition, or privilege of employment including:
Hiring
Firing
Promotions
Layoffs
Compensations
Benefits
Job assignments
Training
The ADEA also prohibits retaliation for opposing age discrimination or filing an age discrimination charge, testifying, or participating in any way in an investigation, proceeding, or litigation under the ADEA.
The ADEA applies to employers with 20 or more employees, including state and local governments. It also applies to employment agencies and labor organizations, as well as to the federal government.  Some statute anti-discrimination provie broader protection against age discrimination.
Exceptions to ADEA Protection
The ADEA contains several exceptions:
Executives or others in high policy-making positions can be required to retire at age 65 if they would receive annual retirement pension benefits worth $44,000 or more.
There are special exceptions for police and fire personnel, tenured university faculty and certain federal employees having to do with law enforcement and air traffic control.
The ADEA makes an exception when age is an essential part of a job – known by the legal term "bona fide occupational qualification" or BFOQ.
Proving Age Discrimination
An employer can only be held liable for age discrimination if the employee can show that an intentional action was taken against the employee because of the employee's age.  The Supreme Court has held that the ADEA does not authorize a mixed-motive theory of recovery and instead requires a plaintiff to prove that her age was the "but for" reason (or "because of" reason) for the adverse action.   Gross v. FBL Fin. Servs., Inc., 557 U.S. 167,(2009).
Circumstantial Evidence of Age Discrimination
Not being hired because the employer wanted a younger looking person to do the job.
Receiving a negative job evaluation because you were not flexible in taking on new projects
Being terminated because your boss wanted to keep younger workers who are paid less.
Being turned down for a promotion, which went to someone younger hired from outside the company, because the boss indicated the company's desire to be younger
When company layoffs are announced, most of the persons laid off were older, while younger workers with less seniority and less on-the-job experience were kept on
Prior to termination, your supervisor made age-related remarks about you
Remedies for Age Discrimination
Back Pay
Hiring
Promotion
Reinstatement
Front Pay
Liquidated Damages
Occasionally Court Costs and Attorney's Fees
Maryland Virginia Washington DC Age Discrimination Attorneys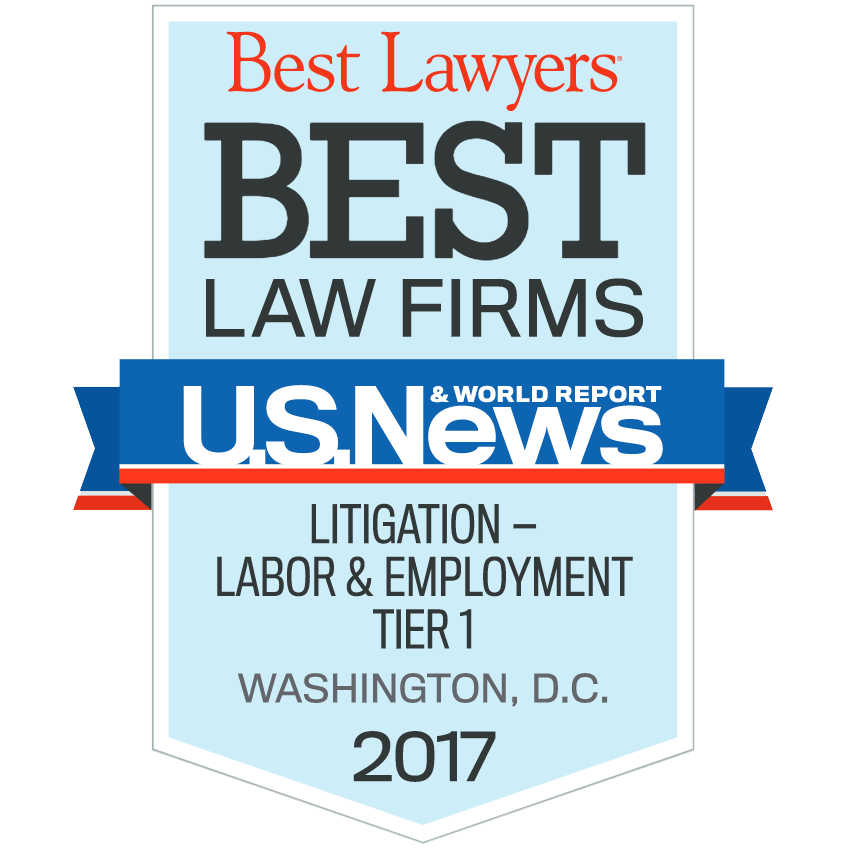 Hiring a proven and effective advocate is critical to obtaining the maximum recovery in an age discrimination case.  Eric Bachman, Chair of the Firm's Discrimination Practice, has substantial experience litigating precedent-setting individual and class action discrimination cases.   His wins include a $100 million settlement in a disparate impact Title VII class action and a $16 million class action settlement against a major grocery chain.  Having served as Special Litigation Counsel in the Civil Rights Division of the Department of Justice and as lead or co-counsel in numerous jury trials, Bachman is trial-tested and ready to fight for you to obtain the relief that you deserve.
Bachman writes frequently on employment discrimination issues at the Glass Ceiling Discrimination Blog.
U.S. News and Best Lawyers® have named Zuckerman Law a Tier 1 firm in Litigation – Labor and Employment in the Washington DC metropolitan area.  Contact us today to find out how we can help you.  To schedule a preliminary consultation, click here or call us at 202-262-8959 or (202) 769-1681.